Are you a smart investor or planning to get on an investment train to secure the future? Are you looking for an investment that appreciates over time? If yes, then this is for you. It is time to leverage and latch on to smarter, better-life opportunities, especially in these economic times.
Imperial Gardens is a train you sure want to board to a secured future. You ask why? A beautiful modern, gated estate with functional layout, as well as amenities for recreation.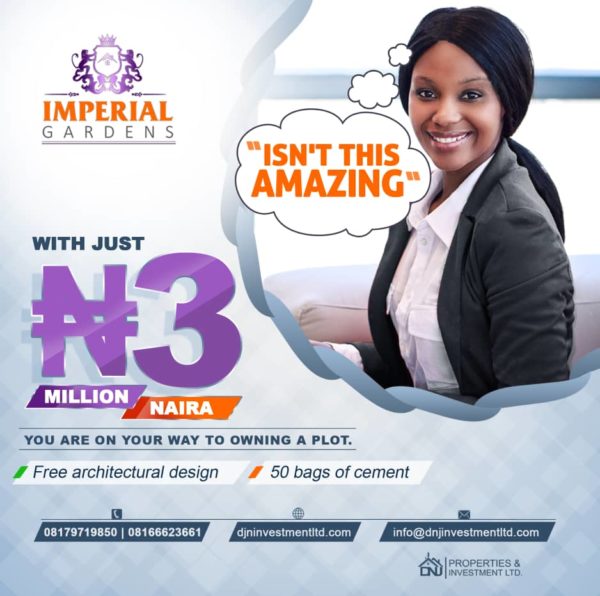 You are probably saying to yourself right now, "Imperial Gardens, is that all they've got?" Well, No. We've got more amazing features for you:
*100% dry, no reclamation
*Instant allocation
*Street Lights
*Electricity
*Perimeter Fencing
*Portable Water
*Good Drainage
*Road Network
Mind blowing, we know right? And are you already fretting about payment, we've got you.
See amazing payment plans for you below: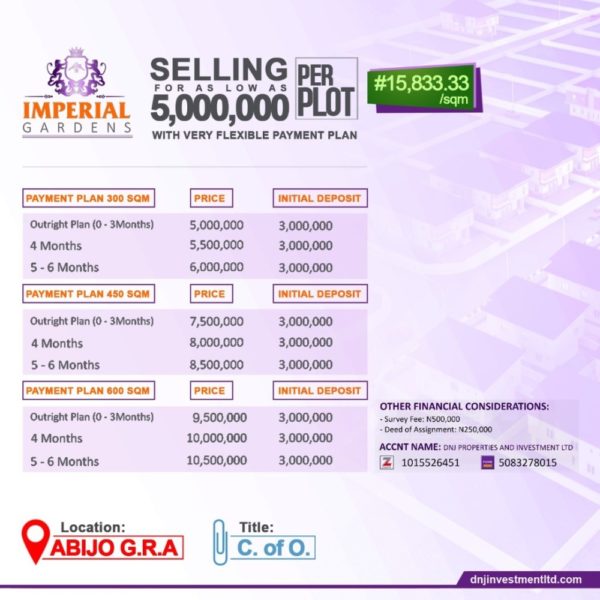 Now you are wondering the next step to take to be a part of this great offer from Imperial Gardens, reach out via phone call Call: +234-817-971-9850, +234-816-662-3661 or email:  [email protected]
Just in case you are having thoughts of what your new neighborhood would look like, meet your neighbors:
Corona School
Caleb international
Novare Lekki Mall
Emperor Estate
Golden Park Estate
Fara park
Readington School
Eko-Akete
Imperial Gardens, an estate in an environment that is conducive to build a happy family and an investment that gives over 100% ROI (return on investment) within 6 months.
Waste no time, Contact us today.
---
Sponsored Content