Showroom equipped with practical demonstration facility
Point of contact for servicing and warranty claims
Onsite trained and qualified Bosch Sales Managers
Training Centre for upskilling customers in various applications
Bosch Power Tools, one of the leading manufacturers of power tools for construction, woodworking and metalworking industry in Nigeria, today unveils the Bosch Solution Box, a one stop shop for all users in the construction industry requiring heavy duty applications. The Solution Box supplies professional power tools, measuring tools, accessories and after sales services to the Nigerian customers.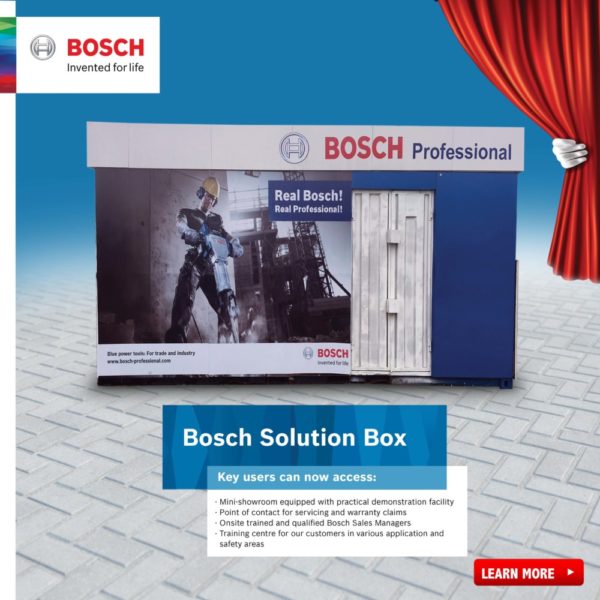 Bosch Power Tools Nigeria developed the Solution Box concept with the vision of zero distance to the user ‒ considering the wide application range of a typical construction worker, distant locations and high expectations of deliverables. The first Solution Box is located at No 1 Checking Point Opposite, Lekki Free Trade Zone Gate 1, Akodo Refinery Road. 'We consider the Solution Box a valuable tool to meet the needs of construction users in far locations by providing them with all the required tools and accessories. We will also provide our users with service and trainings', said Frank Diermann, Country Business Director Bosch Power Tools Nigeria. Bosch Power Tools plans to establish more Solution Boxes at various construction sites across the country.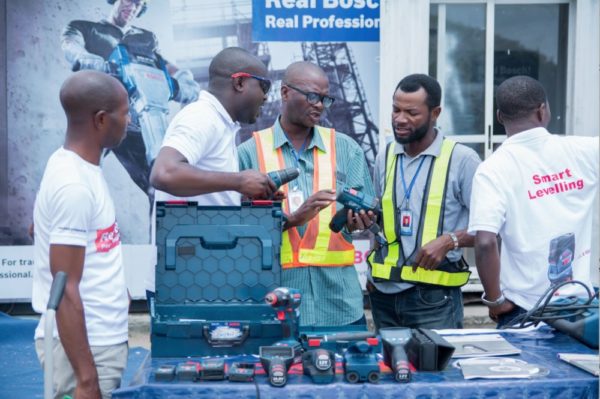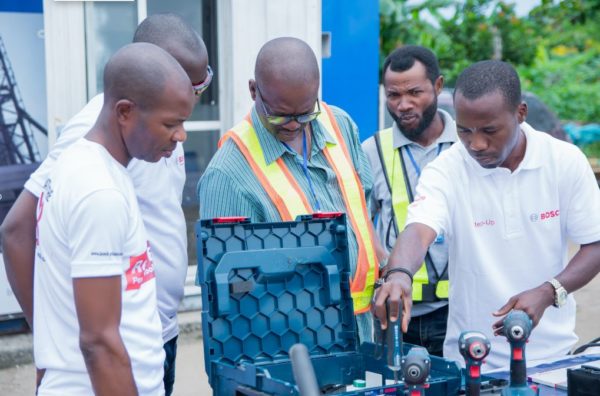 Robert Bosch Power Tools GmbH 
The Robert Bosch Power Tools GmbH, a division of the Bosch Group, is one of the world's leading providers for power tools, power tool accessories and measuring tools. In 2017, its roughly 20,000 associates generated sales of 4.7 billion euro, about 85 percent of which outside of Germany.
Bosch is continuously increasing its footprint in Africa
Bosch has been present in Africa since 1906, present in ten African countries: South Africa, Egypt, Morocco, Kenya, Angola, Mozambique, Algeria, Nigeria, Ghana and Tunisia. Depending on future business development, the company plans to increase this number in the next years. All four Bosch business sectors – Mobility Solutions, Industrial Technology, Consumer Goods, and Energy and Building Technology – have operations on the continent. In 2016, Bosch generated sales of some 435 million euros with more than 840 associates in Africa.
Corporate social responsibility in Africa
Bosch actively promotes talented young people in sub-Saharan Africa. In 2008, it was one of the initiators of Afrika kommt!, an initiative of German industry for junior managers from sub-Saharan Africa. Since 2008, Bosch has been part of a group of some 20 companies who offer scholarships to African junior executives so that they can spend a year in Germany completing a professional training programme. Since then more than 58 young African have been selected for the programme. The goal of the programme is to foster mutual exchange and learning between budding African executives and German companies.
In the spirit of its founder, Robert Bosch, the company is committed to encouraging and fostering entrepreneurship, innovation and contribution to society at large. Bosch has been a proud sponsor of the 2016 All Africa Business Leader Awards, hosted by CNBC Africa, recognising the continent's outstanding leaders.
The fourth industrial revolution provides the platform for an evolving education system to prepare the youth today to face the challenges of tomorrow, where in 2015 Bosch in South Africa has invested in an outreach robotics program ensuring the opportunity to children from various backgrounds to study Robotics, resulting in two teams qualifying and competing in the 2016 World Robotics Olympiad.
The Bosch Group is a leading global supplier of technology and services. It employs roughly 402,000 associates worldwide (as of December 31, 2017). The company generated sales of 78.1 billion euros in 2017. Its operations are divided into four business sectors: Mobility Solutions, Industrial Technology, Consumer Goods, and Energy and Building Technology. As a leading IoT company, Bosch offers innovative solutions for smart homes, smart cities, connected mobility, and connected manufacturing. It uses its expertise in sensor technology, software, and services, as well as its own IoT cloud, to offer its customers connected, cross-domain solutions from a single source. The Bosch Group's strategic objective is to deliver innovations for a connected life. Bosch improves quality of life worldwide with products and services that are innovative and spark enthusiasm. In short, Bosch creates technology that is "Invented for life." The Bosch Group comprises Robert Bosch GmbH and its roughly 440 sub-
sidiary and regional companies in 60 countries. Including sales and service partners, Bosch's global manufacturing, engineering, and sales network covers nearly every country in the world. The basis for the company's future growth is its innovative strength. At 125 locations across the globe, Bosch employs some 64,500 associates in research and development.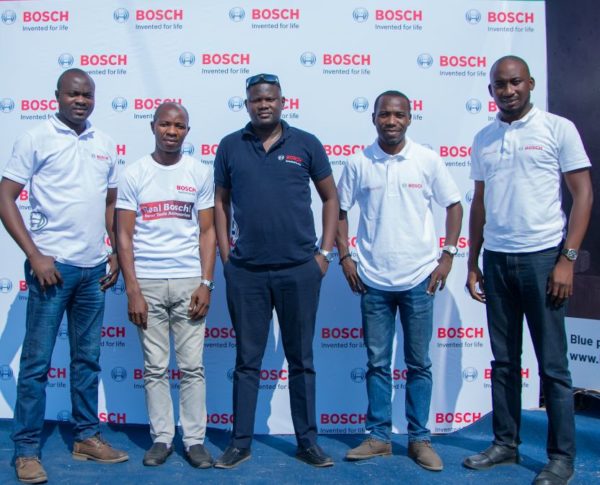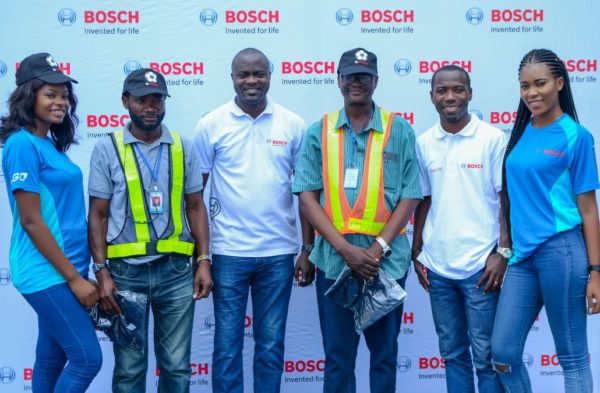 Additional information is available online at www.bosch.com, www.iot.bosch.com, www.bosch-press.com, and Twitter.
———————————————————————————————————————————————————————————————–————————————————-————————————————————-Sponsored Content