You still haven't made your dream about long, shiny, voluminous hair come true? An answer to all hair problems is hidden in oils – such as Nanoil Hair Oils. Natural, rich in essential fatty acids, infused with vitamins and beautifying ingredients. You can also coat your hair with a velvety Nanoil formula and feel more beautiful.
Women adore moments when their hairdos look as stunning as possible, when a hairbrush glides on every strand smoothly and the hairstyle is full of shine. There is nothing worse than unruly 'fly aways' that are strikingly weak, dull and falling out. Say no to ugly hair!
Oil-Based Hair Care
It is an ideal solution for everyone. It works both for an everyday battle for the health of hair and systematic, intensive hair repair treatments.
Hair loves natural oils because they contain fatty acids that make up the hydro-lipid layer protecting each and every hair from the loss of water. Some oils can even improve the function of sebum glands in scalp and balance the pH.
The choice of a suitable oil which answers the needs of your own hair is an important issue. The needs differ depending on the hair porosity; the way your hair is built. We must know that there are three hair porosities (low, medium and high) and we can surely describe our hair with one of them. Which one exactly?
What can your hair be like?
While discussing hair, we usually mention damaged, dry, thinning hair, etc. However, these common terms conceal something more. Each of the problems results from the differences in the external hair layer composed of keratin cuticles.
The cuticles define the porosity that can be identified using several ways – by doing a water test, undergoing a microscope evaluation or answering a few questions about hair care routine on www.nanoil.us  In a nutshell:
low porosity hair – lacking volume, unruly, heavy, curl resistant,
• medium porosity hair – weak, frizzy, excessively falling out, shine-less,
• high porosity hair – dehydrated, brittle, dull, damaged, splitting, over-processed.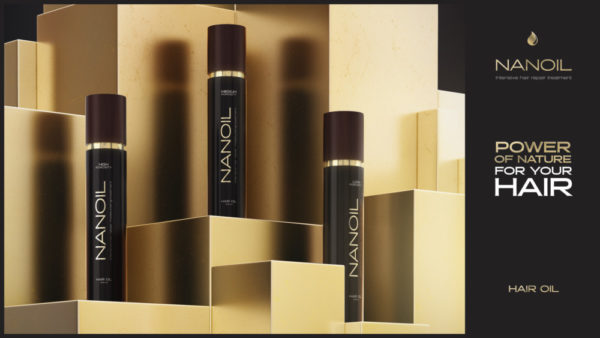 Which hair oil to choose?
The answer is surprisingly simple. You don't have to pick natural oils by yourself – reach for Nanoil Hair Oils. Choose the one that goes along with your hair.
Are you seeking a natural, effective and luxury product? Nanoil Hair Oils are just like that – the best natural oils combined in a velvety, excellently-absorbing formula which coats even the tiniest hair in order to ensure an immediate improvement of hair appearance and health. Nanoil Hair Oils' benefit is the possibility of using the products both for hair and scalp. They are free of preservatives, artificial colorants and fragrances, parabens and silicones. They are cruelty free. You can use them for a traditional at-home hair oil treatment.
Is there anything better than Nanoil?
Nanoil Hair Oils
They have been composed using the best vegetable oils blended in precise proportions and enriched with additional beautifying substances, vitamins, UV filter and a duet of hair growth promoting ingredients. The product is available in three versions. It is mainly the composition that makes them different, affecting their way of working.
Nanoil for Low Porosity Hair contains oils including the smallest molecules (Shea Butter, Babassu Oil, Cupuacu Butter, Monoi Oil, Castor Oil, Pine Oil, Coconut Oil, Argan Nut Oil and Passionfruit Oil) infused with six components which:
protect hair from the sun,
• cut blow-dry time in half and facilitate styling routine,
• keep scalp healthy,
• care for the sufficient moisture and nourishment,
• stimulate faster hair growth,
• prevent hair loss and oiliness,
• add lightness, intensifying volume at the same time.
Nanoil for Medium Porosity Hair combines oils of medium-sized molecules (Marula Oil, Argan Nut Oil, Macadamia Nut Oil, Jojoba Oil, Coconut Oil and Maracuja Oil) with six additional substances which:
ensure protection from harmful factors,
• hold back hair frizz,
• reinforce hair bulbs and add vitality,
• guarantee the proper level of moisture,
• regenerate hair, preventing damage,
• facilitate combing and styling routine,
• accelerate hair growth.
Nanoil for High Porosity Hair is a blend of oils composed of the largest molecules (Sweet Almond Oil, Evening Primrose Oil, Argan Nut Oil, Avocado Oil, Passion fruit Oil and Cottonseed Oil) in combination with nine extra ingredients which:
deeply regenerate and rebuild hair,
• deliver the proper moisture and prevent dehydration,
• block hair loss and thinning,
• speed up natural hair growth,
• prevent hair breakage, splitting, tangling and frizz,
• increase shine, softness and elasticity,
• make sure scalp works the right way.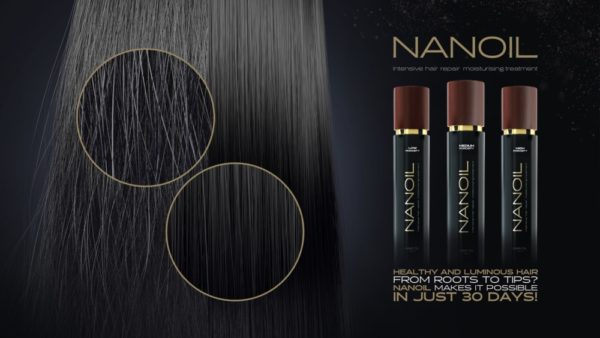 How to use Nanoil Hair Oils?
By choosing Nanoil, you don't need to worry about running out of time for hair care. Even though it is advisable to use it as an intensive treatment (washing hair before and after the application of the oil), its velvety formula provides you with many possibilities of usage. If you are pressed for time, apply a small amount of the oil only to hair tips to prevent frizzy and split ends. Also, feel free to apply the oil e.g. fifteen minutes before the hair wash.
Still, remember that applying the oil to wet hair or doing a hot oil treatment gives the best results – both moisture and heat enhance the absorption of the oils.
---
Sponsored Content