Joe Hanson: How to Dress Smart For that Hosting Gig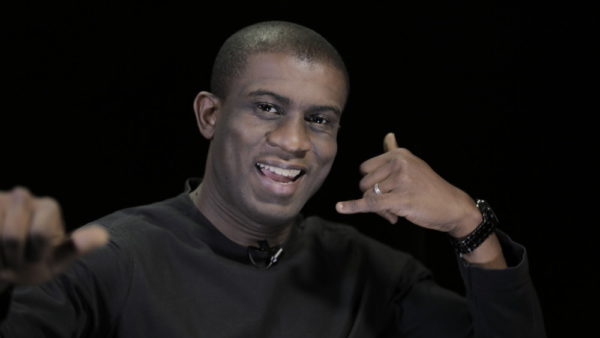 This is one article I really wanted to leave for later, but I have received a lot of direct messages and mail requests asking that I talk about this.
Just in case you were wondering how knowledgeable I am on fashion and style: I was a writer for a men's fashion blog some years back and, for those who know me, I love looking dapper. I can and always say: if for anything, at least have a good sense of style.
The title – Master of Ceremonies – comes with a lot of weight on your shoulder. One of it is that you must be/look presentable? Sadly, this article only covers the men, but the tips here can also work fine for the ladies!
Have a sense of style
This is a must for every master of ceremonies. No excuses. You must have a sense of style, no matter what. Know the basic rules of dressing for formal and informal events. You can always find information online should you be confused and don't know what to wear. However, having the basic idea of how to choose and mix colours, what to wear and not to wear for a certain type of event, and what is defined as stylish is a must.
Let's quickly go through a few points on this topic and use this as a guide.
The temptation to overdress
This is a serious flaw when you find yourself in an informal event looking all dapper on a bespoke attire from head to toe. You suddenly become the odd one out in the midst of everyone.
Always ask the event planner, celebrant or couple what they want the day to look like. What type of event is it? What colours will be on display (colour of the day), what the decoration will look like, and what they envisage the ambience to envelop? By doing this, you will have an idea and a mental picture of the what things will look like.
Trust me when I say that this can be very challenging as it's possible to spend hours looking for what to wear. But by understanding the "theme of the event," your search will be made easier. I was required to anchor a wedding that had this Grecian theme and was to be held in the evening. I figured out that I needed something brighter with an evening look. So, I opted for either a white jacket or a wine suit. The wine worked fine, especially with the lighting during the night time.
Try not to be a mascot by wearing the entire colour of the day. For instance, If Bisi and Joel are using purple, rather than wear a purple suit, you can make use of accessories – black suit, white shirt, purple pocket square.
Less is more
You have probably heard the words: less is more. Sometimes, in a bid to impress and make a fashion statement, we overdo it. This makes you look overly decorated. I have tried to describe what I mean by using these pictures below.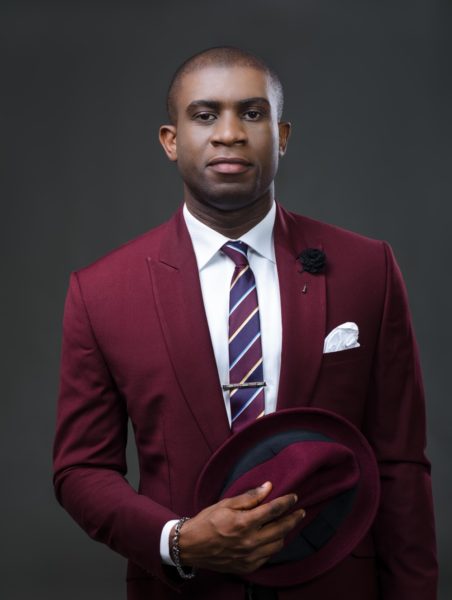 The picture above is a smart way to look dapper. With basic accessories such as tie clip, lapel pin or brooch, pocket square, and a wrist chain.
The picture below shows what happens when you add a little bit extra on what you already have. This may include: an extra brooch, a tie pin added to the clip, chain collar pin, double rings and pocket square pin.
Also, avoid wearing sunglasses while hosting an event. You need to maintain eye contact with the audience and not hide away from them.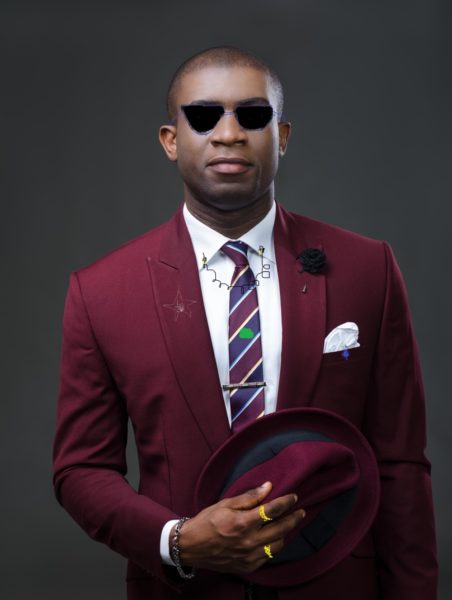 It's okay to repeat outfits
Yes, you may repeat your outfits. You just need to give them a little twist. For the guys, maybe add a waistcoat, a new tie, pocket square and shoes, and allow time to pass a little. But, as an MC, you will need a rich wardrobe. Not necessarily expensive, but filled with the right colours. In that way, even when you feel you have to repeat, you can mix and match colors.
An Agbada is hard to repeat, same as most bright coloured suits more than twice. But if you don't live for the social community and manage the space interval properly, you sure will cope.
Colour scheme
To avoid spending too much even though you might have to as this marks your identity/branding, try to get the prime colours. They are black, Navy blue and grey. With these colours, you can change accessories, shirts, and ties.
Native or no native
Oh yes! When I am opportune to host a colourful, Africa-themed wedding/event, I love wearing an agbada. It is most appropriate for weddings. Wearing an agbada to anchor a corporate function will be totally out of place and cannot be categorized as being stylish whatsoever.
No matter how you choose to dress, remember that looking good is also good business. Your appearance reflects deeply on your brand persona. Although, I have been forced to answer no many times when people ask, Ah ah, are you the groom?
The bottom line is always look smart. Keep it simple. Wear nice colours. Stay sharp, and make sure you are comfortable.