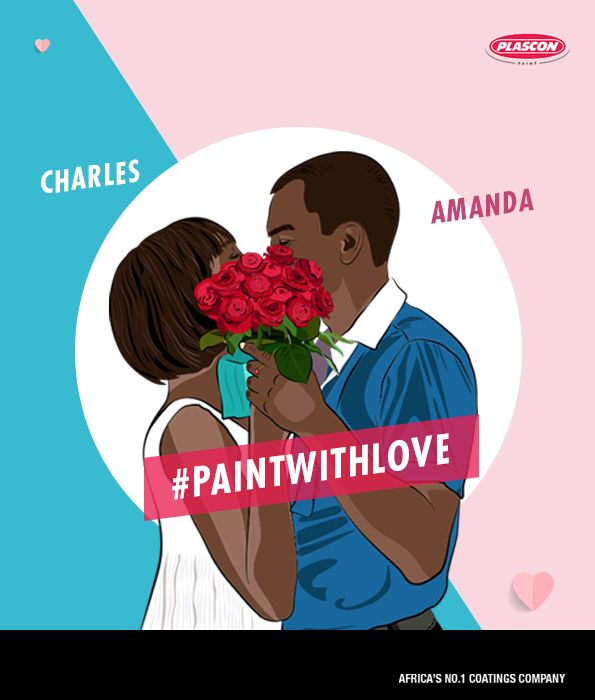 Roses are red
Violets are blue
Love is a beautiful thing
What colour are you?
If you're in love (Yay!). Chances are that you have fantasized about the wedding day and the wonderful life afterwards. We bet your day-dreaming features a bridal train, a themed color for the hall, family and friends gloriously adorned in aso ebi etc. Am I right or am I right?
Perhaps you aren't the type that engages much in day-dreaming about the finer details of the day. You rather play it cool, keeping the nerves very well under wraps (we know your tricks). You might have imagined 'the bedroom' (where all the fun happens -left to your imagination of course ), the living room and what colors would look great on your walls.
To celebrate colors and love, here's the catch to qualify, all you need to be is a newlywed or an intending couple.
How to Participate:
Step 1 – Follow Kansai Plascon on all social media platforms (Facebook, Instagram and Twitter)
Step 2 – Take a picture of yourself and your significant other (or just your significant other). In a few lines, express your love, using the word 'Paint' and upload on Instagram.
Step 3 – Tag and mention @kansaiplasconnnigeria with the following hashtags: #PaintWithLove #kansaiplasconnigeria. All images with the hashtags would be reposted on the kansai plascon Nigeria IG page.
Step 4 – Invite your family and friends to follow @kansaiplasconnigeria and like your picture. They must also type, 'following for you to win' in the comment section.
Remember, the highest number of likes and comments wins.
Contest commences on the August 6th 2018
Entries close on the 16th of August 2018.
This competition is open to Lagos residents only.
Winners will be announced on August 21st 2018 on all our social media pages
What's Up for Offer?
First prize – An all-expense paid dinner for two, N70,000 paint voucher and free colour consultation
Second prize – N50,000 paint voucher and free colour consultation
Third Prize – N30,000 paint voucher and free colour consultation
Let the challenge begin!
---
Sponsored Content