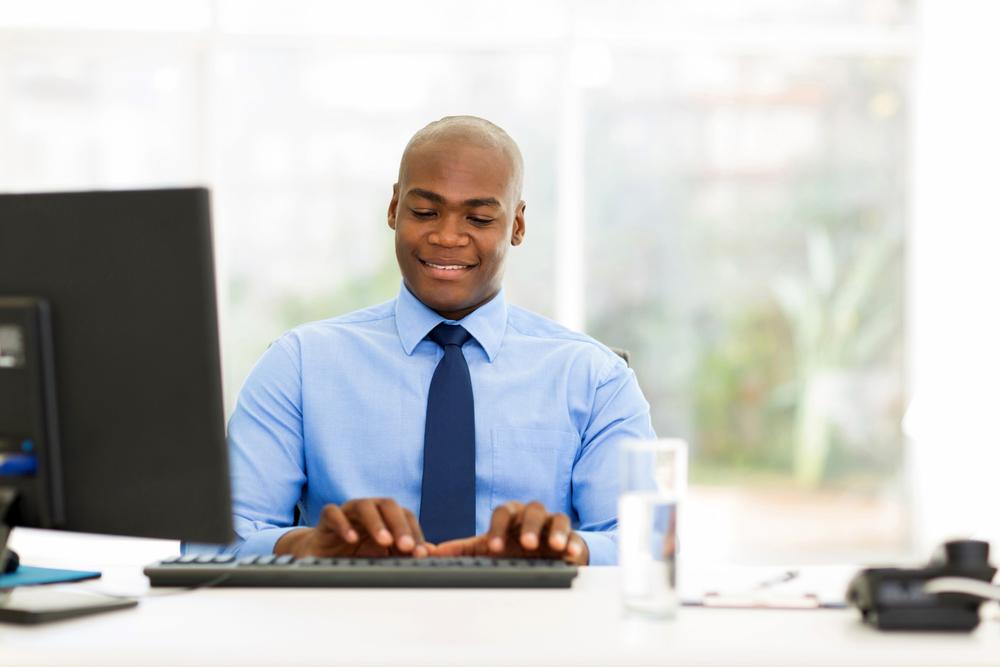 Yoooo! I saw the comments on my last BellaNaija Post! I was so stoked! 😀
I'm happy to see that people still remember me after my loooooong absence. A few even emailed me. I like that. No, seriously. I like to get in touch with readers because I'm a professional gossip. And I'd really love to meet up, especially if you're in Toronto or the GTA.  I don't think you guys get a notification when I respond to comments, so it's really helpful when I get your comments via email/Instagram/Twitter.
Let's TALK 🙂
Working with Ememtel
After swallowing my pride, I deleted my Master's degree from my Resume. A friend of mine told me that Ememtel was hiring. It was supposed to be for a customer-relations position.
Customer Relations Representative.
I sounded it. Rolled it around in my mouth. It tasted exquisite, felt like something I totally wanted to do. I imagined myself in a lovely office with the mandatory bonsai tree, wearing a really cute suit, with fried hair (I'm actually bald in real life, so my fantasies always involve me having hair), a bright white smile, and a charming attitude that made every customer feel like a valued part of the business ecosystem. I'd fire words like "synergize", "paradigm-shift" and "operationalize" to dazzle a few people. I've got this!
The Recruitment Process
The recruitment process was a breeze. It was entirely online. First, we had the chance to choose the hours we were available to work. Then there was a typing test. And then there was a part where the computer would call your cell phone and you say your name aloud. And then you read a line aloud into the computer's microphone. They did their magic behind the scenes, and then they sent us an email inviting me for an interview.
I freaked out! Wow, they want me! My first job in the abroad! I'll be stinking rich! I'll get my own office! Something to put money in my pocket! Why did they pick me? Maybe it was my amazing resume! Maybe they looked me up online and saw my blog, and thought I must be a good fit!
Prepping for the interview
I confirmed my interview date and started to get ready. I researched the company, read articles on how to sell yourself during an interview. Then I printed copies of my resume, bought those clear-plastic folders I hate, polished my shoes and got a haircut. (Yeah, bald people get haircuts too. Get over it).To make my fantasy come true, I actually wore the suit of my dreams – a plush tweed number that accentuated my figure and gave me an objectively hot look. Argue with the Sweet Boys Association if you don't believe me 😀
Surprise, Surprise!
The first shock came when I tried to enter the building. It was locked, and I had to introduce myself through the intercom before someone buzzed me in.
What nonsense!
The second shock was when I got there and found myself in a room full of 40 people, including a blind guy.
The third shock was when they took us upstairs into a room filled with about 120 cubicles.
I wasn't a star candidate – I was just a number picked by a computer. And this was a factory.
Money matters
The training was fast – we basically had to answer the phone when it rang. And we had to call people to convince them to buy lottery tickets. We would be paid a commission if we met our sales target and minimum wage (at that time, $11.25 per hour. It sounds like a lot if you're still thinking $1 = 300 naira (this was pre-Buhari), but then, the deductions by the government make sure you never actually enjoy your money. I'll talk about that later.
I immediately had ethical concerns because I've never believed in lotteries or gambling. Statistically, you're far more likely to lose everything you bet, than to win anything at all. The only people who win, are the ticket-issuers/casinos/houses. People will go into debt so they can fund their gambling habits. In short, gambling wrecks homes.
But they told us not to worry about it, because it was all regulated by Ontario's Lottery & Gaming. This wasn't actually gambling –  people are donating to charities through the lottery. Proceeds from the lottery ticket sales all went to fund cancer research, and if some buyers were lucky, they won something. The clients we were calling had all donated in the past or bought lottery tickets, and so they knew exactly what they were purchasing. It should really be a piece of cake, said Danny (again, not his real name).
What the Job Entailed
Nobody told me how difficult this would actually turn out to be. We had to keep the calls under 2 minutes. Within these 2 minutes, we had to:
introduce ourselves, tell them the tickets were up for sale,
tell them all the prizes to be won, including all the bonus prizes
answer their questions
take their credit card information,
and if possible convince them to buy more.
Oh, and we had to read from a script. Like literally. Everything you'll EVER need to say is in that booklet.
What if they say they're not interested?
The response is in the guide.
What if they say it's too expensive?
The response is in the guide.
And if they say they'll wait until the last minute?
The response is in the guide.
What if they think it's all a scam?
The response is in the guide.
What if they say "You're so kind and nice. I'll buy 2 of those"?
It's all in the guide!
What was so bad about it?
If you ever went off script, a supervisor would pull you aside and give you a stern warning. If you did it again, you would get a written citation. A third offence would guarantee that you would be fired without any severance package.
It was madness,  I tell you.
We had a crazy target of 30 dials per hour (we had to call 30 people every hour). A majority of the clients were old white people (I say this with the no prejudice intended). They were utterly suspicious once they heard any African/Asian accent and they would say "How am I sure you're not calling me from Africa? %$#@ out of here you Indian scammer, I've seen it on the news".All they had to do was look at the caller ID to see that we were calling from a landline in Toronto!
Sometimes, they would agree to buy and then say "oh I can't find my credit card. Oh, the numbers are too small to read. I'll just send a cheque in the mail" That was so annoying because we wouldn't get any credit for the sale.
Some people would answer the phone, talk to you warmly, tell you about how they beat cancer and they appreciate all the work we did, how they won a toaster the previous year… they would drone on and on, and in the end… "well, I just don't think I can do it this year. I think I'll give to Heart & Stroke research this year".  They'd have taken 4 minutes and destroyed your DPM.
The job was boring and monotonous. Any monkey could have done it, as long as they could read and write. That place was full of people from all over the world. We had Canadians, Nigerians, Ethiopians, Indians, Jamaicans, Pakistanis, Antiguans, Somalians. Still, you could recognize the same bored, dead expression on everybody's faces.
Some days, they would call 30 minutes to your shift and just cancel. Sometimes they'd give you only 4 hours a week. There were lots of students, mothers, and fathers working in that place and they really needed the hours. But the company was really just interested in making the maximum profit possible, so they didn't care what the irregular hours were doing to their staff. So, almost every day someone or the other would quit.
This is how you'd your money just fizzles out before your eyes :
Salary $11.50 per hour
Federal tax deduction – $0.62
Provincial tax deduction- $0.34
Canada Pension Plan deductions- $0.48
Employment Insurance deductions- $0.19
Total tax- $1.64
Net pay : $9.86/hr
So if you work 4 hours, you get 39.44
You're not paid during breaks, so lose half an hour.
39.44-4.93 = 34.51
If you take the bus, you spend 3.25 both ways. So that's $34.51 – $6.50 = $28.01
And , If you buy lunch at work because you think you're Otedola's daughter, you'll spend an average of $10. So, $28.01 – 10 = 18.01
In summary, you need to work twice as hard to make money.
I'll just say it was a character-building opportunity because that's the only truly positive thing that came out of the whole experience. Next time, don't be angry when Brother Emeka has not yet sent you an iPhone X despite living in the abroad for 5 years… Starting small in a new country is never easy!
I was going to dedicate an entire post to the topic of how to get a good Job in Canada, but there's already an excellent article on BellaNaija, so I encourage you to read that up and thank the author!
Oh wait, I forgot to finish telling you about Ms. Amazing girl.
She died.
Nah, I'm joking. I'll tell you next time.