Feed Your Curiosity at Legend Hotel Lagos Airport: A Curio Collection by Hilton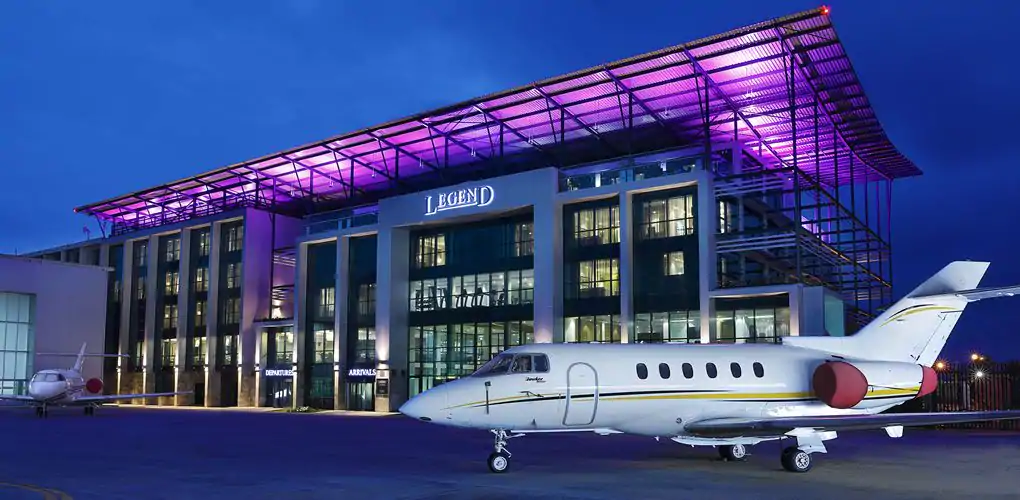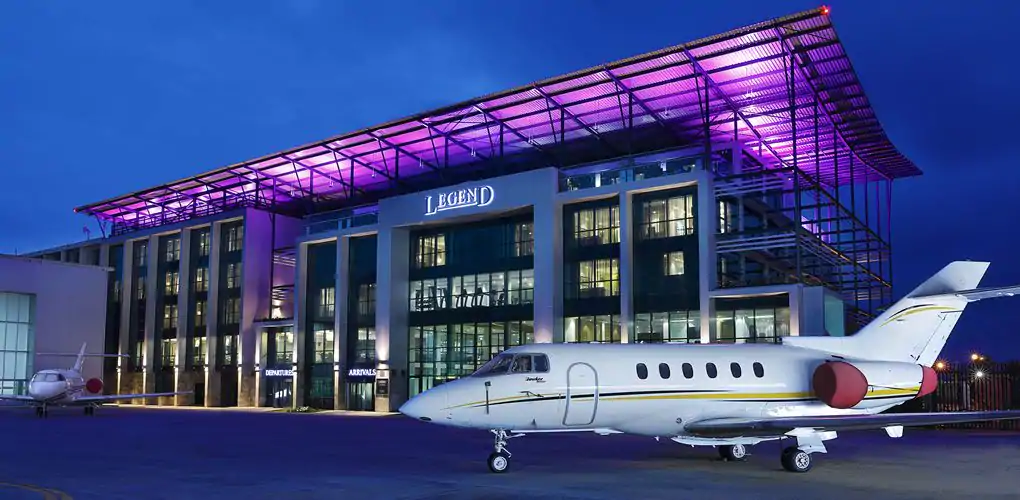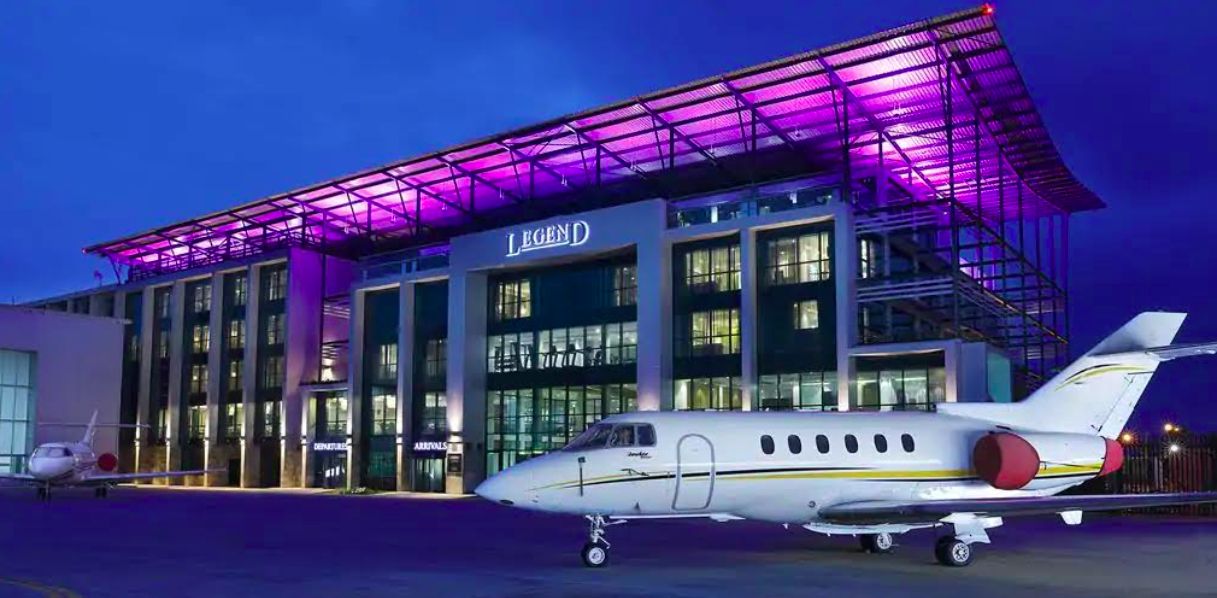 Nigerians are quite known for a vivacious lifestyle with art, fashion and hospitality always prominent.  On the heels of advancing the lifestyle narrative, the Legend Hotel Lagos Airport, a Curio Collection by Hilton has debuted in the heart of the financial hub in Nigeria presenting ultramodern experiences that appeal to upscale lifestyle. A private terminal featuring one maintenance hangar and one parking hangar for private jets is available at the hotel.
The upscale property is located along the Lagos Airport Road, Murtala Muhammed International Airport, Ikeja, Lagos. The hotel is just three minutes from the international terminal and five minutes from the local Airport; offering guests access to local attractions around the hotel like the Ikeja City Mall, Ikeja Golf Club, Lagos State Secretariat, and the New African Shrine. It is conveniently situated and offers visitors a prime location for daily business activities and chic leisure.
Guests visiting the hotel settle into a spacious guest room with Art Deco style and plenty of natural light. The hotel's interior is decorated with avant-garde art, paintings and sculptures that are truly breath-taking. While other hotels conjure a 5-star status stressing on height, space and lights, the Legend Hotel Lagos Airport aims to delight guests with an intimate experience that leaves an unforgettable experience.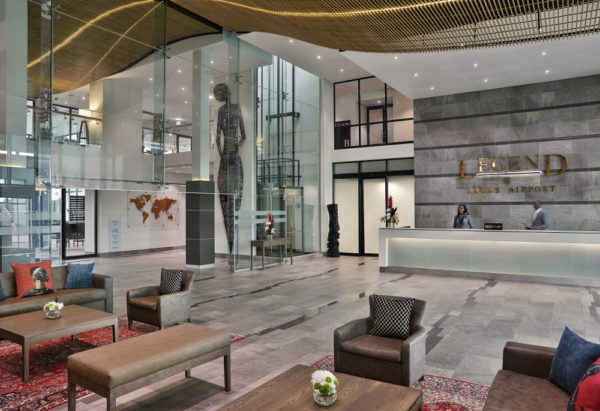 The Legend Hotel Lagos Airport features several hallmarks of the Hilton brand, including an indoor pool and state-of-the-art fitness centre, contemporary and sophisticated guest rooms with plush bedding, restaurant and bar, Executive Board Room with video conferencing facility, on-site leisure facility, menus featuring handcrafted food and a superior selection of premium beverages and international wines; not forgetting the flight support services which is quite unique to the hotel.
The Flight support services at The Legend Airport Lagos Hotel allows guests coming in from the VIP arrival to have access to in-house immigration and customs services. There is a Flight Support lounge that delivers the ultimate VIP welcome experience for the arrival of passengers and hotel guests. The Flight Support lounge provides quick grab and go style catering, clean and fresh changing facilities and is perfect for high profile meetings.
Staff at the hotel are very accommodating and eager to assist. From when you get into the hotel, the administrative and guest service staff are quite impressive. This is a reflection of the level of training the staff has received and the attention to quality recruitment. They are an integral part of creating a memorable experience for the guest.
For accommodation at the hotel, there are 54 elegantly appointed rooms and suites.  46 of those are art deco style rooms guest rooms and suites with plenty of natural daylight. All bathrooms are with separate shower and bathtub. The rooms are also with attractive views, Expresso machines, Wi-fi and with fitted multi plugs which are important for international Business Travellers. The hotel has 6 suites; 2 Business Suites, 4 Deluxe Suites which in addition to the perks available in a room also has a spacious living room, 40″ LCD Satellite TV, airfield or city view and access to exclusive Executive Lounge. The premium suites in the hotel consist of 2 Presidential Suites that have an additional kitchenette, private outdoor terrace which provides a breath-taking view of the tarmac and runway, Jacuzzi, complimentary access to the gym, pool and steam room. The Presidential suites are ideal for long stay and temporary residence.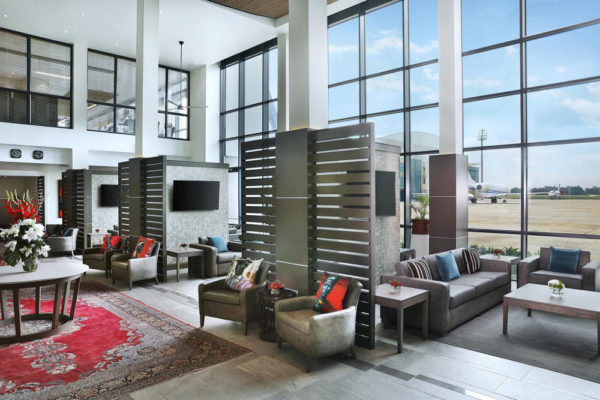 The De Bull Restaurant and Bar is the hotel's signature restaurant and bar that consistently provides high-quality service to guests. Whether it's for an efficient grab and go buffet focused on healthy and individual items, superior selection of premium beverages, international wines carefully selected from various regions of the world or craft gin selection with creative garnishes, De restaurant and Bar at Legend Hotel Lagos Airport guarantees an elegant dining experience. The ambience at the restaurant and bar is casual and ritzy making it the perfect spot.
Whether you intend taking a dip in the indoor pool, relaxing in the steam room, or you just want to draw inspiration in the fitness centre overlooking the airfield,  Legend Hotel Lagos Airport is the ideal location for business and leisure aficionados looking to maximize their time and take advantage of the unique hospitality offerings that the hotel offers.
—————————————————————————————————————————————–
Sponsored Content