Advocacy Group 'Together Nigeria' shares why Buhari deserves the Support of Nigerian Women
In 2019, we Nigerians will be given an opportunity to shape our future, and the future of our country. The result of the Presidential election due to take place on Saturday, February 16th, 2019 will decide the direction Nigeria will take for the next four years.
Nigeria has been led with honesty and integrity by our President, Muhammadu Buhari. His policies and principles have improved the lives of a great number of Nigerians, and he is now campaigning for re-election off the back of his many successes, from fighting corruption to revolutionizing infrastructure across the country.
The independent advocacy group, Together Nigeria, is a key supporter of President Buhari's campaign for four more years in office. They are proud to be led by women, who are at the fore of the group aiming to ensure Nigeria keeps moving forward.
Among them is the Honourable Abike Dabiri-Erewa, First Ambassador of Together Nigeria. She is well known throughout Nigeria for her successful television career, as well as her illustrious political career. She is now a Senior Special Advisor to President Buhari on Foreign Affairs and the Diaspora and is soon to be appointed as the Executive President and CEO of the new Diaspora Commission.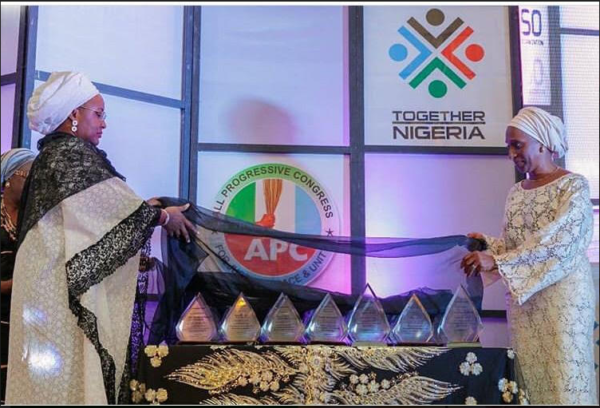 The Wife of the President, Her Excellency Dr. Aisha Buhari, is another supporter of the Together Nigeria advocacy organization. In November 2018, the Wife of the President hosted the launch of the organization, as committed volunteers came together to show their support for the re-election of President Buhari. Among them were a host of famous faces, including Chinedu Ikedieze, Muka Ray-Eyiwunmi, and Funke Adesiyan. The event showcased the talent and potential that Nigeria has, as well as the success of Nigeria as a country that values excellence and hard work in every person and across every profession.
Dr. Aisha Buhari has long been a powerful advocate for the rights of women and girls in Nigeria, notably through the efforts of her NGO, Future Assured, and more recently through her new Women and Youth Presidential Campaign Team. The success the Wife of the President has achieved in her own right, as a businesswoman and author, has also positioned her as a visible role model for young girls and women across the country.
It is clear that supporting political campaign groups that value female leadership leads to the improved representation of female voices, which in turn encourages increased investment in policies and programmes that matter to the lives of women.
And we have begun to see the impact of this in Nigeria. Over the past four years, President Buhari's administration has committed to revolutionizing the role of women in our country. The majority of loans from the Government Enterprises & Empowerment Programme – TraderMoni, FarmerMoni, and MarketMoni – have gone to women, with over one million women benefitting from a total of N26.4 billion in interest-free loans.
As well as this, under the PMB administration, the National Women Empowerment Fund was implemented to provide support for the informal businesses of 80,000 women.
The president has enjoyed support from individuals across a range of sectors which are powered by dynamic women, including the agricultural sector; and he has also appointed several female Senior Female Special Assistants, including Adejoke Orelope-Adefulire, the SSA to the President on Sustainable Development Goals.
Having powerful women at the fore of campaign organizations is vital to continuing this change. In his second term, President Buhari has already committed to addressing the deficit in women's appointments, offering more opportunities for women in cabinet. President Buhari's commitment to equality in office has shown that he knows that the future of our great nation lies in the hard work of every citizen.
Four more years of President Buhari means four more years of increased representation for women. Like 'Together Nigeria', President Buhari will continue to value individuals based on their talent and give opportunities to dynamic and successful women across Nigeria. Join Together Nigeria in standing with our President for a brighter future.
You can find out more about Together Nigeria by visiting them at @TogetherNigeria.ng or @TogetherNG.
—————————————————————————————————————————————–
Sponsored Content