#BNTrendingPhoto: First Lady Patience Jonathan DAZZLES in Pink…Seriously, She's Dazzling!
Posted on Thursday, January 3rd, 2013 at 11:27 AM
By BellaNaija.com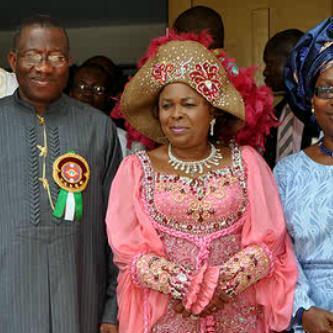 The First Lady of the Federal Republic of Nigeria's love for diamonds is no secret but it seems as though she has taken things to the next level. Patience Jonathan was recently spotted by her husband's side in a pink kaftan generously adorned with crystals and precious stones. She accessorized with a diamond necklace, earrings and a festive feathered hat also adorned with crystals. We see President Goodluck Jonathan with a coy smile on his face, we think he loves the look!
Caption this #Trending Photo
Tags: #BNTrendingPhoto
Custom Search