BN Prose: A Faith of tWiStS Part II by Fisayo Talabi
Posted on Tuesday, January 28th, 2014 at 10:21 AM
By Fisayo Talabi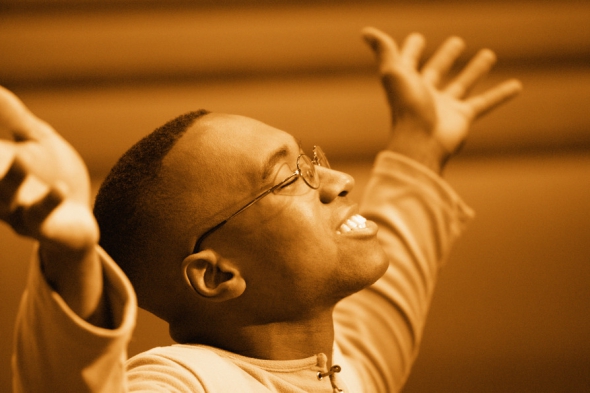 This is a continuation of A Faith of tWiSts. {Click here to read the first part}
***
She sliced the washed tomatoes, pepper and onions, and poured them into the blender. It was 6pm and her husband would be home any time soon. She would have asked the maid to prepare Daniel's meal, but he did not like warmed food. He liked his meals very fresh…nothing later than three hours. She was also trying to buy his affection back…he had not been intimate with her for a while, and each time she brought it up, he gave the excuse of waiting on the Lord.
By 7.30pm, he was not back yet. There was no church engagement for that time. She dialed his number and his phone was switched off. She decided to call Pastor Babayemi, the assistant pastor, just to find out if there was any impromptu programme going on.
"Mummy Pastor, good evening!" He answered, followed by other religious praises and accolades like Mummy in the Lord, Mama Spiritual…
She wished he would just stop so she could get to the main reason for her phone call.
There was no church programme. But there was a new phone number. She was shocked, but tried to conceal her surprise and embarrassment.
"He called me about thirty minutes ago with his second line though. Have you reached him on that?" Pastor Babayemi said.
She paused.
"Can you imagine I did not save that number?!" She laughed, and her own laughter mocked her, with the ingenuity of it. "Please can you text it to me?"
"Eeya…Ok no problem. I will send it."
The call went through. It rang twice, but he did not pick up.
***
"She is a clown shaaa!" Mrs Babayemi laughed hysterically at what her husband had just told her. "Anyway, everyone knows she is Daniel's puppet. Na wa! How can she not have her husband's other phone number? Ha!"
Pastor Babayemi laughed in reply, shaking his head. He tugged at the already sucked orange, to eat the insides, putting the seeds into his plate.
"Do they think you are a child? In fact, I think Overseer General should review this pastorate hierarchy. It is giving room for disrespect o. You are not Daniel's mate by any means." she continued.
Pastor Babayemi nodded in agreement, basking in the appraisal his wife had just given.
The former Disney star singing naked on a ball, showed on the screen of the small TV upstairs. Rachel, the Babayemis' fourteen year old daughter sat glued to it, singing word for word with a wrecking and reckless abandon.
***
"Hello Friday," Feyikunmi greeted the front desk guy at the guest house. "Give me Pastor Daniel's key. I want to drop some books and his laptop. He still dey meeting for church. I will have to wait for him." He nodded in approval and gave her the key to the room. She was posting a picture of her outfit to church on her Instagram page to pass time, when she heard a knock on the door. She knew it was him. He had sent a text already. She opened the door and pulled him in by his tie.
"Ehen, before I forget, I don't like the way the Protocol Head looks at me, Baby." She said, unbuttoning his shirt. "I don't even know if it is because he likes me or maybe I am not spiritual enough."
Daniel laughed, as he pulled her close to him. "I think that is just your imagination. I don't think it means anything."
"I was beginning to think he knows something about me and you…" she said.
He felt the swiftness of a blood rush within, and his heart began to palpitate faster, from guilt and fear. "From now on, if the Lord tarries, I will decide when and how I want us to meet." He said.
Hezekiah Walker's Second Chance filled the room, as his other mobile phone rang. It was in his pocket which by now was sprawled on the floor at Feyikunmi's side of the bed. She got the phone and playfully attempted to pick the call, then gave it to Daniel, smiling seductively. He wondered who it was. This was a private line and he only used it to contact Feyikunmi. He had only just called Pastor Babayemi with it to pass urgent information because he had been out of airtime on his main line.
…Lord forgive me, like only You can
For You're the God of a second chance…
His ring tone played, as the phone rang for a second time. He recognized the number. It was Ifeoma. His surprise spread like a virus and his heart began to beat faster. He hurriedly wore his clothes, and gathered his books. Feyikunmi was also getting dressed and cleaning up; to make sure they left no traces of their activity.
This was the second time they were using the guest house together. No one would think anything was going on, since it was public information that she handled most of his clergy itinerary. The cleaners never came on Sundays. Others who might know were the Front Desk receptionist, the gateman, and the young boy that the church had employed to keep the surroundings clean, and to handle domestic necessities like running the generator.
They left the church guest house separately. Feyikunmi called her cab guy and left first. Just as he was about leaving the room, he spotted a condom sachet on the floor, almost under the bed. He said a quick "Thank God!" and snatched it fast as though someone else was watching. He stuffed it in his suit pocket intending to throw it away as soon as he hit the road. He got into his Range Rover Sport and headed home, listening to his sermon on the church CD. A lot was running through his mind. How did Ifeoma get to know that phone number? He planned on what to tell her if and when she confronted him.
Ifeoma had just put the kids to sleep, when she heard Adamu open the gate. Her husband drove in, parked the vehicle, and walked into the house.
"Hi Ify. Sorry, long day. I should have called but my phone battery went out of power." He said, handing her his bible, and his suit jacket. "What is for dinner? And I want a feedback on how your personal retreat went today. Did you read the scriptures I gave you?" He walked to the dining table and opened his dishes. "When did you cook this? The rice looks dry. How many times do you need to be reminded that I cannot eat stale food, Ify?!" He had begun raising his voice.
She responded with loud silence, as she held the condom sachet she had taken from the pocket of his suit jacket, and held it to his face.
still to be continued…
Tags: BN Prose, Fisayo Talabi, Pastors, religion, Unfaithful Pastors
Custom Search