Here is a Visual Update of Recent Fab Fashion and Entertainment –
Here are some brand new photos of Nnenna from last season's ANTM…I am really glad that she is doing so well…
She is lookin' very fierce! LUV IT!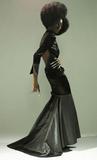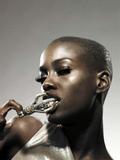 Here is Oluchi with musician Mario and Victoria's Secret model, Alessandra Ambrosio. She was at the VIP Dinner for the launch of Victoria's Secret's "Sexy Little Things" yesterday….

Here is Oluchi at Victoria's Secret Very Sexy Makeup Launch – After Party a couple of weeks ago…she's with Rachel Roy (Mrs. Damon Dash) and Supermodel, Gisele in the pics…Great to see she is still doing big things!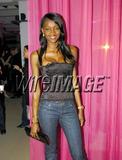 This just made a laugh so much! I was browsing through the collections shown at Paris Fashion Week which took place about a week ago.
So I was lookin through the Louis Vuitton Spring 2007 Ready-to-Wear collection and what did I see? Many bags featured were 'Ghana Must Go' bags…u know them now…lol…don't front!
So all u aspiring fashionistas, if you want the style but don't want to buy the LV 'Ghana Must Go'…just search around your house, find one and rock it! LOL… U know we are going to see some Nigerian chicas rockin it in 'ThisDay Style' soon! Marc Jacobs is such a clown…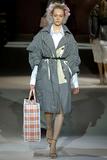 By the way, make sure you vote for P-Square for this year's MTV Europe Music Awards being held at the Bella Center (hola!!! lol) in Copenhagen, Denmark….They are nominated for 'Best African Act' (2Face Idibia won last year) – HERE

That's it…ENJOY! Let us know what you think!