Model of the Week: Olushegun Aranmolate
Hey Everyone,
How r u all doing? I'm goooood…Well apart from the fact that I have started sleeping at 7PM…I just don't get it! Is it old age or what? Anyways, so how was your week? Hope y'all had a great one…I am just getting back in the swing of work 🙁 Nada exciting…
So thanks for the advice you dished out to my friend yesterday 'Ms Crossroads'. I will keep you updated as to what happens. Honestly, we tried our best to give you guys the whole picture, we could have left out some things that would have helped protect her identity but we didn't because we wanted to get good advice based on the facts so nothing was sugar-coated. On the real, even me, Miss wannabe Oprah Jnr. has learned sooo much from all the Aunty Bella cases…It has really CHANGED my whole perspective on relationships. So a huge THANK U to everyone who has contributed via comments or emails and even prayers!
Anyways, Here is Weekend Luv – The Sweet Edition
The Blog
BimbyLads' Blog
I loveeeeeeee this blog! It always make me LOL so much!
Nigerian chick in the UK doing her thing.
Mimi Magazine's Blog
Mimi Mag is HOT!!! Its an African Women's Magazine by a collective of African women. Now they have a blog! Uber fab….check it out!
The Jump Off
The Annual Nigerian Reunion is BACK! Its 2007 and u know what that means – Its taking place in H-Town this year. Check out the website – HERE

Icy PR is hosting its first soiree in Minnesota! Its an art exhibition and I have no doubt that it'll be fabulous! Apart from the art, I think it will be a great opportunity to meet some great intellectual and fabulous art lovers. Check out the site – HERE



What's Hot
Here are pics from Estella's Collection at a recent fashion show at the DC Fashion Week.
JD-7 Couture (Data Okorodudu) and AMORE Hats (Edith Osamor) also featured at the event and are pictured below. I love Estella's work ethic! Wow…she is always striving! Luv your enthusiasm and drive Estella!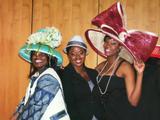 Uzo's Blogger Bachelorette contest is really heating up! – HERE
My favourite online spot, Tru Spot Radio has launched a BellaNaija-themed customized player. How hot is that? Lol…Thanks sooo much to iKe from Tru Spot. If you aren't hooked to TruSpot, you are missing out on some fanatic mucsic. Check on it HERE
A brand-new Nigerian lifestyle magazine called BHF Magazine will be launched soon. I assure u that you will LUV it! It's a creative brainchild of Geoffrey and Jennifer Olisa. Absolutely fabulous….I will have more on BHF in the near future. Teaser website – HERE
If you have any ideas for the mag, you can hola @ the BHF team via their website or search facebook for their group.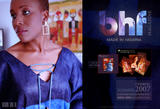 Nayo is on the cover of this month's edition of Mimi Mag. Luv it! Hope you have bought the single! Check on it – HERE

The Hits
Modenine – Cry
If you know anything about Nigerian HipHop, you'll know that Modenine has been around for a lonnnng time! I am glad that he is finally getting the recognition that he deserves. He deservedly won a truckload of awards for this song! Check on it!
Nomoreloss – Let Them Say
I LOVE Nomoreloss, I think he deserves sooo much for props for the type and quality of music that he unleashes! Check out his last hit – Let Them Say!
That's it folks! Have a great weeeeknd! I am here plotting my extended summer holiday already! Take care.
Ciao.
~Bella