Photo of the Week: Geneveieve Magazine Editor, Betty Irabor at her 50th B-Day Party

Hi Everyone!!!!!!!!
I was trying to 'dodge' doing Weekend Luv this week because I am soooo sleepy. I went to bed really early last night so I ended up waking up at 2AM. I finally went back to sleep at 5AM.
Sooooo how was your week? This week went by sooooo fast, didn't it? Wow! Anyways, it was a fun week. I didn't do much but I enjoyed it all the same. Here is Weekend Luv – The Red Edition
The Blogs
Mandy Brown-Ojugbana's Blog
OMG, I am sooo excited. She sang the song 'Taxi Driver' back in the day. Make sure u check out her blog!
Omohemi Benson's Blog
Pink-Satin's Blog
Mimi's Blog
The Clicks
You just have to visit the fabulous new Peridot & Ruby website. Luvvvvvvv it! – HERE
So I was reading a Nigerian newspaper this week and I read this story, oh my!!! It freaked me out! Nigeria scares me sometimes (the story is about a woman who claims to be a 'mermaid'. Jesus take the wheel! – HERE
Ini Edo has been 'banned' from acting for a year – HERE
BabaAlaye is back in the building – HERE
Some interesting interviews below:
Miss La Casera


World Miss University (Nigeria)


Prettiest Girl in Nigeria (LOL at the numerous beauty pageants in Nigeria)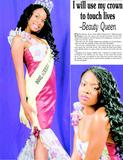 Model, Theodora Dike


Genevieve Magazine Editor/Publisher, Betty Irabor's 50th birthday was some weeks ago. She held a huge soiree at the Civic Centre. Here are some exclusive pics. Uber fab! The theme of the party was red and gold.

The Hits
A dear reader emailed me this link yesterday, it's a Yoruba love song. Luv it!

See President Bush trying to give us some African dance moves. LMAO. Jesus take the wheel.

The ever-popular, Throw Some Ds Naija Style (Thanks Omolabake)
Mona featured it on her blog as well. Hella funny!


*Please do not use any photos from bellanaija without permission and/or a link stating bellanaija as the source
That's it! Come back early on Monday! I have something utterly fabulous planned.
Have a great weekend…..
~Bella