Hey Everyone,
How was your weekend?
Hope u had a great time…
I didnt do much this weekend, just went to get my hair done!
I made the decision to go 'weave-free' for the first time in a lonnnnng time like a month ago…I also cut my hair shorter and honestly I am loving it!
I also spent a lot of time reflecting, praying and planning for next steps in my life and business.
Anyways, enough about me – check out the rundown!
__________________________________________________
Tuface was attacked by armed robbers on Thursday, 4th October 2007.
Here is the eye witness account of what happened from Ifeanyi Orji, elder brother to Faze, who also doubles as his manager.
"It was at Cele Bus stop. We were in light traffic, 'free styling', a song he was writing, when I saw a couple of guys get down from the car next to us.'Open the door!' I heard the command from one of the assailants, and the blood froze in my veins! What was happening? I was rooted to my seat like a statue. The next thing I heard was boom! boom! The glass shattered. I thought I was dead! Then I heard Tuface's voice calling "Odogwu, move! Get out of the car!" I don't know how I did it. I just saw myself running and stumbling and running."Suddenly I discovered that he was behind me, panting, asking, ''are you okay!' Despite his wounds, he was still asking about my state. I reached out to support him as we staggered on. It was like watching a James Bond movie but in this case, we were the actors! "They would later be rescued by a van carrying pure water and taken to Cedar Hospital in Festac Town, where they were all admitted.
– See the rest of the story HERE
Anyways, contrary to some reports, 2Face is in high spirits and the injury is not life threatening. Senate President, Senator David Mark who is the senator of 2Face's district in Benue State has offered to sponsor 2Face treatment abroad if need be.
Prayers and well wishes to him.
__________________________________________________
Oluchi just bought a $1.7 M. West End Condo in NYC. She
already rents out a two-bedroom at the Park Imperial (it goes for between $7,500 and $9,000 monthly, ditto 10 West End), and will price a two-bedroom apartment at the new 101 Warren Street around $11,500. Plus, her studio at Jade Jagger's eponymous condo in the Flatiron will rent for around $3,250 a month.
– Read the rest of the story HERE
Really glad to see Oluchi displaying her business acumen. She is graduating with her Bachelors degree from the prestigious NYU soon.
________________________________________________
Agbani Darego is now signed to Ford Models. Check out some of her videos providing advice on the modelling industry below. See more vids HERE
Agbani Darego on How to Apply to an Agency

Agbani Darego's Basic Makeup Tips

___________________________________________________
If you haven't been keeping track of BBA, you have missed a lot!
So much has happened and I can't possibly get you up to speed with everything BUT I can give you a summary of all the romance! Sooooo much drama!
For info on all the contestants, check out my 1st BBA II post – HERE
Couple 1
Richard (Tanzania) & Tatiana (Angola) aka Richiana
This is the hottest and most scandalous Big Brother Africa II couple. Why? Well, apart from their incessant shared showers, kisses, massages, dancing etc….
The reason why this relationship is sooo controversial is because Richard is MARRIED.
24-Year old Richard is married to an older lady named Ricki who is originally from Canada and was declaring his love for his wife, left, right and centre when he first arrived in the BBA house but all that has changed now that he is involved with Tatiana. Richard claims he feels guilty about he and Tatiana's relationship and sometimes kisses his wife photo (as if that makes up for his activities!!). Anyways, check out photos of the couple in action below.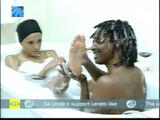 Richard with his wife before BBA

Couple 2
Lerato (South Africa) & Max (Zambia)
Max was engaged when you entered the BBA II house, by the time he was evicted, his fiancé had dumped him! Why? Well, Max and Lerato (the L'Enfant terrible of the series) started a relationship in the house. Their relationship was supposedly consummated when they spent several days alone in the 'penthouse'. They have both been evicted and have been spotted together outside the house.

Couple 3/4
Kweku (Ghana) & Meryl(Namibia)/Bertha (Zimbabwe)
Kweku was 'dating' Meryl before she was evicted, at that point he moved to Bertha. Wow…how sensitive! Bertha was evicted on Sunday.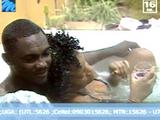 Couple 5
Code (Malawi) & Maureen (Uganda)
She pursued him, she cried, she begged. Now they 'seem' in love, always waxing philosophical to each other. but when he is talking to the boys, Code makes it clear that the relationship has no future. Maureen has a boyfriend in 'real life' while Code has a girlfriend too.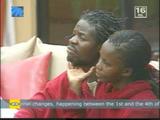 ____________________________________________________
That's it for today!
So what do you think about the BBA II romances, Oluchi's real estate biz, Agbani's vids and be sure to send your well wishes to 2Face.
Ciao!