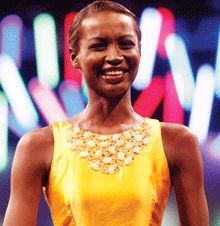 The spectacular and dramatic M-Net Face of Africa 2008 Finale, held on Saturday night (November 29) at the SuperBowl in Sun City, South Africa, came to a fairytale finish as striking 23-year-old Ghanaian Kate Menson discovered that dreams really do come true.

Discovered in Accra during a casting in the city earlier in the year, her progress in the current season of M-Net's Face of Africa has been a constant inspiration to viewers, who discovered earlier in the month that although Kate had auditioned for the search in 2006, she hadn't qualified at the time because she needed to hone her talent and work on developing her physique.
Tonight her hard work, focus and dedication were rewarded as a thrilled SuperBowl audience welcomed her success with thunderous applause as she was named the seventh and newest M-Net Face of Africa.
The dramatic hour and a half show, featuring electric performances from Idols winner Eric Moyo, along with Nigerian superstars Naeto C and Ikechukwu plus Afro-funk performers House of Holy Afro, was screened live on DStv to over 40 countries across the continent. Also striding down the catwalk were fellow finalists Alli (Nigeria), Hamamat (Ghana), Hiwot (Ethiopia), Maria (Namibia), Noxi (Zambia), Joana (Angola), Lucy (Uganda), Sasa (South Africa) and Sola (Nigeria).
Naeto C & Ikechukwu's Performance

Featuring the fashions of Tanzania's Mustafa Hassanali, South Africa's Thula Sindi and Nigeria's Jewel by Lisa – Lisa Folawiyo plus two magazine collections from South Africa's Cosmopolitan magazine and True Love East Africa, the Finale was a glamourous glittering showcase of African talent, style and creative energy, played out against a backdrop of a gleaming black catwalk.
The dramatic runway took on a uniquely contemporary look as a giant and unforgettable replica of the face of 2005 winner Botswana's Kaone Kario, complete with bold black eye make-up and an ever-changing neon lit Afro, was made the focal point for the entrance and exit of the Top 10 finalists.
With show steadily and dramatically building to the exciting winner announcement, audiences greeted Namibia's Venantia Otto, the Face of Africa 2006 warmly as she made her way onto the catwalk to make the announcement of the TOP 5 finalists.
This was soon followed by the Finale's tension filled key moment, as the very first Face of Africa turned global model icon and businesswoman Oluchi Onweagba-Orlandi made the big announcement and revealed the M-Net Face of Africa 2008.
Awarding Kate with a modeling contract valued at USD 50 000 with her agency OModel Africa, Oluchi's announcement marked a magic moment in the Face of Africa legacy, as ten years after she won the title, the Nigerian supermodel was the one opening a new door for a new star.
Commenting on the emotion filled Finale, M-Net Channel Director for Africa Biola Adekanbi said that M-Net was proud of the project which, with its transformative power to change lives and its enduring continental appeal, continued to be a shining highlight on the M-Net calendar.
"We wish all of the TOP 10 finalists well as they go forward and thank them for the courage, and their strength in taking on this challenge and meeting it with such grace and charm. Further we wish Kate much success as she enters a new chapter in a life, one we are confident she will embrace with enthusiasm and passion. Finally, M-Net will continue to promote African talent and ingenuity, in keeping with our belief that Africa and Africans should be celebrated."
Meanwhile for gorgeous Oluchi Onweagba-Orlandi, the decision to select Kate as the M-Net Face of Africa 2008 was based on the model's suitability for the title.
"On the judging panel, it was clear to us all that Kate was perfectly suited to be the next Face of Africa. She's the complete package, a model designers dream off, that magazine editors embrace and that catwalks are made for. Kate won the title purely on merit and the fact that she had this fairytale story, this incredible journey to the top, makes it just that little bit sweeter!"
Kate's Journey through Face of Africa

Source: MNetAfrica
To view the rest of the Top 10 click HERE
Few photos from the show & afterparty