The Bella Naija style page launched the reader based feature; My Style last week, and am glad that we have another fashion fab reader to feature today!
If you will like to be featured on this page, simply send two pictures of yourself or that of a friend depicting a typical Day and Night Look with a short summary of your style to my mail box: [email protected]
When your entry is approved, you will be required to send in more pictures and personal commentaries on your style or that of your friend as the case may be!
Keep the mails coming; lets celebrate our love for our style!!!!
Bellanaija reader and fashion blogger Oyeyemi Wemi-Akinsola gives us an insight into her one of a kind style made possible by a closet full of all things vintage!!!
WHY DO YOU LOVE YOUR STYLE:
I love my style because I feel it is unique. I particularly love vintage, I guess the idea that no one else has what I'm wearing really fascinates me. Also, vintage is really affordable and it never goes out of fashion, so, it's a win-win situation.
The only thing annoying about vintage is looking through the pile of rubbish to find something with potential so because of this I've decided to start an online vintage store with my sister and my friend to help ease vintage shopping, for others at least. My blog would have more information on this in a few weeks.
Visit Oye's Blog here:
WHERE DO YOU SHOP?
– Vintage stores: Camden market, Brick Lane market.
– ROKIT online store. Visit here
– Topshop. Visit here
– ASOS. Visit here
– American Apparel. Visit here
MAKE UP:
During the Day I like to keep it simple with a bit of eyeliner, mascara and lip gloss.
I love really dark smoky eyes when I am going out. Channeling my inner goth I guess…lol. On days when I don't have really dark eyes, I like to use bright coloured lipsticks like red and pink, I particularly love ruby woo and girl about town by MAC.
Purchase here:
HAIR:
When it comes to weaves I love really full long wavy hair, I always used to have a side parting but now I have a centre parting a lot more often.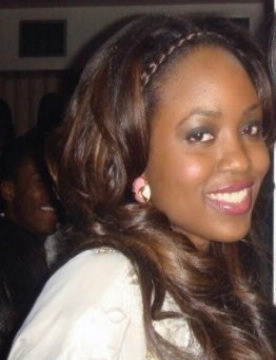 With my real hair I like it to keep it short and straight.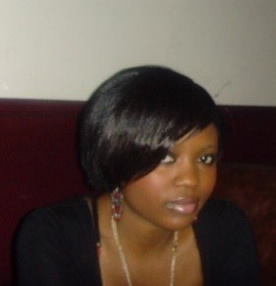 However, I prefer weaves because they are easier to maintain. Once I wash it its as good as new. I can only speak for the brand I use though.
Like Oye's weave indian remy hair ?
Get info about it here:
DAY LOOK:
My day look ranges from skirts to jeans to tees to jumpers to dresses. It's basically anything I feel comfortable in at that point in time. The only thing I would say is constant about my style is the vintage feel to it.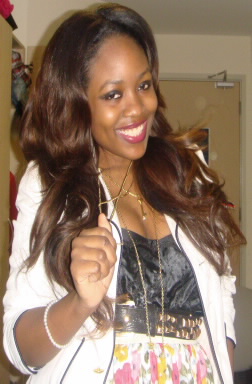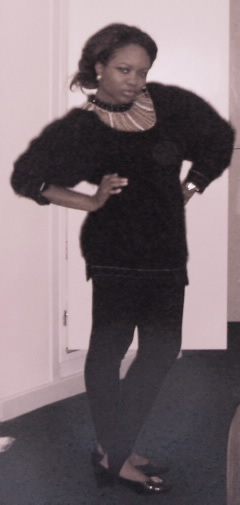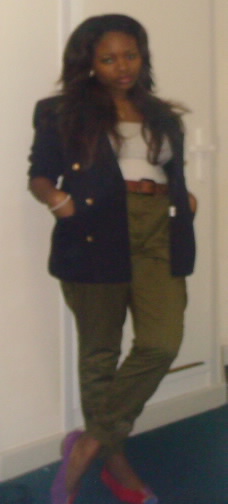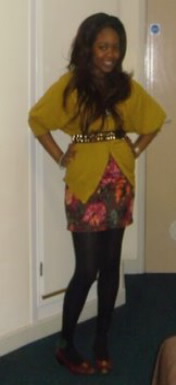 I also do a bit of DIY with some of my old clothes to make them look more fashionable.
A pair of old jeans I bleached and a plain t-shirt I shredded.
I also love accessories, from bags to sunglasses to shoes to jewellery to belts to headbands…the list goes on…
DATE LOOK:
I think this picture below captures what a date look for me would look like. It is very fashionable but at the same time its reserved.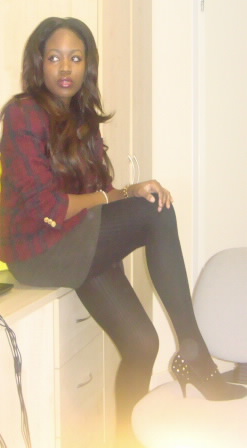 NIGHT LOOK:
My night look consists mostly of vintage dresses and high-waisted skirts. My studded belt always seems to make a regular appearance as well. I adore that belt so much I pray it never spoils. Occasionally I wear jeans or trousers.
That's pretty much what my style entails….VINTAGE. Hope you enjoyed reading through!!! xxx…..virgoslounge…xxx