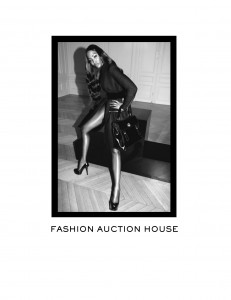 Sotheby's. Christie's. Tokini's?
The history of auctions is long and varied. From the million dollar international art auctions to the antiques auctions in quaint little English towns. Nigeria is now on the auction map. Fashion Auction House was created by Tokini Peterside in December 2008, and specialises in luxury fashion items. Fashion Auction House is an independent, transparent intermediary between collectors and lovers of beautiful things, which allows Nigeria's fashionable women to cash in and cash out on their investments. On Sunday 15th February at Saipan Restaurant in Victoria Island, Fashion Auction House was launched with 'Mint Condition', a secret auction and cocktail party.
Here's BN's account of the event:
Arrived at the venue, Saipan in VI. Off-topic, funny thing is Saipan used to be my absolute favourite spot in Lagos but hadn't been there in about 3 years so arriving at the venue led to a quick rush of nostalgia.
Back on track – Guests and prospective bidders were signed in at the door. Then we all trotted across the bar & lounge over to 'the vault' where all the lots that were up for auction were temptingly displayed. Items included handbags, shoes and clothing from international luxury brands including Chanel, Alexander McQueen, Christian Louboutin, Pucci, Burberry & Prada alongside jewellery from Nigerian brand, Eden by Didi Ocheja. After viewing and taking note of items of interest (granted I had planned NOT to be interested in any items by strategically leaving my handbag and chequebook in the car but alas the items were just too tempting!). After that we went over to the lounge for some chitchat and cocktails. Bidders submitted silent bids to the auction staff then sat back and enjoyed the atmosphere.
Then the action began! A live auction of the Top 30 items: The auctioneers Obi & Ruki took their places and provided us with witty banter as models displayed lot after lot. As each item was displayed across the room, bidders shouted out their bids. I bid for an item (so much for my plan! seriously didn't realize when I started shouting numbers…) but alas I lost out when the bids hit my budgeted limit. The climax of the evening was the hotly contested auction of a limited edition Burberry bag. Bids sprung from all across the room, the number kept getting high and higher (but still significantly below retail price). Eventually it was going going GONE to a lucky lady!
Overall it was a great evening. If you are a lover of luxury goods – from fashionistas to recessionistas to gawkers! Take time out to attend a future FAH event. Want to find out more about Fashion Auction House. Visit their website www.fashionauctionhouse.com