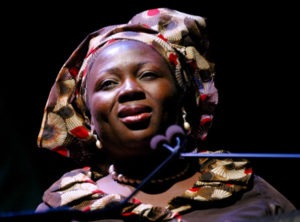 Happy Women's History Month! Nigerian, Temitope Esisi was given the 10,000 Women Entrepreneurial Achievement Award at the Vital Voices 2009 Global Leadership Awards last night. Vital Voices Global Partnership is the preeminent NGO  that identifies, trains, and empowers emerging women leaders and social entrepreneurs around the globe.
American designer, Diane von Furstenberg, a vocal supporter of Vital Voices was in attendance, Secretary of State Hilary Clinton was given the global trailblazing award and Actor Ben Affleck presented at the event.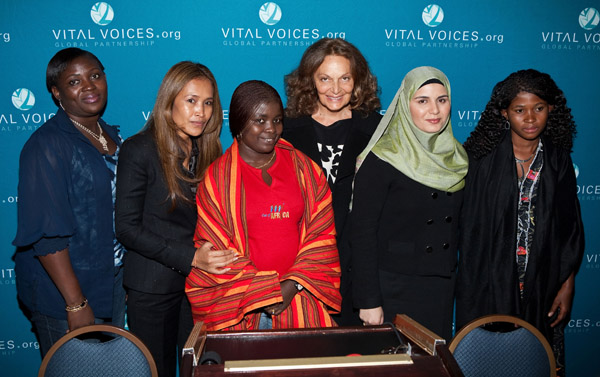 Unlike many Nigerian women who have chosen to follow a traditional path to economic success, Temituokpe Esisi chose to look past that low-hanging fruit of economic progress and aim for the higher branches of capitalizing on her own creative talents. After graduating from university in Nigeria and launching a career in the law, Temituokpe Esisi decided to make a career change. In 2005, Esisi launched her own tailoring company, Tuopsy's Enterprises, but by 2008 recognized that she needed further assistance if her company were to succeed. "I ran this business for three years solely on passion and creativity, but I didn't make any money. I was ready to throw the towel in."
In 2008, Esisi applied for and was awarded an inaugural 10,000 Women scholarship at the Pan-African University in Lagos, Nigeria. The 10,000 Women Scholarship, sponsored by Goldman Sachs in developing nations around the world, seeks to increase the number of underserved women receiving a business and management education. "The first couple of weeks in class I realized I had been doing everything wrong," Esisi says. Through an online mentoring program, Esisi was matched with a Goldman Sachs employee, Chief Operating Officer for the Securities division of Goldman Sachs, Michelle Pinggera, who guided her through her coursework.
Over the course of four months, Esisi excelled in her coursework, gaining the financial and leadership skills to enhance her business, and eventually completing a certificate in entrepreneurial management. Esisi now employs six people at her Lagos-based fashion company and hopes that her success will benefit and inspire women throughout Nigeria and beyond.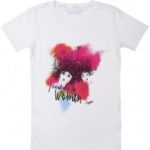 Diane von Furstenberg has also designed a limited edition "Proud to be Woman" t-shirt and tote bag that will benefit Vital Voices. To purchase the t-shirt visit here.
So apparently investment banks still do good things to find out more about the Goldman Sachs 10,000 women program.