KiRette Couture (KC) is a new movement. And at its helm are Cameroonian duo Kibonen Nfi and Anrette Ngafor. The business savvy image consultant and her über trendy fashion graduate partner weave the originality of tradition and the vibrancy of contemporary styles to bring African sexy back to the wardrobe and catwalk.
Hatched in the New York chic bubble, KC's signature style is inspired by the toghu – a colourful and intricately embroidered robe typically worn, on special occasions, by the people of Nfi and Ngafor's native Western Highlands region. This one-of-a kind label strides boldly across racial and cultural borders by exploring, experimenting with and fusing textiles from around the world.
With sourcing arrangements in Africa and beyond, KC specialises in tailored, handcrafted and limited edition pieces. Since its inception in January 2009, KiRette Couture continues to build a steady on and offline following of cool "KiRetters" who indulge in its luxurious yet affordable creations.
Celebrated outings in Washington DC and Manhattan, and a widely acclaimed gallery event in Manchester (UK), have propelled KC to a class of its own.
BN was glad to have a chat with Anrette and Kibonen on their label and aspirations for KiRette Couture.
Bella Naija: When did fashion designing begin?
Kibonen Nfi: Fashion is instinctive to me. I always dreamed of being more than a consumer of this industry. It is my goal to influence global trends. I have a BA in English and French from the University of Buea, Cameroon and am studying for a degree in International Trade and Marketing in the Fashion Industry, at New York's Fashion Institute of Technology.
Anrette Ngafor:I have always been into vogue. While growing up in Cameroon, I would often advise my siblings and parents on what to wear. My mother and father were very stylish so they encouraged my talent and sacrificed a lot to fund my studies in the UK. An Art and Design course at the Manchester College of Arts and Technology developed my passion for textiles. I later enrolled on a BTEC programme in Fashion and Interior Design which enabled me to pursue a BA in Fashion Styling, Photography and Image Making at the University of Salford, Manchester. My degree studies set the scene for KiRette Couture.
BN: When was KiRette Couture (KC) established?
KN: KC was formed in January 2009. The path to its creation is very interesting. I stumbled upon pictures of Anrette's work on face book and knew straightaway that I had found the one (to team up with). We have achieved so much together. Many people think KC has been in business for 3 years or more but we are just 7 months old! The buzz around us is extremely motivating.
AN:Kibonen fell in love with the way I styled our traditional toghu* for my final year project and called me to discuss the irresistible idea of taking our cultural chic global. Before long, I was on a plane to New York and KC was born!
BN: What inspires your collections? What inspired your current offering?
KN:Naturally, our signature toghu embroidery is a major source of inspiration. Trends and positive concepts also influence us. For instance, the idea for our debut collection, Zinzi, came from Anrette's and my desire to celebrate the powerful and sexy woman. Power and aggression are often conflated; we wanted to clarify the difference between them. By adorning delicate satin materials with regal needlecraft, we communicated the compatibility between the strong and soft sides of a woman.
Africa's rich and versatile colours moved us to blend the sexy cuts and gorgeous fabrics that make up the Afrik Lux oeuvre.
AN:Our muse for Zinzi was the Angolan queen, Nzingha Mbandi. She was a beautiful, intelligent and strong leader who always put her people first. Nzingha presents an amazing role model not just for Africans but also for people around the world. We captured her essence through classy and chic designs. Our latest collection is an interpretation of African luxury through vivid tones, sophisticated cloths and exquisite hand embroidery.
BN: Who is the KiRette Couture Woman?
KN:The KiRette Couture woman is confident and cool. She knows what she wants and dares to achieve it. Every KC woman is stylish, cultured and intelligent.
AN:The KiRette Couture woman is powerful, sexy and wholesome. She appreciates her heritage and embraces difference.
BN: What were the challenges you faced in establishing your fashion label?
KN: Acquiring the levels of finance we need to realise an explosion is not easy, especially in this tricky economic climate. But we are determined to do it. Our supportive clients also keep us focused.
AN: It can be hard to access our target market sometimes. But despite the difficulties, we are very excited to be in this business and love every minute of navigating the steep learning curve.
BN: What do you hope for your label in the future?
KN:It is our dream to make KiRette Couture a leader in socially responsible business. Africa is at a turning point and we want to play a key role in designing its destiny by investing in local communities. We are our most precious resource!
AN:My dream is to see fashionistas clamouring for KC clothes in stores like Selfridges and Top Shop. We will also bring a special touch to high-end boutiques around the world.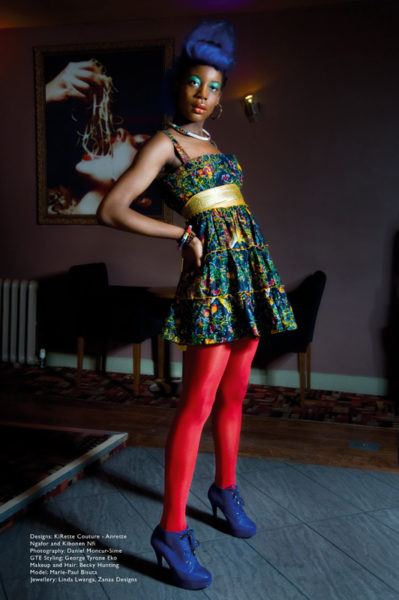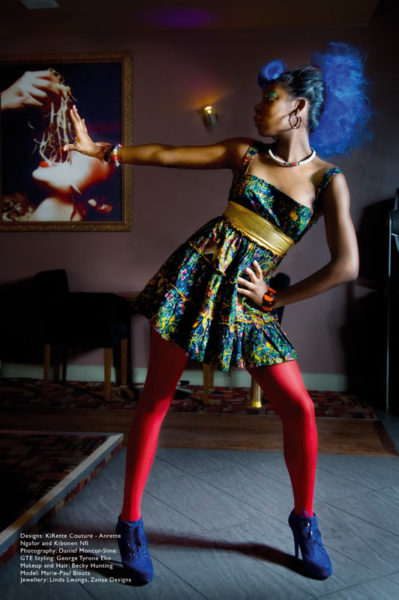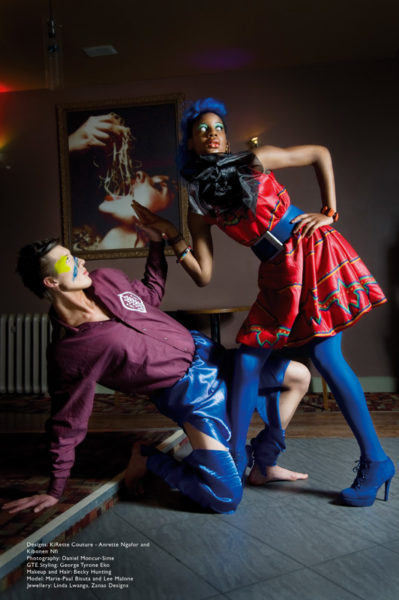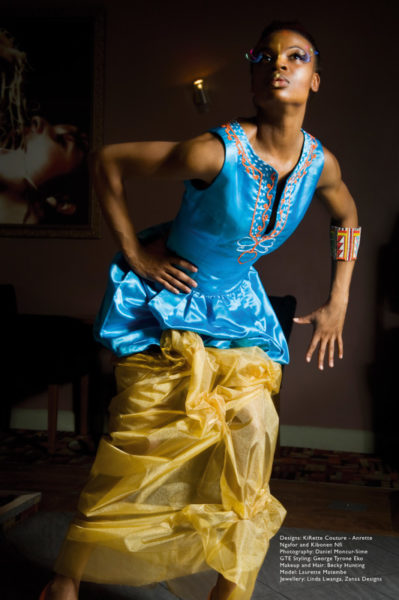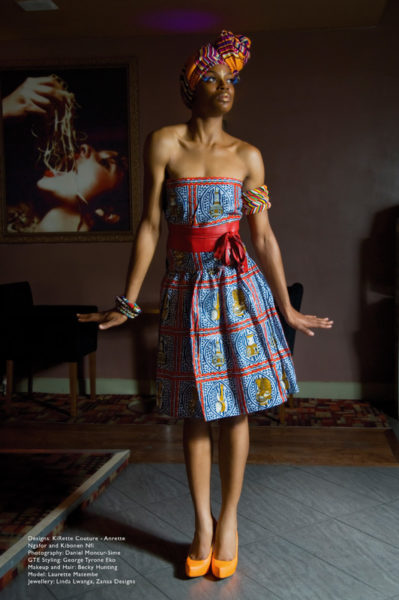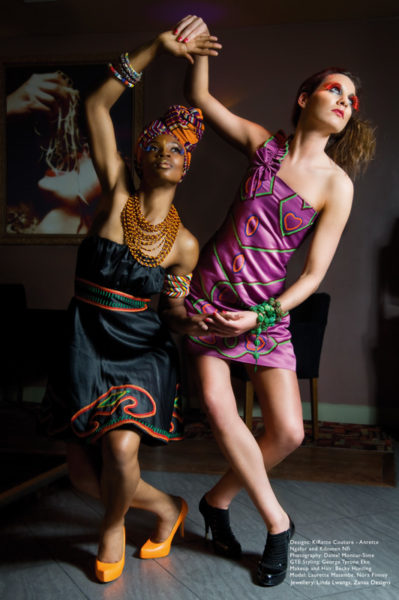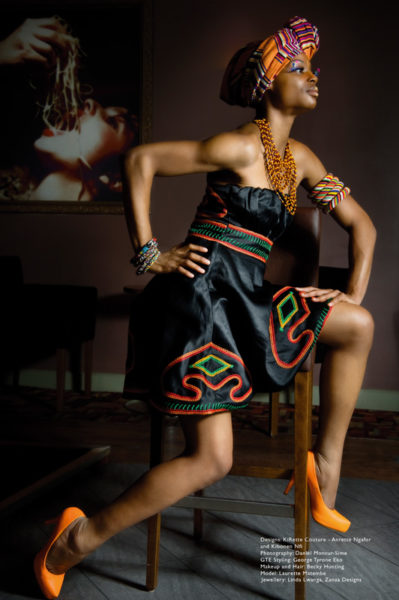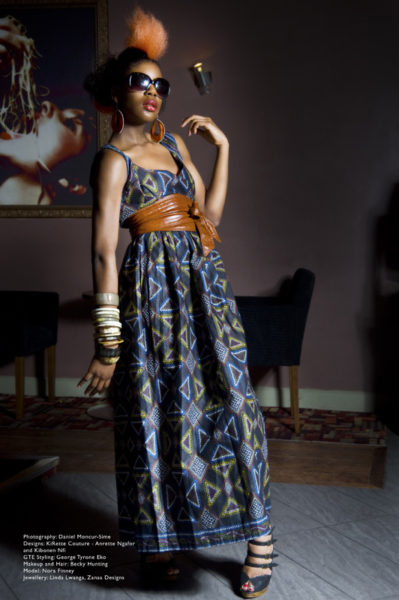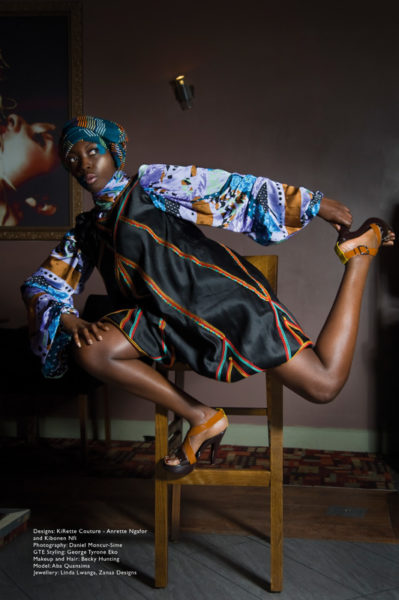 Contact KiRette Couture:
UK branch: Anrette Ngafor
Tel: +44 (0)7912 602 095
Email:[email protected]
US division: Kibonen Nfi
Tel: +001 347 5432464
[email protected]
Images and media enquiries:
Ngum Ngafor
Tel: +44 (0) 7944 043 954
Email: [email protected]