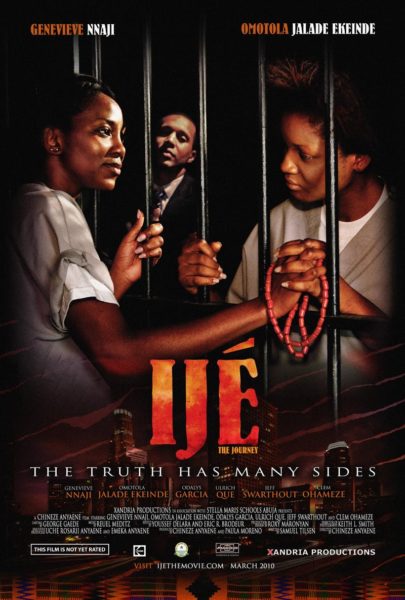 A lot has been happening recently in our burgeoning film industry popularly known as Nollywood. Its seems more and more practitioners are determined to up their game and bring filmmaking to the international standard, on the level able to stand with any movie anywhere in the world. The latest of such movies is 'IJE: the journey'.
Shot on locations spanning Jos, Nigeria and Los Angeles, California, IJE tells the tale of two sisters Chioma and Anya, the choices they make in life and the consequences of they pay for those choices. Chioma, a child growing up in the Nigerian countryside, warns her restless sister, Anya, about the pitfalls in trying to attain the American Dream, but all to deaf ears. Now, ten years later, Anya is accused of killing three men in a Hollywood Hills mansion—one of them her record producer-husband. Chioma has to travel from Nigeria to Los Angeles, and with the help of a young, unproven attorney, discovers that the dark secret her sister wants to keep hidden from all, but which might be the only thing she has to gain her freedom.
Parading a stellar cast that comprises Nigeria's A-List actresses;Genevieve Nnaji (recently piped as one of the world's most famous people by the Queen of talk, Oprah Winfrey) Nigeria's sweetheart, the sexy Omotola Jalade-Ekeinde, and critically acclaimed Clem Ohameze. They are ably supported by an international cast such as Hispanic sensation Odalys Garcia and upcoming actor, Ulrich Que. The movie is produced and directed by Chineze Anyaene and was shot mostly on 35mm. It was co-produced by Paula Moreno and this brings about a merging of two great minds, two young women determined to make a change in the international movie industry by merging the Hollywood and Nollywood industries together.
IJE: THE JOURNEY is set for an exclusive screening at Warner Bros. on November 14, 2009 in Burbank, CA.
For more on the movie, visit: http://www.ijethemovie.com/
Below are some on-set stills from the movie
[nggallery id=164]