Bet you were wondering what the surprise was about…
Thanks so much for all your guesses – ranging from TV Show to Magazine to New Site.
We claim all of the above and look out for these from Bella Naija sometime in the future.
However, this is all about YOU.
2009 has been a great year for Bella Naija and its thanks to YOU!
As a special way to say THANK YOU. Bella Naija will be making this a December to Remember.
From the 1st to the 25th of December, we shall be holding a series of contests and giving away a bunch of AMAZING prizes.
Prizes include:
A VEDA Laptop with a year's free internet!
Beautiful fabric from Vlisco's latest collection – Will be won ALL through the promo period
A HiTV Decoder with a year's free viewing
A showstopping piece from Tiffany Amber
A gift basket from Cheeky Champs
An Xmas goody bag from Fuustivity
Sumptuous Cupcakes from Cupcake Couture
A pearl necklace and earrings from The Pearl Shop
A tunic from WeWe Clothing
A deluxe gift basket from Blush Beauty
A special piece from myasho.com
Makeup from BMPro
A ticket to the Zebra Garden Party + a Zebra outfit
A special Xmas package from CaxtonAlile Cards
A designer dress from Ladyee Boutique
1 Year's free subscription from True Love West Africa
A gift voucher from Ruff n Tumble
An 'icebox' from Icy PR
A beautiful piece from Peridot & Ruby
A bespoke suit from Exclamations Couture
Mobile phones and mp3 players from Anabel Mobile
An amazing Jewel by Lisa piece
A special gift bag from The Bobby Taylor Company
A timeless accessory from Leila Fowler
The most delectable red velvet cake from Etoile
Each of these great brands and prizes have been given their own special 'Day of Christmas'.
We wont tell you when you can win what, you'll just have to click on BN daily for your chance to scoop your prize!
Want an 'unfair' advantage?
Join the Bella Naija Facebook Group HERE and follow us on Twitter HERE
You will get notifications when the contest questions are published and maybe even some clues…
We'll be back with details of the first giveaways!
On another note, today is World AIDS Day! Please get tested. Know your status and protect yourself. Remember to show love and caring to all the positive brothers and sisters around us.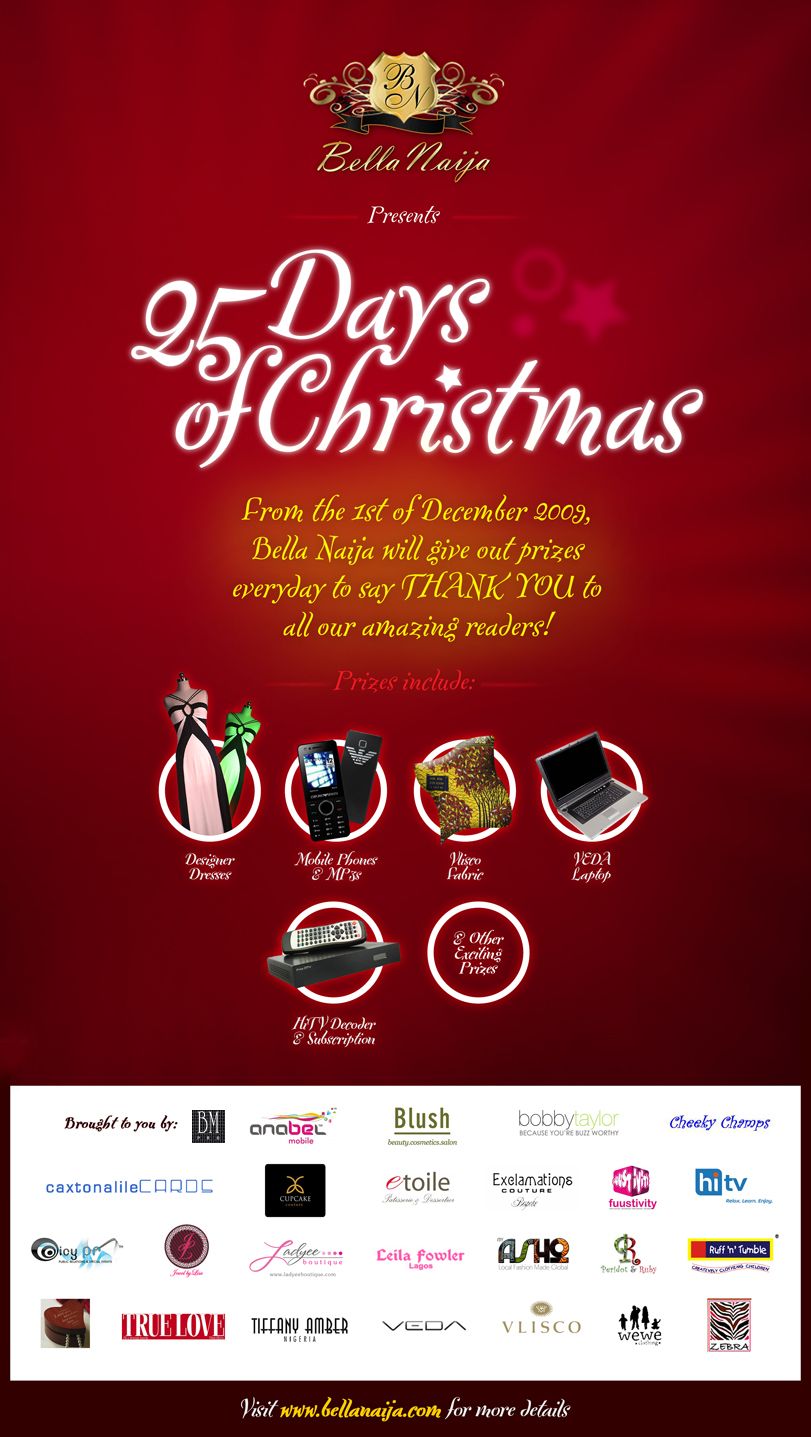 So what prize you are gunning for?