Hiya! Its Sunday, 20th of December and our BN 25 Days of Christmas is ultra-yummy! Today its all about Etoile – a premium patisserie and dessert company.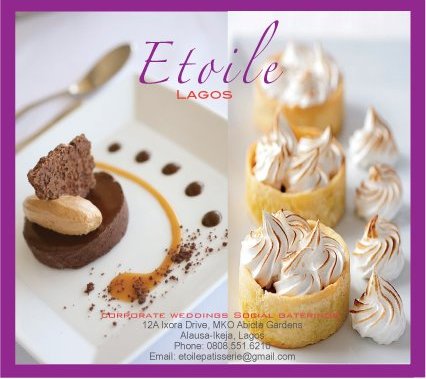 _________________________________________________________
Today's BN 25 Days of Christmas prize is a decadent and delicious red velvet cake from Etoile. We promise that this is the most yummy cake you will taste this year! Etoile Questions
Name 3 cakes offered by Etoile
Tell us your fondest "cake" memory
Steps to Enter
Visit Etoile blog – Click to Visit
Answer the easy questions
Send entries to [email protected]
Subject Line: Etoile
Entries should be received before 11:59PM (Eastern US Time) – Today 20th of December
Good Luck! We can't wait to read your submissions! Terms & Conditions for Etoile
Entries are open to all BN readers but prizes can only be retrieved in Lagos, Nigeria
Contest is only valid where contest terms do not contravene local laws
Entries should be submitted to [email protected]
Winner will be chosen at random from pool of correct entries
Only winners will be contacted
To promote transparency and fairness, winners names will be published on BellaNaija.com
One prize per person throughout duration of promotion
We will work towards ensuring that you receive your prize expediently.

______________________________________________
Winner! Nnamdi Omesiete
Answers:
Carrot Cake
Black Forest Cake
Chocolate Strawberry Mousse Cake
My fondest cake memory would probably be when I was in high school my mum but me this lovely Chocolate sponge cake from a french cafe that had just opened the reason i remember this is because i had to fly into Lagos with that cake and while I was on the plane I kept stealing bites and bites of the cake ( it was that good to risk any embarrassment) When you put in your mouth the chocolate hits you first while the cake is still melting in your mouth the you begin to feel the jam tingle your tonsils while you chew the cake then when you swallow you begin to feel the start of your very first chocgasm…lol