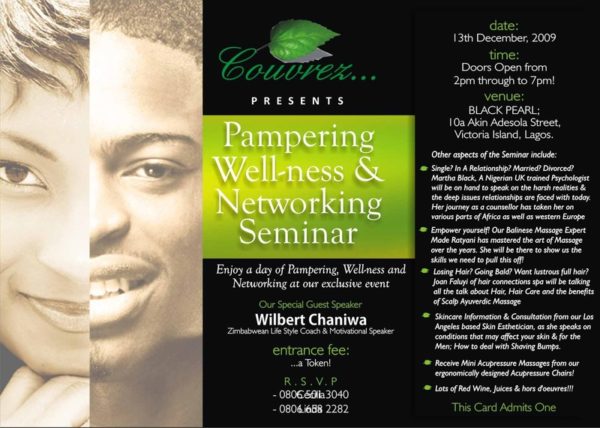 Enjoy a day of absolute bliss at our exclusive event tailored to meet our eclectic needs
As our Theme indicates, it will be a day of Pampering, Wellness, Networking & Fun for all
The best part is, The Seminar will not only serve to be an informative & educative platform but it will a time for young Professional & Entrepreneurs to network and interact one on one!
Our Special Guest Speaker; Wilbert Chaniwa, who is a Motivational Speaker from Zimbabwe will be delivering a strong, inspiring and timely message. He has been speaking for years now and has motivated hordes of people in his home country.
Other aspects of the Seminar include:
• Do you develop cold feet when speaking in front of a crowd?
Do you get nervous & on edge when giving a presentation at work?
Amaechi Okobi, has been a Toastmaster for years now.
He will be there to talk about overcoming the fear of public speaking, improving your communication skills in business and building effective presentation skills.
• Single? In A Relationship? Married? Divorced? Martha Black, A Nigerian UK trained Psychologist will be on hand to speak on the harsh realities & the deep issues relationships are faced with today. Her journey as a counselor has taken her on various parts of Africa as well as Western Europe.
• Our Balinese Massage Expert Made Ratyani has mastered the art of Massage over the years. She will be there to show us the skills we need to pull this off!
• Acupuncture? No, Acupressure! Receive Mini Acupressure Massages from our ergonomically designed Massage Chairs!
Receive Mini scrumptious Acupressure Massages, absolutely free!
• Lots of Red Wine, Juices & hors d'oeuvres!!!
Please view the rest of the details below!
Date:
Sunday, December 13, 2009
Time:
2:00pm – 7:00pm
Location:
Black Pearl Cozy Resturant & Lounge
Street:
10A Akin Adesola St, Victoria Island
City/Town:
Lagos, Nigeria
Tickets: N3,500
For more For tickets and more information, send an email to [email protected] or call 08080226151, 08065013040.
Check out our website for the Profiles of the entire Speakers at: www.decouvrez.co.uk
We have a 5 tickets to give away. First 5 to email 25 [email protected] win