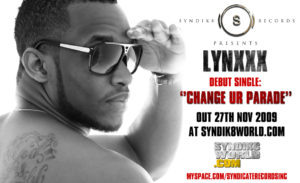 Syndik8 Records proudly presents LYNXXX 1st single "Change Ur Parade" off his debut mixtape titled "This is Lynxxx" set to drop at the end of December 2009.
Lynxxx who just relocated back to Nigeria from the UK, is not only an artist but the CEO of Syndik8 Records. A record label which has worked with many BN favourites such as D'banj, Naeto C, Sasha P, Ikechukwu, MI and lots more. This debut single also features exclusive production from Co-owner / in house producer IKON.
We continue to look forward to more news from the  Syndik8 brand as well Lynxx solo career. We all at Bella Naija wish him the very best of luck. Watch this space!
P.S. We are loving the Poster too.
\"Change ur parade\" by Lynxxx