At the beginning of the year, I was having a conversation with my best friend – we were discussing our aspirations for the year and beyond. I can't remember the specifics of the earlier part of the conversation but I remember the end. I said something along the lines of "…I really want to be on Oprah!…that's the ultimate" I remember him saying "Well, you better hurry up because she is retiring her show next year". So the conversation ended and life went on.
About 2 weeks ago, my friend Molly called. The Oprah team was doing a show on "Beauty Around the World" and she thought I could do something on it. So that was how the whirlwind began. Emails were exchanged, information on Bella Naija, photos were sent, Skype sessions were arranged and so many other things went on. All through this time, I couldn't talk about it.
Finally, I taped a segment for the Oprah show and on the day, I joined the show via Skype. It was an absolutely surreal yet thrilling experience. I experienced the show being taped live via Skype. Oprah is so charismatic and phenomenal. It is so clear why she is successful. There is no doubt that this is what she was born to do! I am also so honored to have been chosen out of thousands of people to be featured and to speak to O herself!
The show's theme is "Beauty Around the World" but it's so much deeper than that. It covers themes of body image and many other things. Jessica Simpson was on the show and she discussed the press scrutiny as per her weight etc…I was never a big fan of Jessica but I connected with her a bit more after seeing her on the show. Lisa Ling taped a segment for Oprah in Asia and finally joined the show via Skype – she discussed the shift in beauty trends and perceptions in China. Throughout the show, there were short clips sent in by various Oprah fans all around the world talking about the beauty secrets and traditions in their countries.
Finally, our segment – I talked about how beauty goes along with brains in Nigeria – as in – a woman should be educated and driven, I talked about Ankara, aso-ebi, the shift in body image, healthy eating, current beauty trends (Brazilian hair, Indian hair etc..LOL) some parts of the segment have to be edited so not sure what will be shown – I was too excited to take note! I then chatted with Oprah on Skype. Her main question was about women's body image in Nigeria.
I am so grateful for this experience. It's so hard for me to write anything personal because that is just not me. However, I really hope this encourages any and everyone because no dream or aspiration is beyond actualization. I strongly believe in speaking positive things. I always tell myself "From our lips to God's ears".
It's been a whirlwind! Thank you to everyone who helped me with this! Molade Adejuyigbe (Love u), PJ, the Oprah team, Bola Balogun (you totally rock!), Lanre Tyson (Awesome!), Bimpe Ogunmakin, Colossal, Folake Folarin-Coker and the Tiffany Amber team (the dress I wore for the video and the jacket in my Skype chat are by Tiffany Amber), Vlisco, my mum, dad and sisters, my best friend – BP, my friends, Charles Anudu and the SWIFT Networks team, our BN team, readers and everyone else. God Bless you!
Have a great day everyone and if you are in the United States and Canada, watch Oprah today and let us know what you think!!!
So we attempted to move servers and they wiped out 5 days of photos, comments and updates. I should be upset but…guess what? They can't steal my joy!
xx
Uche

Screen Caps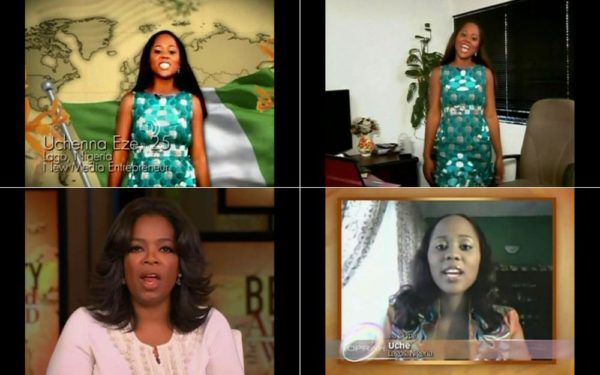 Thanks to ShopLiquorice, Olamild Ent, FashionAfrica & LadyBrille for their posts!