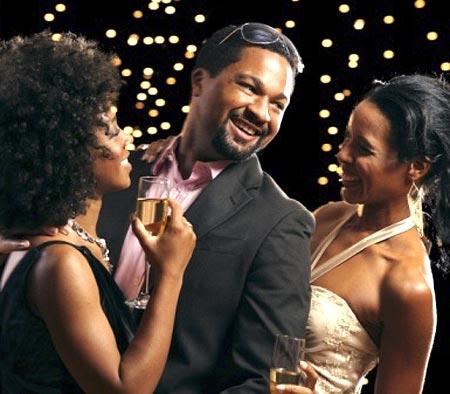 Anyone who knows me well, knows I am a simple minded girl with traditional values. I believe the man is the hunter and the woman should remain the hunted. In other words, men should chase women, send flowers, buy gifts, open doors, and generally do the gentlemanly things required to get and keep his woman.
Call me foolish, but I also believe in the one man, one woman rule. I.e. if a guy has a girlfriend, wife, significant other or baby mama attached to his hip and is trying to step to me, I make it very clear that I am not in the slightest bit interested. Life has taught me that karma is indeed a female dog and always comes back to bite you in the derrière. Anyway, it is with these few but salient principles that I have chosen to wade through the valley that is singleness believing that what is mine is mine and what is someone else's, is well…someone else's.
These principles were put to the test exactly 5 days ago. A close friend of mine (Ada) and I had decided to meet up for a leisurely lunch somewhere on the island. The lunch itself was pretty uneventful, except for the usual girly chitchat. Things however took a sharp turn after lunch when her male friend (lets call him Idowu) arrived. As is usual with male female gatherings, conversation turned to relationships. Why are men so wrong? Why are women complicated? Whose man was caught where? And the like. Then he asked the question that I have gotten quiet accustomed to answering in the affirmative.
"So Glory are you single?" I nodded as I sipped on my fruit smoothie.
"Why?" He retorted ( I cant stand that question, why is the sky blue, why can fish only live in water, why does the sun not come out at night?)
"Errr because I haven't found the right person" I replied trying to seem nonchalant about it all.
"Well, do you have a plan to find the right person"? He asked almost immediately.
Now I was well and truly confused. 'Plan'? I asked in return. I looked at Ada to see if she understood what he was talking about. But even she seemed as confused as I was.
Sensing that we needed to be educated, Idowu continued.
For everything in life you have a plan. You planned your career path, you planned what you were going to do today. You must always have a plan. Is there any major decision you have made till date which you didn't have a plan for?
Sensing I was about to put up an argument to his theory, Idowu continued without waiting for a reply. "If you don't plan to find a man, your plan is to remain single." Ask the single women in their thirties, they are single because they didn't plan. He concluded rather mater of factly.
"Okay, so tell us how we can plan", Ada asked obviously absorbed by her friends thesis.
Idowu went on to explain that the plan isn't a step by step plan per say on how to get a man but more like a set of philosophies, which single women must abide by if they are ever to get married. His philosophy is outlined as follows. (Please do not shoot the messenger, remember this is a man's point of view, not mine!!)
1. All men are directionless. They have no capacity to think ahead or think past what they are doing at that precise moment. Therefore women always have the upper hand in directing a man to wherever she wants him to go.
2. You must assume that every man you would want to be with, tall, dark, handsome, ambitious, well educated, well spoken, is taken. There are no good men left. The single men left are those that have been discarded and no body wants a reject.
3. 95% of men don't marry women that they had been dating for 10 years. They marry the 'smart women' who either stole them from the 'main babe' or directed them down the aisle, the so called 'bad girls'.
4. Based on the above points you must act accordingly. If a man you like is interested in you, forget about his present relationship status. That's his business not yours. Instead concentrate on where you want the relationship to end. Focus on the aspects you like about his relationship with you and direct his interests towards your desired goal-marriage.
Now based on the principles mentioned earlier, it is obvious that I disagree with Idowu. But I cannot help but question myself. Have my somewhat traditional principles become archaic in today's contemporary society? Am I wasting time trying to keep a good girl image, while the so called 'bad girls' clinch all the already dwindling amount of eligible bachelors available? Has the world so decayed that we are prepared to both covet and steal one another's partners? Or is patience truly a virtue with the fattest prize reserved for those who wait their turn? You tell me.