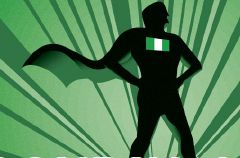 When I learned that my girl Bella was the guest editor for this issue, I said I must write something for una my people o. She's a good friend and I'm so proud of her, especially after seeing her on Oprah last week. Bella always represents Nigeria proudly, which is a trait I absolutely love. I'm very "proudly naija" too but I must confess it hasn't always been this way. When I was younger, I didn't fully appreciate my naija-ness o.
I'm back in the states on vacation at the moment and I went back to my old college to see some of my former professors, and it was only when I started talking to them that I realized that I was known as the British guy throughout my time there. I moved to the states from London, and back then I used to give them strong British fonne. The thing used to attract Yankee babes so I used to display it harrrd. Sometimes I'd mix up the whole accent sef, until the thing go be like Australian-American-Canadian-Nigerian mish-mash. Abeg those yankee people no know the difference jo. I remember one time during my second year in college, I was dating one hot chick, Anissa. First time we had a conversation, she said;
"Oh my God! Your accent is so sexy! Where are you from?"
Kai, I think am.
"I'm err…from London, England."
"Wow! I've never met a black person from London. That's so hot!"
That's how it started o. You'd have thought that I had grown up in Knightsbridge. I didn't lie now; she just never asked where my parents were from. So technically no be lie abi? Anyway sha, that's how the British story started getting deeper and deeper. Kai, I bobo'd to the extent that I couldn't even say anything if people were dissing Nigeria. One time some girls in my class were saying how they'd never go to Africa because there'd be no cable or clean water there. I'd just be muttering to myself, " Yepa. Olori buruku!" Another one was telling me she thought I was so cute. That she'd love to date a guy from England or the Caribbean 'cos they're so hot. But she'd never go near those Africans. Imagine! Mumu girl.
Kai, the thing used to pain me o! I remember one time at the mall, Anissa and I had just walked into the food court and were headed to the Chinese spot. That's how I just spotted two long-mouth opelenge naija girls that I had met through my roommate. Shet! I quickly looked away and started heading to the opposite end of the court. I just heard;
"Fiiineboy! Oluwafineboooy!!!!"
Damn. The way these babes were running towards us, you woulda thought we were close friends or something o! When they finally caught up to us, I wanted to quickly dismiss them, but them no gree.
"Fineboy!! Wassup now? Why are you chinning us?"
"Hi, how are you lot doing?"
"Ah ah. Which one is this shakara you're now doing?
"What?"
"Why are you now posing? Talk like yourself jare! Yeye Naija boy!"
Yepa. These girls wan pour sand inside my garri sha.
"Huh? I don't know what you're toolking about mate. I'll catch you guys later yeah?"
Men I grabbed the babe's hand and disappeared sharp sharp. When she asked me what language they were speaking, I told her men I didn't know o, that they were some weird African girls my roommate had introduced me to. God forgive me o!
I remember another time, when my nephew, Wale was visiting from Nigeria. I was stuck babysitting him when Anissa called me to go out for brunch. I coached the boy well well o. "Wale don't talk too loud o, just talk softly softly okay? Fine boy."
Wale agreed and we headed out to meet Anissa at the train station. When she saw Wale, Anissa gave him a big hug and this yeye boy just dey squeeze everything sha. Bad naija boy. He didn't say much and I was happy with his performance for the first 15 minutes or so, until he noticed an ice cream truck across the street. Na so Wale begin shout o!
"Uncle buy me Yogo!"
Yogo ke? "Wale do you want some ice cream?"
He nodded. We crossed the street and when we got the van, na so this yeye boy begin shout o!
"No I don't want that one! I want yogo! Fan yogo!"
"Erm Wale, I know you have that sort of dessert in London, but they don't have that here, have a popsickle."
"Hehn? No I want fan yogo o, fan yogo!"
Chai, this big head boy wan finish me sha. He now left me and started grabbing Anissa's hand.
"Aunty please, Aunty pleaseeeeee buy me fan yogo! I want the ice one!"
Wahala dey o. The babe was a bit confused. Wale no gree men, and in the end I begged him to manage one ice cream cone. When we got to the restaurant, Wale asked me "Uncle why are you talking like that? Are you not a Nigerian?" and started laughing. Kai. Yeye boy even had the nerve to ask for rice and dodo.
PROUDLY NAIJA!
After a while though, I started to hate that I hadn't just been myself, I've always been proud to be Nigerian men, but I can't lie, with all this terrorist nonsense, I don't say I'm Nigerian anymore o! I'm a proper British lad innit.
Article originally published in Naija Times – April 2010 Edition. All rights reserved by the author
___________________________________________________________________________________________
Mr. Fine Boy is a well known (and loved!) ex-blogger – www.naijafineboy.blogspot.com. He was one of the 25 participants of the Chimamanda Adichie helmed Farafina Trust Writer's Workshop.
He is working on a novel titled 'Emere,' and another based on his blog persona called 'Daily Tonic – Mr.Fineboy's Guide to Life, Love and Lagos' to be published next year. Also look out for other short stories by the author to be published via online literary journals soon.