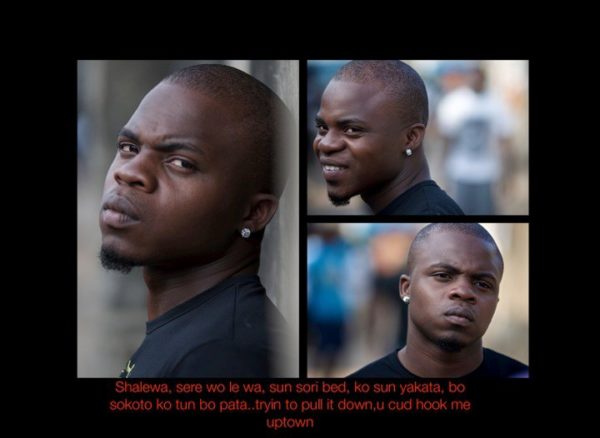 Almost a week after his death, we are still trying to come to terms with Da Grin's untimely passing.
He was the most promising Nigerian musical talent to emerge in this decade. His music and story resonated with the Nigerian Youth. Da Grin rose above the Nigerian system to create something great – a musical legacy. From his well-crafted Yoruba infused rap lyrics to the intelligent wordplay, he was definitely in a league of his own.
During his short musical career, he managed to amass a strong body of work including numerous collaborations with fellow musicians.
Since his death, there has been an outpouring of tributes from DJs, fans and musicians.
We have compiled some of our favourite Da Grin musical moments. Check it out below and you will understand why he was such a remarkable talent.
Da Grin will be laid to rest on Friday, 30th of April 2010….
Your music lives on Barack O'Grin.
We miss you…
Da Grin – If I Die

Tribute to Da Grin by Sound Sultan – Rewind Time
Listen
The Coalition of Nigerian DJs worldwide released these tribute mixtapes dedicated to Da Grin
The Notorious 1 Dj Neptune Presents The Tribute To Akogun Da Grin – Click to Download
DJ Don X Presents RIP Da Grin – Click to Download
DJ Dee Money Present Da Grin Tribute Mix – Da Grin Lives… – Click to Download
DJ ZIMO Presents Da Grin Tribute Mix – Click to Download
"Industry Night" for Da Grin
On April 28th, 2010, Industry Nite will pay tribute to DAGRIN. DAGRIN a charismatic young star whose music impact in the African Hip Hop scene has been revolutionary. Dagrin performed twice at Industry nite: 5 weeks ago, and before then a year ago when he was relatively unknown. His passing at 23 has stunned the Entertainment Industry not least his family,friends and fans.
'The Industry unites for DAGRIN', will pay homage to DAGRIN'S legacy and contribution to the African Music Industry. Monetary donations will be collected at the entrance of the venue and ALL proceeds go to DAGRIN'S family.
Performances from an All star line up of artists have donated their time to payhomage and respect to Dagrin: GT Guitarman,Omawumi, TosinMartins, Sasha, General Pype, YQ, Sound Sultan, Weird MC, Shank, Waje, Show Dem Camp, Banky W, Lami, Pin Code, Zara, Overdose, Aquadragon and more.
There will also be speeches by major people in the industry to talk about DAGRIN and their relationship with him (business/personal).
Host: Olisa Adibua
Start time: 8pm
Date : April 28 2010
Come with a candle!!!
ALL proceeds will go to Da Grin's family.
Da Grin – The Music








Photo Credit: Kayode – Xsightn Photography
Kayode had the pleasure of shooting hip-hop superstar Dagrin a few months before he died, he recently released some of the pictures that have never been published in a tribute to massive talent.