It's BN Style Spotlight; this is a periodical feature on the style page that will provide detailed analysis of the personal style of a budding fashion star.
The red carpet always anticipates fresh faces and it patiently waits for us to be wowed by what's behind the lenses. It's there we discover who could be the next fashion icon and watch their style growth and transformation and Funke Fowler might just be its latest prodigy.
Leila Olufunke Fowler is an inspiring young Entrepreneur. With a BA in Economics from the University of Nottingham and an MBA from American Intercontinental University, Atlanta, Funke put her best fashion foot forward and launched "Leila Fowler"; a self- named upscale boutique in Lagos in April 2008.
The Leila Fowler store has fast established itself as one of the to-go-to stores in Lagos and Funke a budding fashionista! "I have always loved fashion and have grown up around very glamorous women" says Funke in an interview with Elan and this you sure can tell!
Her style is feminine glamour epitomized. A fan of simple silhouettes, floral prints, softness and flow, it's no surprise it seems like she has Folake Folarin-Coker of Tiffany Amber on speed dial.
This 'oriental beauty' loves her some dresses and more dresses for events which she compliments with statement jewellery.
Read on as I analyze her personal style and determine what indeed, makes her style BN worthy!!!
THE VISUAL NARRATIVE: Funke always tells a descriptive story on the red carpet making it impossible for our eyes to wander away from her! From her warm smile to her dresses in bright commanding colours and engaging prints its hard not to be fixated on her captivating looks! She always opts for dresses with volume which when combined with prints may be overwhelming. To avoid this, she opts for a waist cinching belt or band to add structure; but on occasions when she doesn't, we never get the sense that she is drowning in the volume as she wears it so graciously. All too easy, all so effortless!!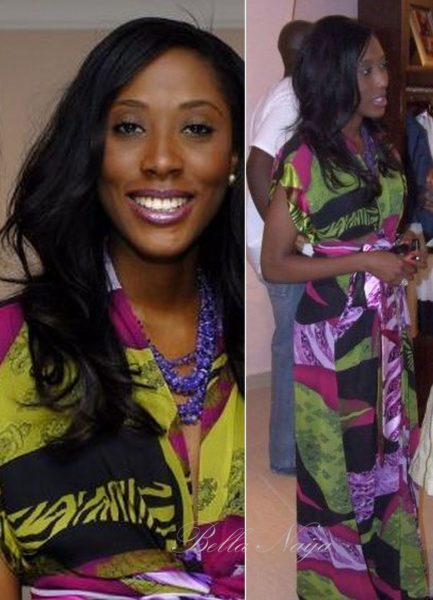 MAXI MADNESS: Funke, also known as the "clothes' junkie" amongst her friends has a collection of maxi dresses guranteed to get her some 'fashion highs'. She always looks amazing and oozing with sophistication in these sweeping floor lenght dresses. I love how she dresses her top half when garbed in a maxi dress with interesting neck pieces and unlike most she is not afraid to display the beauty of a bare neck with plunging necklines. She likes to maintain its original lines while paying attention to the cuts of the voluminous pieces and opting for an empire line with a flowing skirt which looks very flattering on her!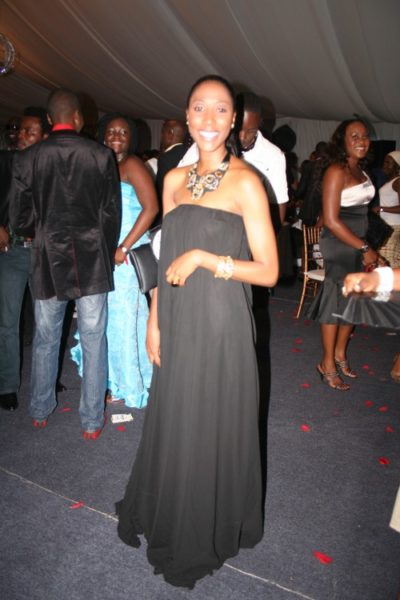 THE SOFT GLOW: With her clothing choices Funke likes to keep things soft and she also applies this aesthetic with make-up. She wears make-up light, softness in the eyes, the lips and the cheeks. With a skin as  flawless as hers, a simple soft glow is all you need to shine.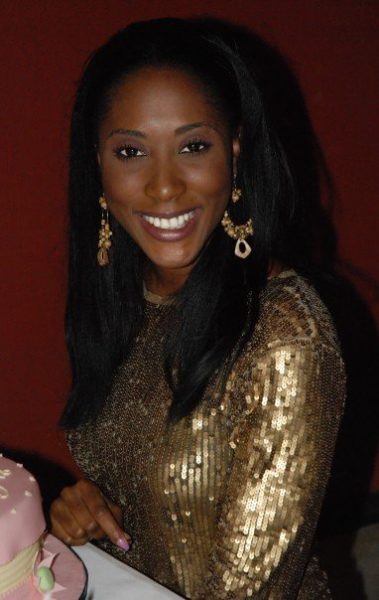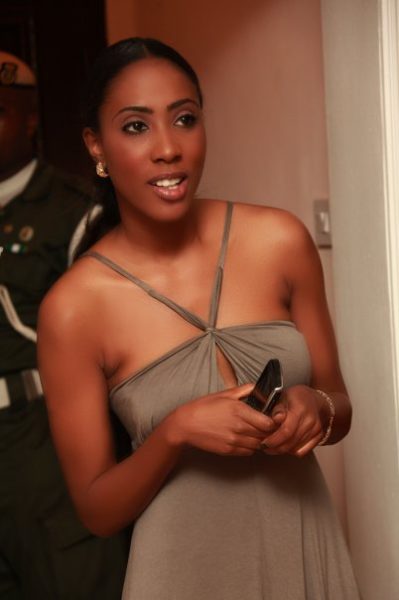 GIVING A MODERN TWIST TO ASO-EBI: Events that call for Aso-ebi are very much an extension of the red carpet and the same standards are maintained; especially with Funke as she delivers in striking pieces!!! Without eliminating the ethnic element of the Aso-ebi; Funke fuses the prints with supplementary textures all outlined in a modern silhouette. I like that she has fun with it; the looks always showcasing her love for colour,  flow and soft drapes…even in Aso-ebi her individuality and style preferences are projected.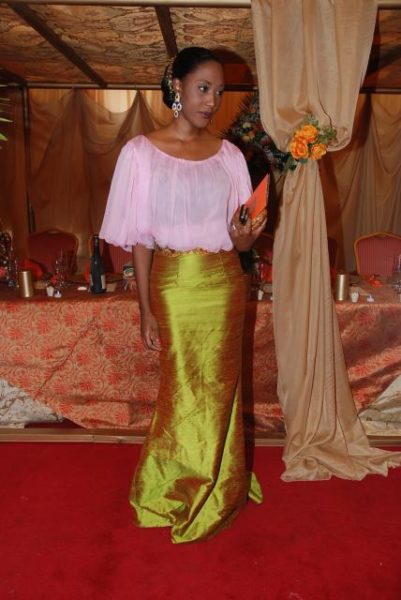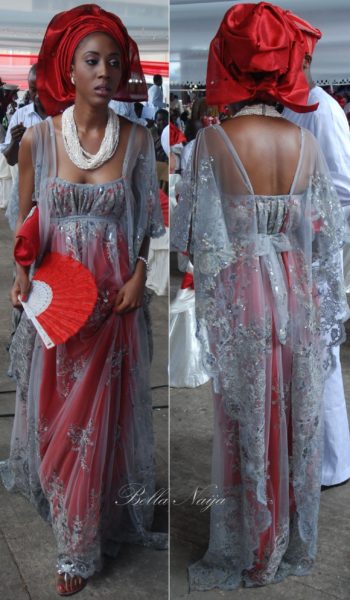 WITH LOVE FROM TIFFANY AMBER: I think Folake Folarin-Coker might have found herself a muse in Funke Fowler. Sometimes with designer and personality partnerships you fail to see the connection; but I am having no problems understanding the Funke Fowler and Tiffany Amber relationship; what I see here is reliable DNA.  Funke might as well be the Tiffiany Amber woman; her love for floral prints, volume,  flow and softness shaded in the mighty umbrella of exuding femininity in a powerful yet subtle way.
BOLD ACCESSORIES: Funke once said; "You can make  an outfit look like it costs a million dollars with the accessories"; Now here's  proof for all those who weren't convinced! Her accessories are a focal point in her looks; from chunky necklaces to dramatic layered pearls…. she definitely is a fan of beautiful things! She loves to play dress up; with her less may not always be more but she never goes over-board; It always stays properly balanced and in unison with the rest of the look!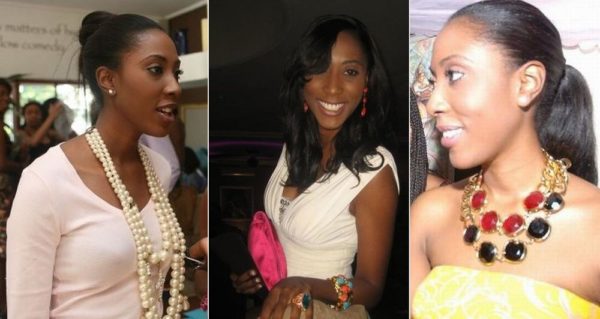 GET THIS FUNKE FOWLER LOOK:
Funke loves colour and floor length dress and the combination of both is style perfection. Going with the usual themes reflected in her personal style this look is a great depiction of her style. Radiant as always she compliments this magenta dress with a statement necklace. Studs and simple black accessories keep the look in balance!
Channel this look with less than $100
The Maxi dress: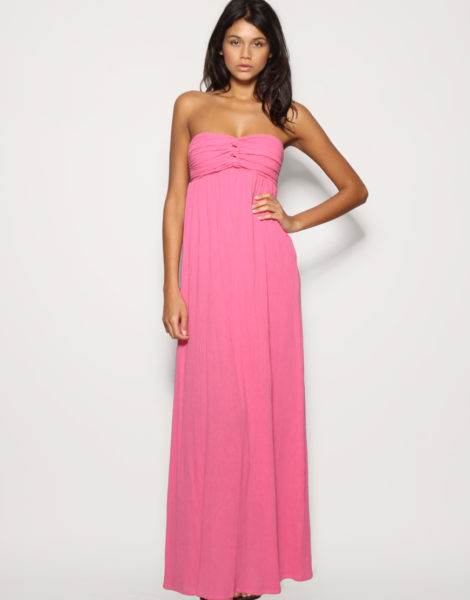 This maxi dress is quite different from Funke's. It's sans the asymmetric sleeves and its a bright bubble gum pink. it maintains the length and has an interesting  front detail like Funke's. I like this dress because it can easily be dressed up or down depending on how you choose to style it.
Purchase here for $44.44
The Beaded Necklace:
A bold piece of jewellery like this one will always come in handy, an appropriate compliment to this look for an event and it will be for others!  Pieces like this should be kept far away from a day look if a maxi dress in concerned. I really like this piece and for its price it is definitely a steal!
Purchase here for $10
The Clutch: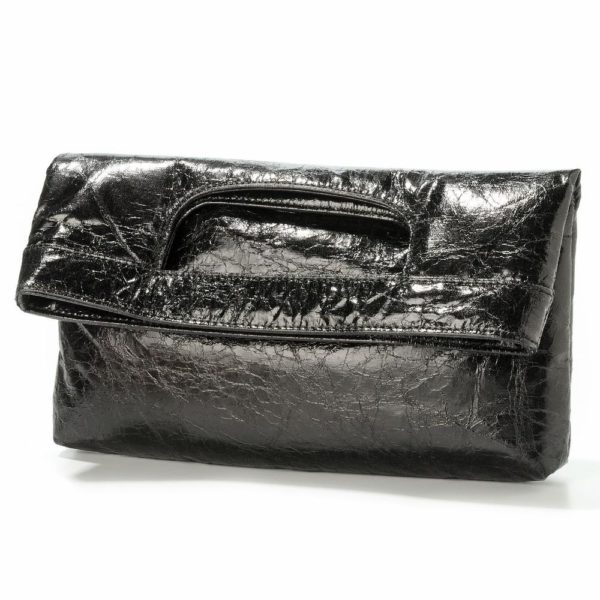 This look by Funke Fowler is completed with a simple black clutch; every girls must have! It can transcend for day and night! I love the crackle finish on this one.  It's a great way to add texture to a look!
Purchase here for $19. 92
Become a fan of the Leila Fowler store on facebook HERE:
Photo credits: Bella Naija, 234Next, Ono Bello Blog, iRunLagos