What to wear? The choices always get a lot harder to figure out in limited time. BN Style Contributor; Ezinne Chinkata recently put her styling skills to the test when she had to come up with two fabulous looks for Nollywood Actress; Omotola Jalade-Ekeinde in just 96 hours!
Was she able to do it?, What looks did she pick for the Actress, read on to find out……
Wednesday morning, lying on my bed, deliberating jumping ship and reading Twilight, the much celebrated novel by Stephenie Meyer. My phone rings and it is Omotola Jalade Ekeinde, explaining the need to be styled for the Nigerian Television Fashion Show (NTFS) holding on Sunday!
Check this out, she is the hostess, and needs two dresses, in four days!! There goes the end of my Twilight aspirations….
Pressure, Pressure!!!! Ok Ezinne! Breathe! I told her I would call her back in five minutes, as I needed time to regroup! I thought to myself, "Which designer can churn out two beyond average dresses at extreme short notice"? I remembered Kemmy Oguntosin of KemKemstudio, also featured on the BN site and her attention to detail. I call her up and decide to meet up with her and my client, Omotola, later that day.
We meet up at KemkemStudio in Maryland; Kemmy is extremely welcoming and professional with a very "hands on" approach to her work. We decide on two looks for Omotola, Structured Funky and Understated Chic. As the stylist, I had to coordinate with Kemmy and make sure the dresses were the right look for Omotola. It was a good call working with KemkemStudio. She was full of exciting ideas and understood exactly what direction my creative juices were heading, she even finished off my ideas!
Dress 1: Bold and Structured
The first dress was made with KemKemstudio's signature fabric, Aso-Oke. Omotola insisted on something bold, up to date and stylish. Kemmy and I decided to achieve this by laying emphasis on the sleeves of the dress. Kemmy is a wizard with Pattern Making and when the dress was finished, I was quite pleased. She placed a Jet black colour block on the Creamy Aso-oke and this created a perfect silhouette on the dress.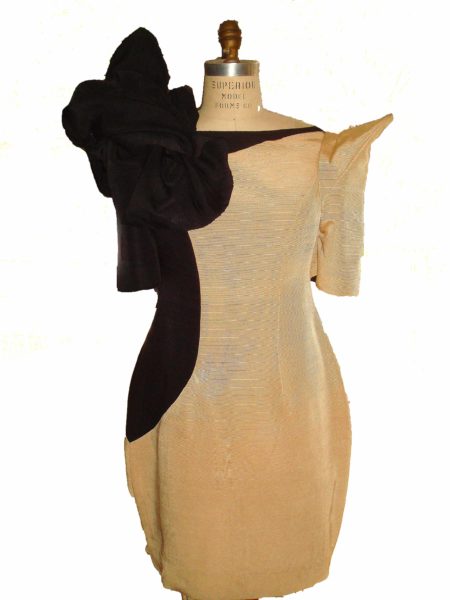 Dress 2: Understated Chic
Seeing as the first dress was quite a bold fashion statement, I felt it was prudent to have a no fuss-look piece. Kemmy suggested a simple black flapper dress from her Great Gatsby Collection. I was convinced it was the right dress for the effortless chic look I wanted to convey. This dress is made from rich jet black jersey fabric, beautiful chandelier details on the neckline, lace trimming, a swingy flirty hem and slim belt encircling the waistline.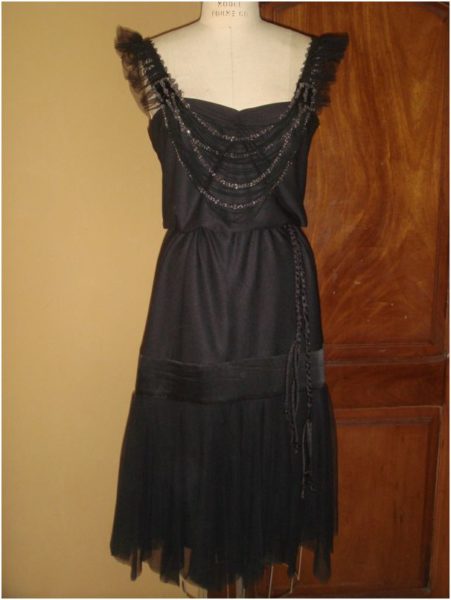 Styling Omotola is always a great pleasure. She is very nice and personable and carries off any ensemble with a natural elegance borne from a wealth of confidence. Also, she proves that you don't have to be a size Zero to look good. It's all in the proportions, and knowing what works best for your body type and personality. I also love the shoes Omotola chose, Way to go Omosexy!
Sorry guys, I did not get a clear picture of her in the black dress. However, she looked awesome! The black dress fits all body types. It may be worth your while to invest in a similar pair!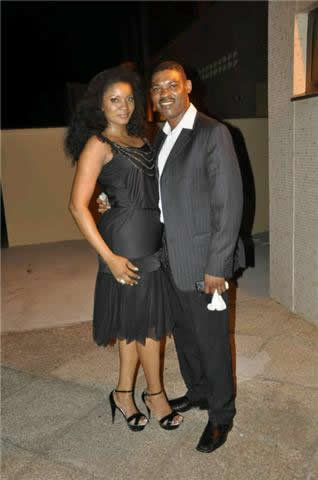 Styling can be harried, brain numbing and demanding! A happy client and a perfectly finished product, makes it all worth the sweat! I was glad I went with KemKemstudio, and so was my client. In a nutshell, four days was not so bad after all!

Kemkemstudio([email protected])