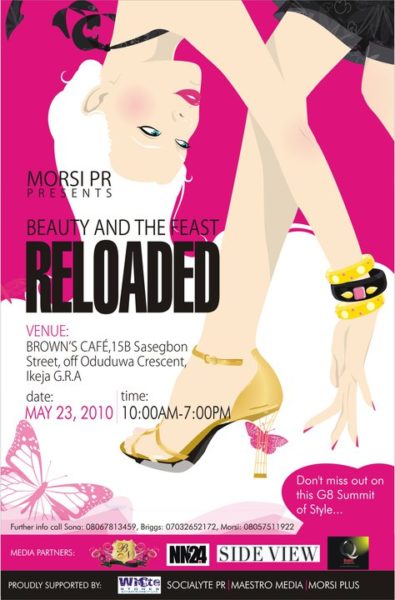 BEAUTY AND THE FEAST is Nigeria's finest, professionally driven Fashion, Beauty and lifestyle exhibition, designed intricately by the couture board at MORSI PR to fulfill the most outlandish fashion PR dreams.
It is a gathering of the most outstanding, unrivaled, style-imbued designers, fashion icons and beauty professionals under one roof to showcase the effulgence of Nigerian Fashion.
This year is going to be much much bigger, as we are now in conjunction with 3 new style companies like White Stones Entertainment, Maestro Media & Socialyte pr – All top of the range Style pr agencies. Involvement of more countries, larger venue (by popular demand) at the all new BROWNS CAFÉ.
Date: Sunday, May 23, 2010 at 10:00am to 7pm
Location: BROWNS CAFÉ, 15b Sasegbon Street, Off Oduduwa Cresent, Ikeja
Lots of exhibiting exhibitors and one-day only discounts!
Vendor List:
Kiki Kamanu
BMPro
Alter Ego
Vonne
Savvie Hair Boutique
Patrick Ayanski
Adu
Bebe Graffiti
B Kids
Dainty Hair
Monae Spa
Brook of Cherith
Sacred Lashes
Renee Q
Tai
Mizzy B
Bennis
Beadlinx
Al's Creations
Nouba
Labelle
Purple Scents
Body Shop
Laracci
Gazzelle
Laviva
Its also great to see an exhibition taking place on the mainland.