BN first featured talented designer; Tsemaye Binitie during our exclusive coverage of  Young Africa Fashion Weekend(YAFW). At the event, Tsemaye showcased his debut 'Blackout-Perfect 10' collection.
View post here:
Tsemaye offers a range of separates and dresses. In this collection, he leans towards dark tones of black, grey and navy blue.  The collection is dominated by dresses with simple cuts and clean lines, and then we have the well tailored trousers and a selection of  leggings which are very reflective of the season this collection caters to- Autumn/Winter.
We get to see nude tones which add softness to this collection especially when they are combined with sheer fabrics. I like how he explores edge in this collection, with the styling and most particularly with the mixtures of different textures; leather, silk, wool and velvet.
The collection takes a multi-dimensional perspective masked in modernity; we see sharp tailoring with the trousers, demure sophistication with the cocktail dresses, the frills and the noticeable bow detail on the waist of the trousers which is soon becoming a signature for him. Tsemaye presents a worthy selection of slightly futurist styles which embody structured dramatic sleeves. The collection definitely has his personal imprint on it, the pieces align to what we have come to discover as his point of view as a designer.
For this collection, He reinvents the China dress -A yellow draped wrap dress with an asymmetric sleeve which was one of my favourite pieces in his Spring/Summer 2010 collection. Although maintaining the frame and previous structure, he takes a two-tone approach which is more suited for the Fall as it accommodates the seasonal transition to darker tones we see with this collection.
Tsemaye Binitie talks to BN about his Autumn/Winter 2010/11 collection:
The Autumn /Winter 10/11 collection is called "MistyBlak" and was inspired by jellyfish. I came across the work of Coe & Waito, through their blog and this was the starting point for the collection. I liked their porcelain jellyfish installation and it formed the basis of my research.
I looked at jellyfish in their underwater habitat and as visual art when they have fluorescent light shone through them. What struck me about jellyfish is their tentacles, texture, transparency and form, these were qualities that helped to determine the silhouette, fabrication and details of the collection.
Key to development was also the need to offer more variety to the customer so the collection grew this season to encompass jackets, tees, leggings, a scarf and a pair of jeans as well as our dresses. Every detail about each piece relates back to jellyfish from the pleated frills which were sourced from Japan to the fabrics, prints and silhouette. Dresses and jackets come short and body conscious with pants coming either boot-cut or skinny. Pieces are featured in nude, black, grey, white, navy and electric blue with fabrics ranging from silk organza, silk crepe, grosgrain, leather, wool, jersey, denim and a printed velvet.
This look below depicts how well he infuses textures; a black cropped jacket with leather sleeves, paired with a sheer nude mini dress and wool leggings. It serves as a very clean and sophisticated day look, with a hint of edge!
View the rest of the collection below: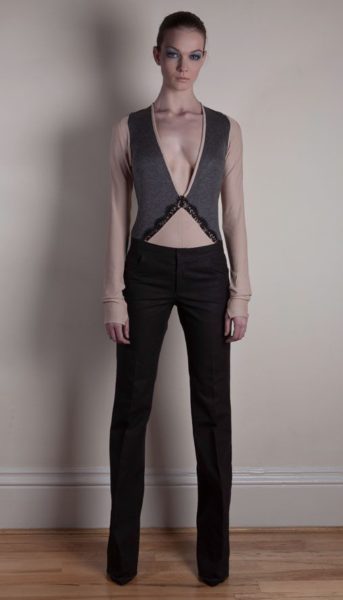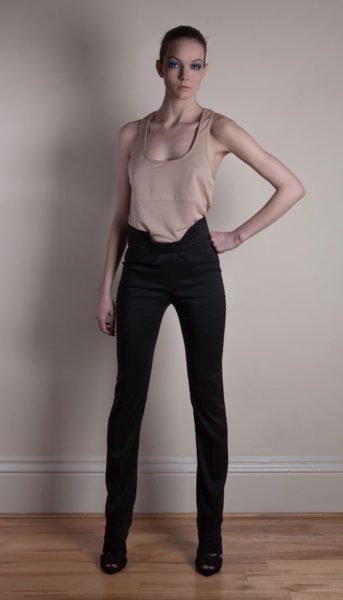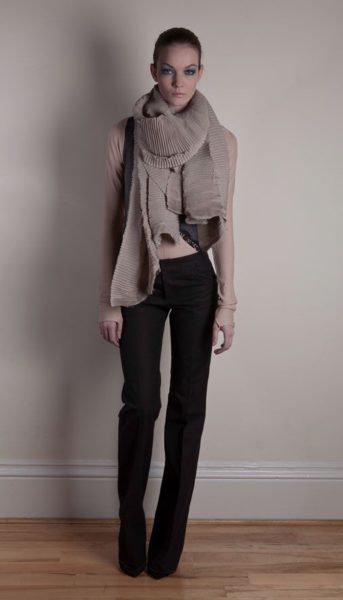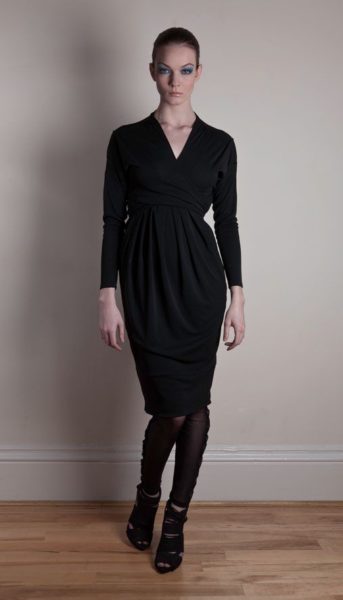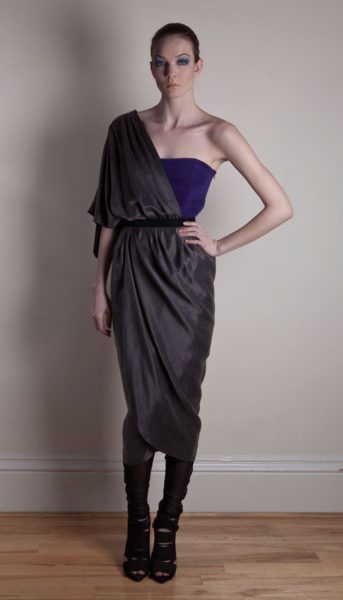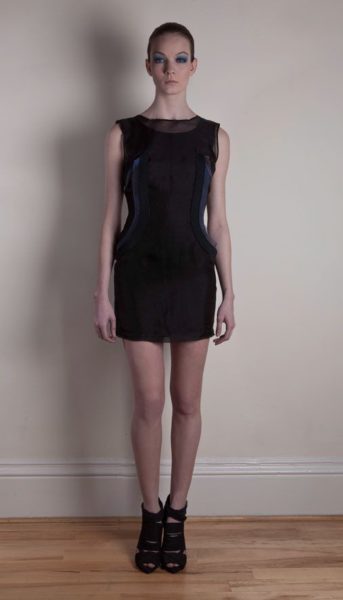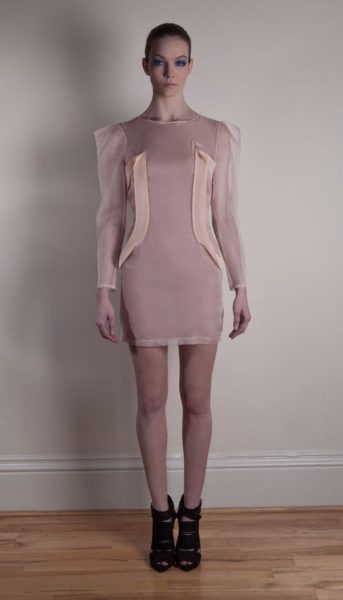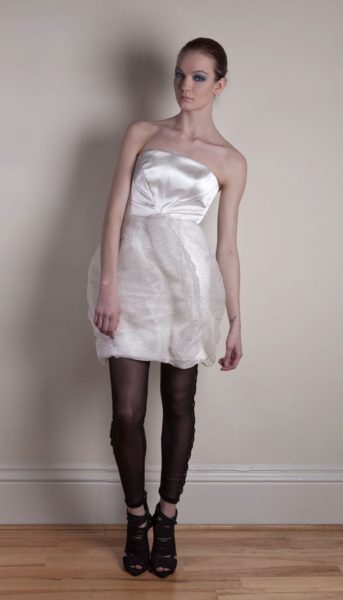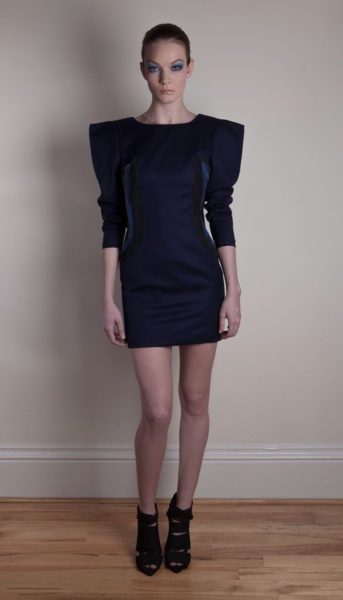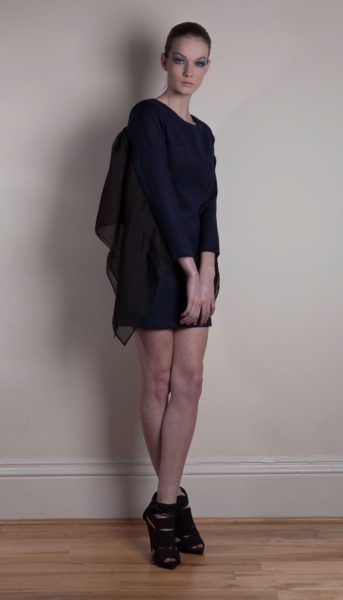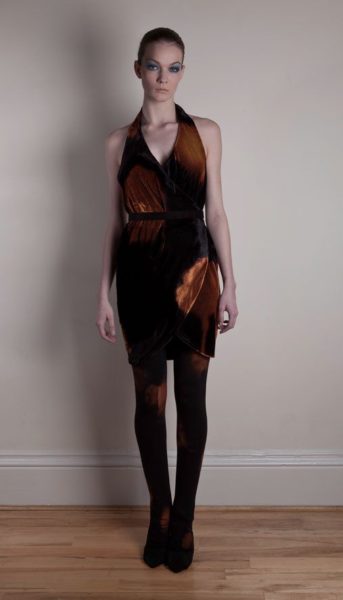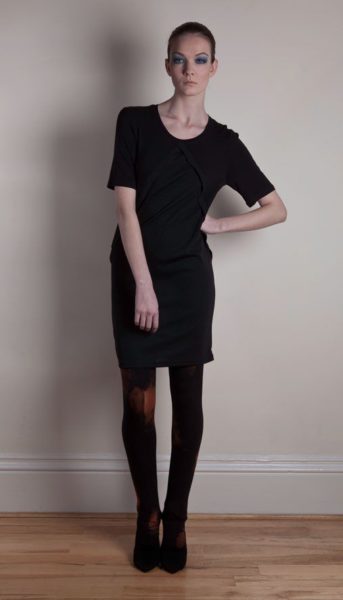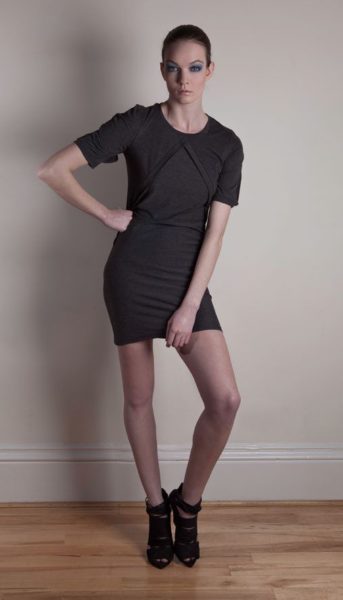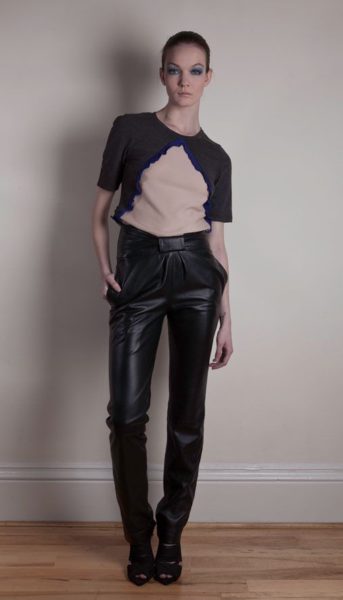 Visit Tsemaye Binitie Website
[email protected]
Photo Credit: Tsemaye Binitie