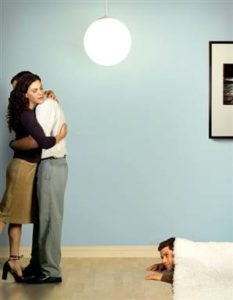 "You know there comes a period in every woman's life when she gets frustrated or fed up with her man and all his silly hang ups.
You know a woman wants a man where she don't have to have no drama behind it. You know just somebody who can love her down with no strings attached and his name is "Splackavellie".
How many of you remember this song by Pressha from way back 1998? "Splackavellie" was also on the soundtrack of the movie The Players Club starring Ice Cube, Jamie Foxx, Bernie Mac and LisaRaye.
OK, enough of the trivia, what do you think about that song? Far fetched, inappropriate and naughty? Well some of us…well, yours truly, had the (dis) pleasure of being that other man, that Splackavellie and believe me most times it was not by choice! My first role as The Other Man came upon me quite by accident. I say it was by accident because I did not set out to play that role, it just kind of happened.
I was in my third year in the university and had not too long ago broken up a three year relationship with the "love of my life". Quite frankly I was a very unhappy person for a while. However, my sadness gave way to a sort of cynical acceptance of the fact that love was not all it was made out to be; and that when a woman makes up her mind to leave you, she will, whatever the reason, from the mundane to the serious. Well, she had left me for another guy given the fact that it was a long distance relationship blah blah blah! So you get the back story, right? So it so happened that I was totally off girls to the extent of not picking up the "bananas" that were thrown my way, if you know what I mean. But then my roommate had a birthday party and at the party was a girl that I had known for a while as in we had been to the same primary school but we were not really close. So we sort of hooked up at the party since I was a familiar face. We talked, danced a bit and at the end she promised to come see me sometime. Sometime proved to be the following weekend and as we chatted about old times and mutual friends, one thing led to another and suddenly we were making out. At this point I guess I was just going through the motions really. Then she stopped in the middle of things, looked me in the eyes and said, "I have something to tell you." I looked at her not knowing what to expect and I encouraged her to speak. "I have a boyfriend", she said not looking at me in the eyes anymore. Then I said, "Ooookay?" and when she realised that I was not going to say anything else that was it. When she left I thought about what happened and I discovered that I did not really have any hang-ups about making out with someone else's girlfriend. I guess I had become so cynical that it seemed like some sort of justice was being served; after all someone else had made out with my girlfriend and stole her away! #%$&@!! Sorry, where was I? Ehen, but the thing is the girl kept coming back for more! And then it became a routine that whenever she had problems with her boyfriend she would come complain or cry to me and then we would end up together. And did I complain? Well, no. But one day I had to ask her why she kept on coming back to me. She just shrugged and said that being with me was a lot less complicated than being with him and that besides that I was better. Better? Hmm!
I will admit that I played the role of being her other man for quite a while up until she went abroad. Yes, a few times she toyed with the idea of breaking up with him and hooking up with me in more formal terms but I never encouraged her. You might scream 'awoof!' but the truth is I was still in a very dark place emotionally and was not ready to commit to anyone.
I had suddenly discovered that a number of women were actually dissatisfied in their relationships. I then pledged to be that man who would show them the more satisfying side of things. I became a sort of Jacopo Casanova, the ideal lover. And so the show began. I being the guy with nothing to lose by being a friend to these unavailable women, offering a listening ear, a shoulder to lean and sometimes cry on, offering excellent relationship, academic as well as other advice, spending quality time and generally treating them like queens all without the tag of 'boyfriend'. The ladies would generally pour out their hearts and I would try to troubleshoot for them. Some would compare me to their boyfriends and would actually talk about them, while some would never say a word about their guys. These affairs varied in duration from short one-night stands to twelve-month on-and-off relations. Yes, there were some moral dilemmas but since it was mostly physical attraction sprung out of the foundation of emotional cheating things never got insoluble for I was a good friend with benefits. I was Splackavellie!! Besides, I thought I was rendering some kind of service because believe it or not these relationships improved for the better especially when they got me out of their systems.
However, sometimes things got real heavy.
In my final semester there was a girl I met when walking to my room one night. I stepped up to her and we got talking. I hadn't said ten words when she expressly told me that she had a boyfriend. I looked at her and laughed and said, "I would be greatly disappointed if a beautiful girl like you did not have one!" She was surprised by my comeback and we continued chatting. She gave me her digits and I went to see her a couple of times at her hostel and all. We did dinner a couple of times and we actually began to hang out regularly. Then she told me she was actually engaged to a much older guy but that she liked me as I had shown her another side to romance. I continued to woo her out of curiosity really, besides vows had not yet been exchanged. Eventually she did crack and boy when it happened it was out of this world! Not to be overly graphic but it appeared that her boyfriend was a lousy lover who did not allow her properly express herself; indeed I opened her eyes to more interesting aspects of the art. Then things got real tricky when she snapped and tried to break off her engagement, declaring her love for me! The reality of what I had done hit me and I put myself in the dude's shoes. Karma was coming right back as I was now the 'relationship breaker'. This was not my intention because for all I knew the guy genuinely loved her; so what if he was a lousy lover?! I had to sit her down and talk to her and explain to her that she could not really throw away a four year relationship that was to all intents and purposes heading to the altar for a guy she just met a couple of months ago! She cried a lot and said I had broken her heart. I still feel bad for messing with her because she ended up not marrying the guy. We are still friends and she still insists that I had opened her eyes to a whole lot of things and she was happier for it.
During my NYSC, at the orientation camp I tried so hard to be above board and not give into the practices associated with the camps. By fluctuating between being very serious and being aloof I had hoped to show a general uninterestedness in women and keep them at bay. I had a high degree of initial success just being friends with some girls who I think would have been okay with being much more. But towards the end in the last week specifically I was blind-sided by this gorgeous girl (let's call her Nneka). Nneka walked up to me and engaged my help in announcing that her phone was lost (I was a member of the OBS you see). I did and the phone was found. We became "hi friends". Endurance trek came and I found myself walking with her, in fact we spent the whole trek together. I recall that one of the first things Nneka said was that she had a boyfriend and was getting married in a few months. Well, I wasn't looking so I congratulated her and once we established the fact that I stood no chance we relaxed and talked and talked. Afterwards Nneka made it a point to come check on me at the OBS station. Then we started hanging out. I did find her very attractive. I got a few ugly stares from her close friends in the camp with one even asking me pointedly whether I was aware she was getting married! I shrugged and said yes that she told me already. We took long walks and talked and talked. We did kiss a few times and I still remember the way her lips felt. I was tripping. I did attend her wedding two months later and it was a beautiful one! My guys made good natured fun of me that my camp girlfriend was getting married. I laughed it off but deep down I felt sad and alone. As I looked as the beautiful couple it dawned on me that she had used on me the same tactics that I had used on other women!
In a way, my experience as The Other Man was therapeutic for me. I realised that my previously eroded self confidence had sprung back to nourished life over that period. I learnt that despite my many shortcomings I could easily take the average woman from her man; and that if I tried, I could actually be in a great relationship where I could be a better partner and lover with all my emotions fully engaged. I learnt my lessons, had some fun and moved on from that period in my life.
Now before you go pointing fingers at me as some BN readers are prone to do, think about it: let's all be brutally honest, nearly all relationships start this way where The Other Man eventually becomes The Man! Feel me?
So the question remains: Does every woman need her own Splackavellie,
a brother she can call when her man ain't doing her right?
You tell me.
Picture courtesy:  www.howtogeturexback.com/lovecentre