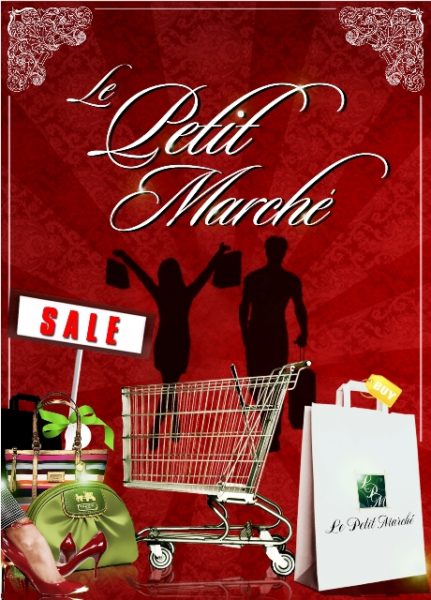 Le Petite Marché (which is French for the small market) or LPM for short is the monthly indoor mini market for everything from clothing to home essentials in Lagos, Nigeria since February 2009.
LPM has become Lagos' leading fashion platform in by creating a unique avenue for new and established indigenous designers / entrepreneurs to network, get recognized and engage their customers. Being the pioneer market in Nigeria, LPM has continued to show consistency in rendering their service on a monthly basis
It boasts of an amazing vendor directory, 125 to date, some of which includes: 28 The Bag Company, Accessories Plus, Aimas, Akpos Okudu, Alter Ego, Amede Fashions, B*Jeweled, BBG, Begavet, Biola Aso Oke, Child of Amos, Circa 64, Coco-La Coco-La, Cocochette, Charlize Hair, D'haven, Eden by Didi Ocheja, Fashion-ista, Fashion for Life (FFL), Gbemisoke, Grey, High-Street, House of Silk, H.O.M.E Design, Irie, Kanellia, Kasher, Koyo, Kwa Muhle, La Pooza, Lagos Look, Laviva, Laydee Jane, Liam Fashion Agency, Livinia Accessories, Maylin's Place, Megatrim Corsets, Mirah, My Dazzle, Nakenos, NS 1463, Obsidian, Onye Collection, Pino Degrees, The Pearl Shop, Phunk Afrique, Q-Box shop, Recreation Shirts, Rouge Couture, Sac et Al, SFSB, ShoSmith, Sorrela, Style Junky, Tai's Closet, Trak, Uló, Urbanknit, Vivre Le Resistance (VLR), Vonne, Zebra, Zinnia.
LPM has teamed up with BellaNaija.com effective June 2010 which means a larger reach on a global scale. BellaNaija.com is reputed for getting over 33,000 hits a day and in the last month has received over 1,000,000 hits keeping them at the forefront of online entertainment. Other collaborators include FashionAfrica.com which is the home of African fashion aimed at promoting African designers throughout the world. It can be assured that these strategic collaborations will be beneficial to LPM and all its affiliates
Due to these new developments catered to letting the Vendors achieve more awareness for their brands, and in turn serving a wider audience, LPM will be holding its market at the GET. Not only is this a strategic location which has a consistent number of visitors, its size allows for more space for vendors, and easier access to stalls by the potential shoppers.
LPM TAKES PLACE EVERY LAST SUNDAY OF THE MONTH AT THE GET ARENA, ONIRU ESTATE. VI
To participate in Le Petite Marché or for general enquiries, contact: [email protected]
LPM is open to all kinds of entrepreneurs, so whether you are into electronics, art, or just simply want to sell and offer a service, LPM is STILL the place for you to do it.
This month you'll have a chance to get FREE copies of ENGAGE magazine
Engage is a monthly travel & leisure magazine that give readers the best in Nigerian destinations, hotels, cultures, art, cuisine, travel recommendations, travel tips and much more, delivered to a captive audience of discerning brand-aware consumers.
It provides you with the best tips and recommendation for smart travel as we bring you the best in Nigerian travel destinations, hotels, resorts, spas, restaurants, bars and lots more.
Here are a few vendors to expect this month…
JUNE VENDOR LIST
Urban Image Consutancy – The Urban Image Consultancy is a skin care, lifestyle and image consultancy. We specialise in skin health and education, providing professional skin care treatments and retailing professional products – namely Dermalogica. However, we also offer complimentary lifestyle and image services. It is our intention to marry all of the above at Le Petit Marche by retailing Dermalogica skin care products ONLY with the sound skin care advice and consultation that we feel prospective clients should receive.
"More than just a mini facial – The Urban Image Consultancy will be offering in depth skin analysis, practical advice, prescribing and retailing results oriented products to give you the power to combat your biggest skin concerns."
My Rachels – Quality, made-to-order/ custom-made ladies' accessories – Footwear (Shoes/Slippers/Sandals); Handbags/Purses; Belts; Wallets and Souvenirs – for all occasions. Naija Gear T-shirts (male and female) available in different sizes and designs. These are branded in the US.
Allen + Fifth – Graphic Tees www.allenandfifth.com
Avendi – Kids clothing, shoes and accesories (0-16 years)
Accessories2die4 – Fashion jewellery, fashion accessories
Tripple t's – We source good quality childrens clothing from high street shops.
Grey – Great wearable clothes designed and made by the 'Boy and Girl' of Grey
Cam Cam Sweets – Confectionary!!! UK and Retro sweets (Haribo, Swizzels, Wham Bars , Sherbet etc). Sold in a variety of selection packs of 150g, &500g ranging from N800-N2,000.
Stephen and Sarahs – A spanking new brand of Chic, Stylish and Comfortable footwear, produced in Italy from the finest leathers and skins, made especially for you to suit every occasion.
Rouge Couture – Rouge couture is a fashion brand created September 2008 by chichi iyieguniwe that caters to the everyday confident woman who is daring enough to distinct herself from the crowd by representing a brand that infuses African culture n both vintage n new African prints to create new n inventive pieces that show creativity, trend as well as that spicy 'n' vintage looks. Its fashion with attitude, fashion with courage n is spreading through the fashion scene even faster every day. You're welcome to be a part of Rouge as we change the face of fashion in Africa as well as other continents. Rouge aims not only to provide African women with pieces infused with creativity but to show the rest of the world that Nigeria has talent is truly taking over; we at Rouge have done this by representing Nigeria in fashion weeks and shows in Nigeria and internationally such as Johannesburg fashion weeks. Brace yourself people ROUGE is a name you'll be hearing for a long time
LaBennis – Unique custom and designer made jewellery at very affordable prices
Prima Rouge – The Prima Rouge fashion label started in the year 2009 with the intention of filling a unique gap in the Nigerian fashion industry. The Prima Rouge brand is a lifestyle brand that has merged fashion and personal style. The inspiration behind our brand is uniqueness and self rediscovery through fashion by celebrating individuality. We are working closely with our clients integrating elements of their personal style including body shape, skin tone and everyday life with our distinctive creativity to create pieces that show more than just a flare for fashion.
Forever Living Products – Aloe Vera Based Nutritional Supplements, Drinks, Cosmetics and Make Up
Na'tees – Tee shirts with a native twist
Blush – Blush is a new concept beauty boutique and salon opening soon, bringing some of the world's best kept secrets to Nigeria. Everything from cutting edge brands that leave your skin looking and feeling lovely and soft to touch, to hair products and extensions that gives you the perfect finishing look!
Products include Blush Beauty cosmetics, Aromatherapy Associates, OPI Nail Polish, Moroccanoil, Philosophy, nuNAAT Brazilian Hair care and more.
West n Couture – Highstreet clothes, shoes and accesorries
Beampeh – Clothes from the label and some other one-offs, jewellery and accessories like hairpieces, hats, earrings, bags, belts and shoes.
Luxury Essentials – Designer clothes -Ralph Lauren apple bottom, Dkny and other high street fashion names my brand represent good quality at affordable price tailored towards giving new and quality clothing to the fashion conscious person
Hermanas – Beautiful hair bands and cocktail rings
Accessories2Die4 – Fashion jewellery & fashion accessories at unbeatable prices
28 The Bag Company – We are not just bag makers, We are thinkers , capturing life in refined shapes, With a knack for style, an eye for details and a bagful of talents.
1407 Style – We sell comfort and style….Fab tunics and dresses for day and night
Ulo – Discover the pleasure of home living with ULO. Our selection of scented candles and all the essentials you need to transform your house into a home. EVERYTHING you need to rest easy!
Beadazzle Accessories – Beautiful jewelry, make up and accessories
See you at LPM this Sunday!
Date: Sunday 27 June 2010
Venue: GET Arena, Oniru Estate off Ozumba Mbadiwe Street (Opposite Oriental Hotel), Victoria Island/Lekki, Lagos
Time: 12Noon to 7PM
Entry is open to the public
____________________________________________________________________________________________
Sponsored Content