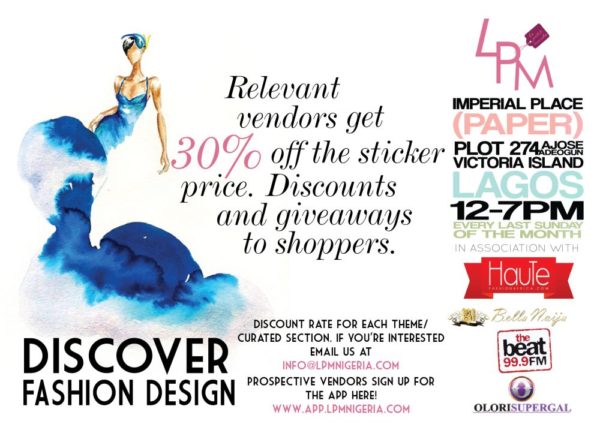 In with the new, out with the old. Irresistible, fabulous and downright awesome fashion. LPM brings a new spin on the much loved monthly market.
Looking for a wardrobe refresh? Prepare for the new season with the hottest pieces from some amazing new Nigerian designer brands.
Shop the latest trends in fashion, beauty and lifestyle at LPM this Sunday, and if you can't join the team in person – there's a great chance to snatch up "Little Luxuries"– limited edition pieces by Nigerian designers just for you.
As part of the Discover Design: September Issue, the LPM team has joined forces with Cart.com.ng to create a pop-up store of designer exclusives online which will run for a month. Stay tuned to the launch of the online pop-up shop.
Vendors for this month include but are not limited to Toncadeau, Hyba, Lady Biba, Glam Stitches, Biddy's Mondo, Chechi Arinze, Kitschai, Toseki Vintage, Household of Panache, Obsidian, Mink Modish, L'Espace, Ajiri, Melvec Beauty, Rhiri O, Didi Designs, Rockfille, Estitos, Leightzone, Niskay and Black Royalty
The Cart team will also be on deck with free consultations and evaluations.
Contact the LPM Team (Stall or General Enquiries)
Sign up: app.lpmnigeria.com
Email: [email protected]
Phone: 07028028960 or 08162463603
LPM Inside Loyalty Scheme – The LPM team wants to reward all loyal shoppers. Each LPM visitor will get a loyalty card and for every purchase over N 3,000 the customer gets a stamp. All you need are 12 of these and you're on your way to getting a freebie worth over N 10,000. Make sure you stop by at the September edition and get to shopping.
Date: Sunday 29th September 2013
Time: 12 Noon – 7 PM
Venue: Imperial Place (Paper), Plot 274 Ajose Adeogun, Victoria Island, Lagos
Contact: For more info and general enquiries, call 08162463603 | add BB Pin 28BC6BE3 | follow them on Twitter @LePetitMarcheNG | on Tumblr www.LPMPaper.tumblr.com | 0n Instagram www.Instagram.com/LPMNigeria
For news, updates and LPM highlights, delivered straight to you sign up here http://eepurl.com/y2RPT
LPM Vendor Spotlight – Lady Biba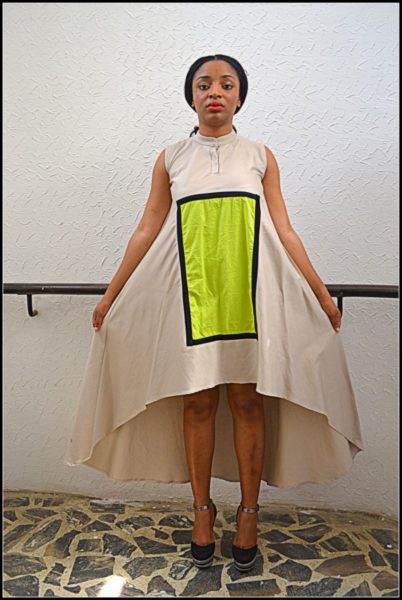 Tell us about your brand evolution
It all started in the summer of 2011 with a sample collection, following the response I officially launched Lady Biba in 2012. The brand has always been about affordable luxe, and it has been growing towards that direction, the clientele range has expanded and we're still able to satisfy the niche that we had in mind while the brand started.
What would you say is the Lady Biba signature/aesthetic?
The Lady Biba aesthetic portrays modern femininity and contemporary minimalism. I love to mix hard and soft elements together, bring tailoring and draping to a meeting point whilst not compromising on fit.
LPM launched a new initiative called #DiscoverDesign. In your opinion what makes African fashion unique? Worth "discovering'"?
I've always been a firm believer in our fashion industry. There is a lot of passion and hard-work that goes into the production and despite all odds in form of infrastructure and a general lack of structure, we are still here pushing and trying to make the best of what we have.
African Fashion is certainly worth discovering because we have our own story to tell from a different third world perspective. Our industry is growing and I believe It is going to surpass our expectations and I'm glad to be a part of this growth.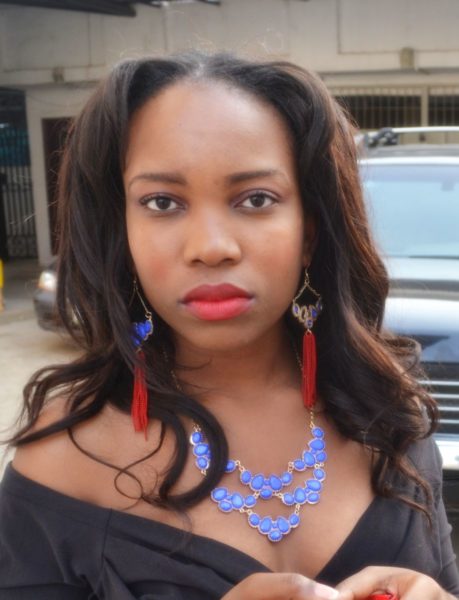 What is your price point and where can we purchase
(Our) price point is between 3500 and 15000. Lady Biba pieces are available for purchase on the online store. http://bit.ly/19rlb0G
What would you say has been the highest point of your career till date
For me, there's no particular point I can categorize as the highest point, It's all in those tiny moments of success that bring it all together. With every happy customer, I reach higher points.
It's such an amazing feeling to design something and get positive reactions to a piece that was just only on paper moments ago. In fact, everyday I wake up and realize Lady Biba is still alive and in business is a higher point and I have God to thank for that.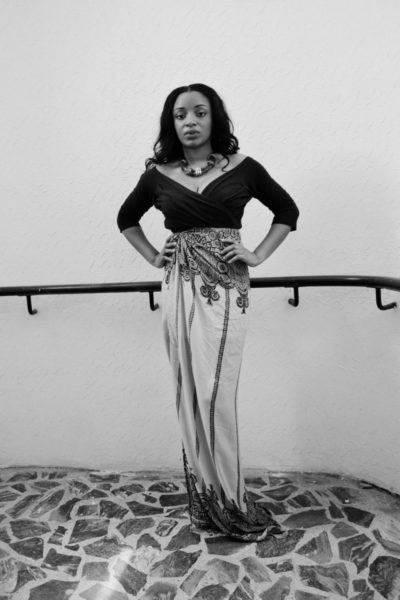 What is your vision for Lady Biba in the next few years
To increase production capacity and grow the online store and hopefully brick and mortar stores.
Any other exciting news you'd like to share with our readers
Working on the Fall/Holiday Collection. So watch out for that.
_________________________________________________________________________
Sponsored Content