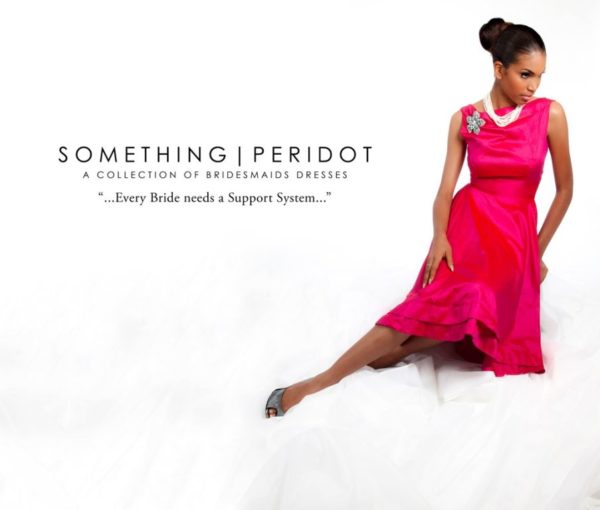 "Something Peridot" is the new bridal line from Nigerian fashion label, Peridot & Ruby. Although 'Something Peridot' had been in the works since 2007 with real brides including Abisoye Olorunnimbe, Banke Meshida-Lawal, Abisola Odeinde, Bella Disu and Mayowa Fabode patronizing the company, it wasn't until  Peridot & Ruby founder, Lola Abiodun-Ashafa's wedding (where she dared to be different and designed her bridesmaids dresses in black) that she decided to birth a sister company to Peridot and Ruby and cater to the wedding bridal party.
According to the designer, Lola Abiodun-Ashafa : "The "simple elegance" collection evokes a story of timeless and versatile bridesmaids gowns that compliment the bride and the essence of her big day. The dresses pay close attention to rich colors, lush fabrics and sophisticated silhouettes. Since the bride's the focal point of the day, it is only natural to have the bridal party in pieces that exude a classic and traditional feel".
And we couldn't agree more, from the cocktail dresses to the floor length gowns, the pieces in this collection display timeless elegance. She presents a variety of styles, which play on the individuality of the bride and her choice for her bridesmaids either in opting for something soft and romantic, bright with beautifully accentuated details or dark, a little dramatic and lovely!
See the full collection debut – Exclusively on BellaNaija.com.
Bridesmaids (and a bride) in 'Something Peridot'  by Peridot & Ruby
Credits
Photography: Eleanor Goodey
Styling: Ezinne Chinkata
Make-up: Banke Meshida Lawal
Photoshoot Direction: Andy Ogbechi