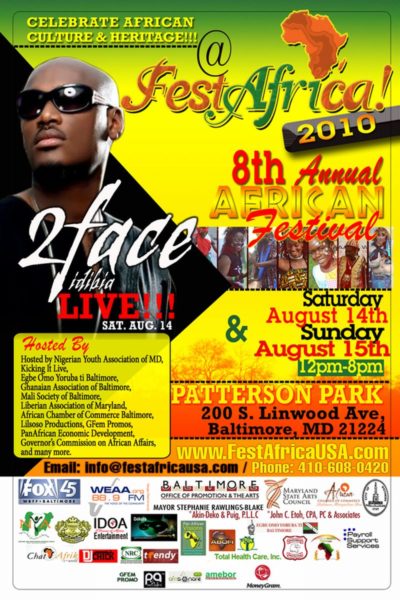 The largest African festival in Maryland will celebrate its 8th anniversary with FestAfrica on Saturday August 14th and Sunday August 15th 2010.
See the schedule and details below
2Face Idibia performance
Sat. Aug. 14
Saturday & Sunday August 14-15, 2010
(12pm-8pm)
Patterson Park
200 S. Linwood Ave, Baltimore, MD 21224
Admission
Saturday Aug. 14: $5 12pm-4pm
$15 4pm-8pm, VIP: $50
Sunday Aug. 15: $5 all day 12pm-8pm
Free for children under 10 on both days!
Serving & Touring Africa
Parade of Nations – Bring your flags and show your pride!
Promoting Tourism and Community Service in Africa
Also Presenting
Dance Off Competition with Cash Prizes
Register your solo or group by phone or email [email protected]
Africa Tourism Fair
Health Fair- Free Screenings
Career Fair & Business Expo
Family Learning Center
Celebrate African Culture & Heritage
Traditional African music and dance performances, fashion shows, art & craft, vendors, African cuisine, games, face painting
See website for information about Sponsorship, Vendors, Performers & Entertainers
For more information call (410) 608-0420 or visit www.festafricausa.com