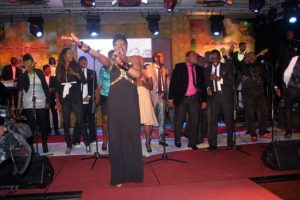 Gospel Music in Nigeria is being revamped and the result looks and sounds so good! The New Face of Gospel was an event organized to showcase talent within the gospel industry in Nigeria.
In the press release issued before the event, the organizers shared that "Over the last few months, gospel musicians across the city have come together in meetings to discuss germane issues and review their industry. With the powerful tool of music as a primary vehicle, these meetings have been aimed at rallying gospel musicians on to a united front, so as to have one voice that makes for greater impact on the nation at large. While the Nigerian Gospel scene has always been vibrant, there has never been a forum where everyone could bond on technical, spiritual as well as social fronts"
With this in mind, an event was organized to promote awareness and celebrate the best of Gospel Music in Nigeria. The event took place at the Oriental Hotel on Saturday, August 14th 2010 and BN was on the scene.
With Gospel Artistes, Fans of Gospel Music and several Pastors in attendance, it was an entertaining and inspiring night. I was so caught up in the atmosphere that, I was so sure I would spot Pastor Adeboye at the event, but alas he was still at the Redeemed Camp.
The event, hosted by Dayo Benjamin-Laniyi began with the sounds of smooth Jazz serenading the audience. The first artiste of the night performed a rendition of the Yolanda Adams song "Still I Rise". Her voice was as beautiful as the angels singing in heaven and all I could say was "ah Nigerians have talent".
With a number of performances including a rousing performance by Tim Godfrey and The Xtreme Crew – overall, the event made me appreciate gospel music. So often gospel music is taken for granted and we forget that this is the genre of music that is most loved by God. Gospel music is laced with words of encouragement and power that lifts up the inner most part of our soul. It was great to finally see gospel music being recognized and celebrated for what it is, music created for the most high.
At the end of the night, Dr. Panam Percy Paul (PhD) was presented with a Lifetime Achievement Award. With over 13 albums and numerous accolades, Dr. Percy Paul is an icon in the gospel industry within Africa and an inspiration to all generations. Dr. Paul who was certainly deserving of such recognition, was humbled by the award and encouraged all gospel artists to continue to carry out God's work.
In closing, a song written by the ever so talented Cobhams was performed by numerous gospel artistes – a collection of the best and brightest gospel singers in Nigeria including Kore, Rooftop MCs, Bouqui, Modele, Eben, Tonii, Jahdiel, Soji Israel, Tosin Martins, Nikki Laoye and Jodie. The song titled "Shine The Light" will be featured on BN as soon as it is released.
It was definitely a proud moment to see such talented artists take the stage to perform a great song. It was a night to remember and I am looking forward to many more vibrant initiatives from the revamped Nigerian Gospel music scene.

On-Stage
Guests