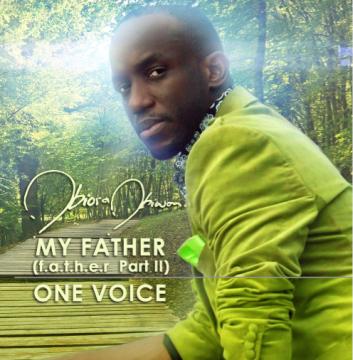 Obiwon's Obi Mu O off his sophomore album — The Rebirth, rocked the radio, and weddings during its tenure. It can aptly be ranked among one of the many successful 2009 singles. Its popularity greatly eclipsed the rest of the album which was faith based.
And in his own way of repositioning the album in that light, Obiwon has released a new bath of singles. First of which is a 'remix' of another song on the said album –  My Father. According to news reaching us from his camp, the song is not just another remix. "My Father (F.a.t.h.e.r Part II) is much more than a remix, hence the ascription "part II"."
And in reminiscence of the recently concluded World Cup, he recorded another song, One Voice. A song which focuses on the richness of the African continent in terms of people, geography and scenery. And already, on an international scales, it's doing very well.
"One Voice is already confirmed as a feature on two international compilations which will introduce Obiwon to a worldwide audience. The first is an Africa-themed project entitled "The Best of African Music: One World, One Love Edition", via worldwide distributor Universoul Vibes and also featuring international acts Akon and Nas. The second entitled "Seat 1-A" The International Musical Experience" is a product of U.S based Bereolaesque movement. Both projects are billed for international release in 2010."
Click Play to Listen to Obiwon – My Father (F.a.t.h.e.r Part II)
[audio:https://www.bellanaija.com/wp-content/uploads/2010/09/f.a.t.h.e.r-part-2.mp3]
Click Play to Listen to Obiwon – One Voice
[audio:https://www.bellanaija.com/wp-content/uploads/2010/09/Obiwon-One-Voice.mp3|titles=Obiwon – One Voice]