They are new to the industry, and ready to penetrate the fashion industry with their explosive ideas and unique aesthetic! They are  what we look forward to and watch out for; the newcomers of today, the potential iconic brands of the future!
BN caught up with up-and-coming Tanzanian menswear designer Sheria Ngowi.
BN: Why did you go into fashion?
SN: My parents are the ones who inspired me, they had an  interest in fashion.  I remember styling my parents before they went out and pretty soon I was the family stylist and then realized I had talent and now I am a designer.
BN: What differentiates you from other competing brands?
SN: Well, my designs are heavily influenced by the past. So I blend modern trends with the classic vintage looks and incorporate numerous colors. That is the main difference, trying to be playful with menswear which is quite rare in the fashion world as of now.
BN: What do you bring to menswear?
SN: My first goal was to give all the people, especially African men a platform for inspiration. And it was important to be aware of the rules of  fashion, but, not with an intention to follow them. Rules must always be tweaked, subverted or broken to make for  a more relaxed and personal sense of style just like wearing a suit with a T-shirt, a pair of classic Oxfords with your broken denims so that people can develop their own fashion personalities. Because I will be showcasing all things fashionable and stylish, so they must step out of their boundaries and try something new.
BN: What inspires your designs?

SN: Well, my designs are inspired by the past – the 30's up to the early 70's . Suits cut for comfort and not as fitted and mostly double-breasted. So I decided to blend modern trends with the classic vintage looks to make my collection. My late Father who was an incredibly stylish man and inspired me since he had an interest and  strong sense of fashion and trends at that time – he's the reason I love fashion.

BN: What type of man wears your Sheria Ngowi?
SN: My Collection is luxurious and sophisticated yet from another time. I make my designs for men who are sophisticated,there was no lack of restraint in the shapes and in the looks, I offered a collection where every detail is accentuated, making men look good without ever giving them an affected or ridiculously disguised look. My Suits are classic, well built and daring youthful silhouettes. The use of slim-fit check shirts, slim ties and bow ties are details that make my collection simple and unique. Glasses and bags contribute to the image of a refined and relaxed man.
BN Contributor/Fashion blogger ( http://onenigerianboy.blogspot.com) Terence Sambo reviews the collection:
The spring 2011 pre-collection images of his eponymous menswear ready to wear line, Sheria Ngowi Designs slightly departs from the colorful vibe in his spring 2010 collection.  Loads of charcoal, blacks and gray lends support to the thought of the collection being more grown up and business themed. However the designer injects some color through the plaid and check shirts as well as the accessories. Slight details like the size of the lapels, round edge of the double breasted blazers and the concealed pocket on the trousers deserve a nod too. Decent looking collection so far, I expect to be thrilled when the full collection drops!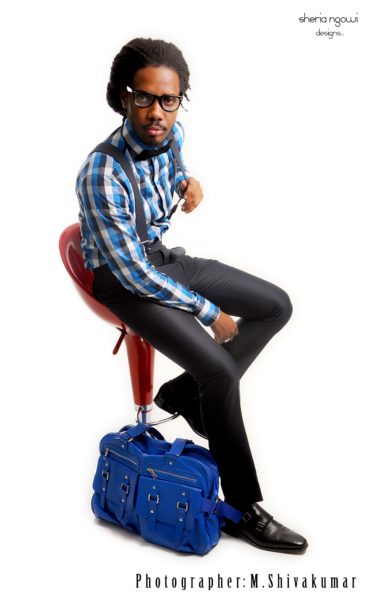 Click to visit blog
Click to visit Facebook page
Twitter.com/SheriaNgowi.