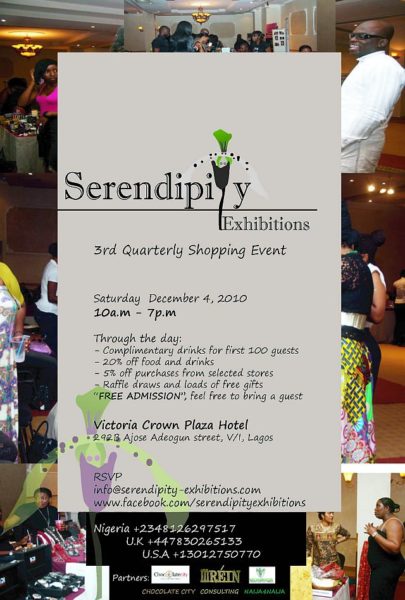 Serendipity Exhibitions invites you to Shop, Sip, Sample & Save at the 3rd Edition of their Quarterly Shopping Event on Saturday, 4th of December 2010 at Victoria Crown Plaza Hotel in Victoria Island, Lagos. This is an excitingly convenient way for the whole family to go shopping. Goods and services from both local and international companies will be on display ranging from womenswear, menswear, kidswear, homeware, lingerie, makeup, fabric, jewellery, financial services, fragrances to image consulting, leather goods, cocktails and so much more.
Shoppers will enjoy complementary makeovers, complementary drinks, and fabulous finds at an affordable price.
Exhibitors include: Allegra's Pride, Mohalcyon Designs,Mrein Home Bath and You, ClotheSense, Ruby and Pink,Didi Rose, Buttercups, Avendi Kids, Fabulous Bags, Polo Club Rich,Nasheeta, JungleMart,Bebe Graffiti,Tochini Beads,Cool Running and lots more.
Allegra's Pride will be offering 5% discount off their range of exotic diamante bra straps.
Come and mix, mingle and network with friends in the serene and ultra chic ambiance of the Victoria Crown Plaza Hotel transformed into a shopper's haven as you sip fabulous cocktails while shopping from dozens of fabulous vendors.
Date: 4th December 2010
Venue: Victoria Crown Plaza Hotel, 292b, Ajose Adeogun Street, Victoria Island, Lagos
Time: 10AM – 7PM
There are limited spaces available for prospective vendors, contact Serendipity – See contact information below. Prospective media partners and sponsors are welcome as well.
E-mail: [email protected]
Call: Nigeria: + 234 (0) 8126297517
U.K.: + 44 (0) 7830265133 / + 44 (0) 7908881031
U.S.A.: + 1 3012750770
___________________________________________________________________________________________
Sponsored Content