Registration for voters for Nigeria's 2011 General Elections has started.
It is so important for all of us to register to vote!
Encourage your parents, colleagues, staff, friends and everyone who is qualified to vote to register immediately.
Unfortunately, Nigerians who are not based in Nigerian cannot vote from outside the country. However, you can still be involved in the electoral process by encouraging everyone you know in Nigeria to register and make their voices heard.
Click HERE to find the polling station closest to you
___________________________________________________________________________________________
Several non-partisan organizations are emerging and working hard to encourage people to register and vote. Sleeves Up is one of those organizations, here is their brief.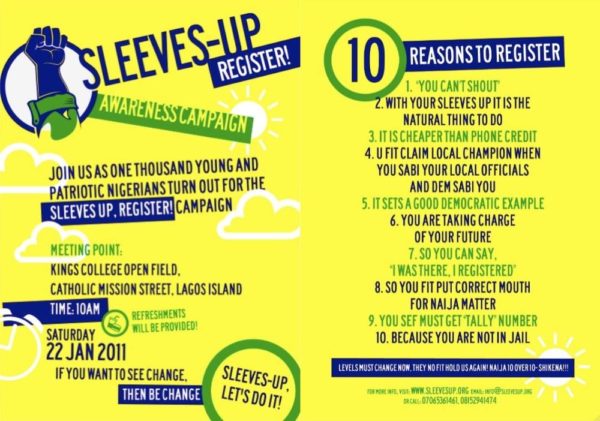 Here is a message from Kola Oyeneyin of Sleeves Up
**
My Fellow Nigerians,
From the 15th to 29th January, we young Nigerians hold our future in our hands. The question is, what are we going to do with it? We represent 70% of Nigeria's entire population (approx. 105 million youth). What that tells me is that there shouldn't be anyone in any political office that you and I haven't voted in (all things being equal).
For so long, this generation has made it clear that we are unhappy with the "State of the Nation". We have talked over breakfast, lunch and dinner. We have voiced our position on BB, facebook, twitter, blogs, and youtube. Up to this point, however, we've done little or nothing to back up our justifiable disgust with credible and concrete actions. This needs to change, and that change begins NOW. It's time to roll up our sleeves and do something! It's time to register to vote! Join us as ONE THOUSAND YOUNG AND PATRIOTIC Nigerians turn up for the "SLEEVES-UP, REGISTER!"
Campaign on 22nd January, 2011
Meeting Point: King's College Open Field, Lagos Island
Time: 10 am.
This is the time to answer that question you've always asked, "What can I do?" You can come out and raise awareness! C'mon, Sleeves-Up, let's do it!
About Sleeves Up
Sleeves Up is a non-governmental, non-profit and non-partisan organisation that presents a platform for the millions of young Nigerians across the nation and beyond that are tired of just "talking the talk", who are now ready to "walk the walk". This platform creates an opportunity for us to come together, go beyond the challenges of the nation, and step into the level of proffering solutions. We are committed to making CHANGES driven by the simple notion that youth have the capacity to affect the state of affairs in this country, if they stop the TALKING and start the DOING.
Vision
To raise a generation of young Nigerians who TALK LESS and DO MORE
Mission
Our mission is to continuously create, plan, implement and sustain projects that will enable us to build a solid network of like-minded young Nigerians who are resolved to being a MASTERS OF CHANGE, rather than VICTIMS of change
Projects
* Sleeves Up, Register!
* Sleeves Up, Vote!
* Sleeves Up, Build Nigeria!
For More Information
info@sleevesup.org