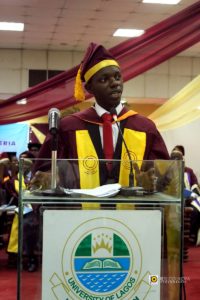 Thursday 21 January 2011 was indeed a memorable one for thousands at the University of Lagos, as they received various degrees from the University after years of rigorous academic training. It was time to reward students who had put varying degrees of efforts into their respective programmes. Of the several thousands of first degree recipients were 119 First-Class graduates, among whom a particular student stood out. 21-year old Babatunde Olusegun Alawode, a graduate of Mechanical Engineering, emerged the Best Graduating Student with a Cumulative Grade Point Average of 4.93/5.00. In this exclusive interview with BN Editorial Assistant, Gbenga Awomodu, this young man who wants to solve Nigeria's energy problems, shares interesting bits about his childhood, friendship, education, and, of course, Nigeria.
Tell us a bit about yourself.
I am Tunde Alawode, a native of Abeokuta in Ogun State. I come from Semore in Imo, somewhere in Obafemi-Owode Local Government. I am from a polygamous home and I have 28 siblings. I am the 21st child, and seventh of eight from my mum. I recently graduated from the University of Lagos with a bachelor's degree in Mechanical Engineering.
Your graduating CGPA of 4.93 translates to how many A's and B's?
I had one C and four B's. Two of the B's were in my first semester in Unilag, and the remaining two in the fourth and fifth semesters respectively. The C was in a physics laboratory course in my second semester -everyone in class had the same grade. I did, altogether 76, courses.
Please let us into your academic history, pre-university.
I started at High Class Nursery and Primary School, Ikotun, Lagos. Later, I followed my sister, Moji, to her school, Folem Private School (then God's Time Is the Best Nursery & Primary School, Igando, Lagos). I started at the bottom of the class, but in primary three, I 'suddenly' came third. By primary five I was steadily in second position behind Moji. I was enrolled at St. Saviour's High School, Ijegun, Lagos in September 1999. For the first two terms, I was again second position behind my sister until I came third in the third term of JSS 1, beaten by a girl named Nengi. At the beginning of the next term, the most brilliant students in the neighbouring class were brought to mine. I was scared of even performing worse, so I became more serious. I came first that term and haven't looked back since then. However, there was a particular very disappointing incident during my JSCE examinations, which made me decide to prove a point – I had all A's and a P (in IntroTech) in my JSCE. In the 2005 WASSCE, I had all (eight) A1's and a B2 (in English Language). I heard that was the best result in Lagos State at that time.
Why did you study Mechanical Engineering?
In SS 2, I didn't know what exactly I wanted to do with my life. I soon realized that I loved things engineering. I liked medicine too, but hated the sight of blood and disliked that drugs were too bitter. If I were a scientist that specializes in making drugs sweeter, I would be motivated! My favourite subjects were Physics, Mathematics, Further Mathematics, Technical Drawing and Chemistry, so I thought I would not fare badly in Engineering. I read a copy of Awake! magazine which explained the bleak future of the world with current trends in energy demand and use, which would eventually make the world uninhabitable. I decided that my life must make a global impact in the area of energy. Imagine if you only required a litre of petrol to move from Lagos to Sokoto, or if your car could run on only water.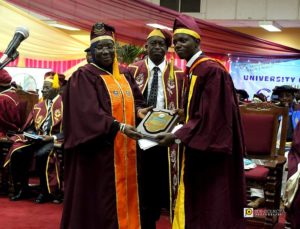 What were your goals at the beginning of your journey in UNILAG and how did you fare in achieving them?
I didn't have any goal at the beginning because I simply wasn't yet mature. I just thought it was still like secondary school. I was brought to reality after my first semester, when I had a CGPA of 4.58 – I had two B's. I was so discouraged that I formulated my goal. Simply put: 'success or failure will not affect me. When I am successful, I will not allow it get into my head, but look forward to conquering more ground next time. When I fail, I learn my lessons, erase all memories of the failure because I cannot afford to allow it weigh me down, and move on to do far better next time.' Did I achieve my goal? I guess that's why I am being interviewed today.
Share some of your favourite childhood experiences as well as the challenges you encountered in the university and how you overcame them?
I shared one khaki school bag with two of my siblings in primary school. We took turns carrying the bag to and from school. One day, I was not supposed to carry it, but it was left at home. Since I was the last person, I picked it up and ran to catch up with my brother (I think he was the one supposed to carry it), but he refused to carry it. I dropped it and left it in the middle of the road. The teacher caned me and asked to go pick it up from the road, so I had to walk half the way home! In the university, sometime in the middle of first semester year three, I lost all desire to study. I had had 5.00 and 4.95 the previous year. That I was not really learning much from the lecturers and could not set higher academic goals really irritated me. Thank God for my friend, Opeyemi (Ogunlade), who got me back on track.
How about your relationship with lecturers and other students, especially the girls? Any special one yet, or soon?
I wasn't really known by my lecturers till the third year. I am one of the few students that can enter any lecturer's office at any time, but my relationship with them wasn't so cordial. I have only a few ladies in my life. I respect every other one. About the last question, I would make no comment.
In what ways did the relationships you built with people help or harm you in achieving your goals? What steps did you take to manage or end wrong relationships?
I actually had only a few friends while in school – Opeyemi Ogunlade, Jide Oshinkalu, Yetunde Alo, Akin Oyedele and Segun Bolarinwa. I had mentors (Bolaji Ayoade, Bola Ogunoiki, Kemi Ojo), fantastic roommates (Azeez Bakare, Mayowa Oyedere), and dozens of acquaintances. They shaped me to be who I am now. I met a lot of people, but only moved with those who had goals for themselves such that we rubbed off positively on one another.
What were the most important lessons you learnt from your university experience?
You can be who you want to be. Just put your mind to it! Another very important thing people overlook is that, most times, the thing that stands between us and our dreams is the fact that we do not believe we can do it.
What other activities did you take part in apart from academics?
I sometimes used my time to encourage junior students to be better in their academics and formally became a resource person to the Counselling Unit of the University of Lagos in my final year. I meet students with academic problems and try to help. I also speak at some events. I was elected as President of the Mechanical Engineering Students Association and we were arguably the best in interdepartmental events – 2nd place Dean's Cup, 1st place ULES Prodigio, a faculty-wide quiz competition, and 1st place e-Ingenium, a faculty-wide final year students paper presentation contest. We also held several departmental events.
Are there things you would have loved to do while in school?
Yes! I wanted to learn French and another language. I also wanted to learn to swim.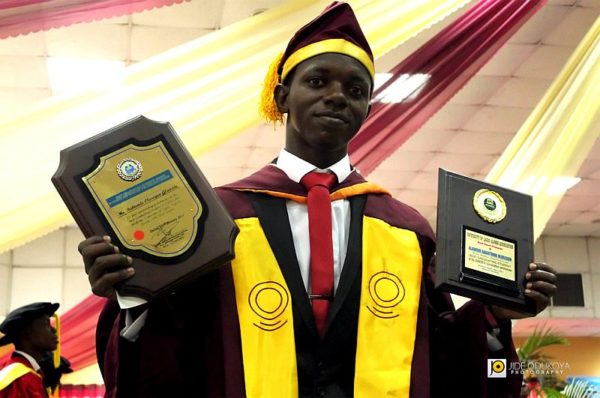 What is the single most important decision you have made in life?
Giving my life to Christ and deciding to seek His help in transforming me to be a better person. My home was actually also a pagan one – my father just gave his life to Christ in December 2010. Yet, God gave all of us the wherewithal to resist his insistence that we should not go to church. God has truly kept me and my siblings, and is now keeping us as a family. In secondary school, I did not collect school allowance (by choice), but whenever I was in dire need, like when I broke or unintentionally destroyed laboratory equipment, I would pray to God and miraculously receive an amount (never from my patents) that would cover the cost. Also, during MEG 202 (fluid mechanics) test, I wrote poorly and forgot to write my name on the answer sheet. That should earn me a zero. Again, God came in through a roommate's friend who took me to the lecturer. I not only located my script, but was given a high score in the test that I surely did not deserve. The friends that I have met have all been so wonderful and so positive in my life. Only God could bring your way such a wonderful person as Ogunlade Opeyemi, mentors like Bolaji Ayoade and room mates like Bakare Azeez. I don't think I deserved them, but God used them to bring me to where I am now.
What are your thoughts about the Mechanical Engineering profession in Nigeria and the employability of engineering graduates in Nigeria, considering the total collapse of the manufacturing industry, a major employer of engineers in Nigeria?
Most things in Nigeria are collapsing or have collapsed because we do not have the right leaders in the right places. The right political structure alone cannot guarantee an improvement of Nigeria. If Nigerian scientists, engineers, accountants, entrepreneurs, politicians, administrators, law enforcers, lawyers, etc, are all quality professionals in their own right, how won't we have a great country? What can the government do if it builds specialist hospitals, yet Nigerian doctors have not acquired the necessary capabilities to man them to world-class standards? I believe that a country full of successful people would invariably be successful. The onus lies on each person to play his part. Regarding employability of Nigerian engineering graduates, we should look inwards and create jobs rather than seeking them. Of course, one would need to first learn the ropes by being an employee. Developing the capability to function should be a priority for engineering graduates, so we can be relevant and develop the few industries available.
What do you think about the exodus of engineering graduates into other fields of endeavour after their undergraduate studies?
I think the economic realities dictate such. Truth is: engineers may be the most versatile people and are trained to be able to adapt to any task. I would only advise engineers not to forget their first love – there are still many things we are needed to do.
Any words of encouragement you want to share with young people still in the university?
Many university students have academic challenges, some due to no fault of theirs. I think the first thing for you to do is to recognise what the causes of the drawbacks are. Recognize and then take positive steps to put yourself back on the track to where you want to get to. Seek help from others, if need be. And most importantly, believe in yourself. Be consistent and be assured that things can only get better for you. School life is not all about academics, but the total development of the mind and body. Prioritizing is the key to an effective student life.
What do you plan to do next and where do you hope to be, ten years from now?
Service, then Masters and (most probably) doctorate degrees. In ten years' time, by God's grace, I would be preparing to enter into or already be in the business side of Energy.
How do you relax when you're not working on some mechanical stuff?
I watch movies and read novels. I play table tennis, and I am above average at it. I still struggle to beat my elder brother, Oye, though.
Any other thing(s) you want to share with our esteemed readers?
For some readers only the statistics will stick while others will take in the useful parts – what made him successful in UNILAG? Does anything he has said apply to me? I encourage you to make what you read actually meaningful to you. That's what makes an excellent student. Finally, you can be what you want to be. I still tell myself this too – I have not yet arrived oh!. We can be the best, if we decide to pay the price.
Photo credit: JO Photography
___________________________________________________________________________________________
Gbenga Awomodu is a freelance writer and editor. He blogs at Gbenga's Notebook!, a repository of his thoughts and other works.