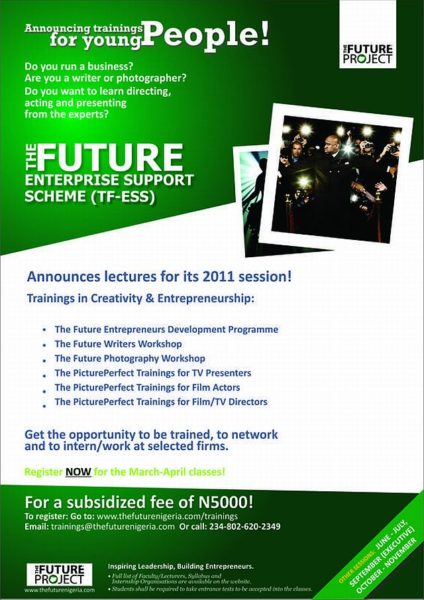 The Future Project has remodelled its influential training series The Future Enterprise Support Scheme (TF-ESS) and launches more training programmes for previously untouched segments in enterprise and creativity. First presented in 2009, the impact of TF-ESS has been enormous with hundreds of young Nigerians benefiting greatly from the innovative approach of The Future Project.
This TF-ESS season sees the introduction of new steams – with training programmes in Photography, Directing, Acting and Presenting in addition to the more established and prestigious Entrepreneurs Development Programme and the Writers Workshop.
The training programmes available in 2011:
1. The Future Entrepreneurs Development Programme (Faculty includes Mrs. Nike Ogunlesi, Mr. Kingsley James, Resource Persons from the International Finance Corporation and others)
2. The Future Writers Workshop (Faculty includes Dr. Reuben Abati, Toni Kan, Tolu Ogunlesi and others)
3. The Future Photography Workshop (Faculty includes Kelechi Amadi-Obi, Body Lawson, Moussa Moussa and others)
4. The PicturePerfect Training for TV Presenters (Faculty includes Iretiola Doyle, Denrele Edun, Kemi Adetiba and others)
5. The PicturePerfect Training for Film Actors (Faculty includes Amaka Igwe, Iretiola Doyle, Femi Odugbemi and others)
6. The PicturePerfect Training for Film Directors (Faculty includes Charles Novia, Kunle Afolayan and others)
Students shall be required to take entrance tests to be accepted into the classes.
"The training programmes are a crucial part of our work here at The Future Project," says Kenneth Oliko, communication coordinator for The Future Project. "We intend to both capitalize on the success of The Future Awards and go beyond it to provide qualitative practical knowledge to enterprising young people all over the country."
Registrations for the Photography Workshop ends soon and there are only 20 available slots!
The workshops come subsidized at a flat rate of N5000. Pay the fee into the RedSTRAT Communications Ltd, Bank PHB account with account number 104 0635 207. Forward teller details including name and the date you paid to [email protected] Please keep your tellers,they will be needed to confirm payment.
The first session for 2011 is March-April and continue June-July, September (Executive) and October November. Please forward all enquiries to [email protected] or call 08022226712. Details on faculty and course outlines are available at www.thefuturenigeria.com/trainings