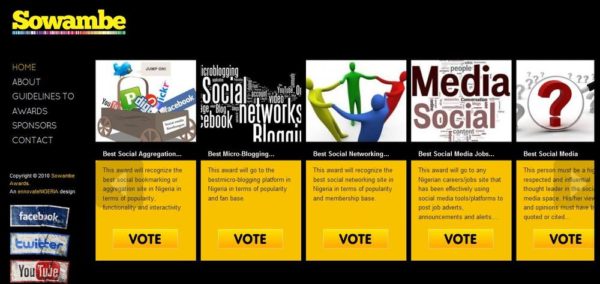 The nominees for the first edition of the Sowambe Awards have just been announced. The Sowambe Awards aims to recognize the best social media adopters, talents and professionals as well as social media-based web platforms in Nigeria.
Sowambe is simply an acronym for – Social Web Addicts in Media, Business and Entertainment.
In the Yoruba language, 'sowambe?' means "are you there?". So we're asking: Are you there? Are you in the social media space? Are you a social web addict?
The Awards will allow participants and the public to nominate and vote online for their favourites, based on a clear understanding and good judgment on activities in the social web.
The Sowambe Awards ceremony would gather people interested in lifestyle and trends in social media, web startups, technology & software developers, enterprises, investors, industry watchers, broadcasters, celebrities and students in order to celebrate social media excellence in Nigeria.
To vote, head over to the Sowambe website – http://sowambe.com/

Best Social Media Personality
1. Tayo Aderinokun (MD/CEO, GTBank)
2. Fela Durotoye (MD, Visible Impact)
3. Nmachi Jidenma (Founder, CP-Africa)
3. Egghead Odewale
4. Gbenga Sesan (ED, Paradigm Initiative Nigeria)
Best Social Media Celebrity
1. Banky W
2. D'banj
3. MI
4. Omotola Jalade-Ekeinde
5. Wande Coal
Best Social Media Politician
1. Babatunde Fashola
2. Nuhu Ribadu
3. Goodluck Jonathan
4. Dele Momodu
5. Donald Duke
Best Social Media Site
1. Twitter
2. Facebook
3. Youtube
4. LinkedIn
5. Bebo
Best Social Media Activist
1. Amara Nwakpa (LightupNigeria)
2. Gbenga Sesan (EnoughisEnough)
3. Chude (The Future Awards)
4. Egghead Odewale
5. Ohimai Amaize (B.L.I.N.G)
Best Social Media Thinker/Influencer
1. Yinka Olaito (The Branding Gavel)
2. Paulette Erijo (Letche/Beezbox)
3. Dayo Adefila (Insight Communications)
4. Abasiama Idaresit (Wild Fusion)
5. Adeola Kayode (Teleios Consulting)
Best Use of Twitter (Personal Brands)
1. Pastor Chris Oyakhilome
2. Don Jazzy
3. Pastor WD Favour
4. Genevieve Nnaji
5. Eldee The Don
Best Use of Twitter (Corporate Brands)
1. GTBank
2. Arik Air
3. UBA Group
4. Etisalat Nigeria
5. Airtel Nigeria
Best Use of Facebook (Personal Brands)
1. Fela Durotoye
2. Wande Coal
3. Goodluck Jonathan
4. 9ice
5. Omotola Jalade-Ekeinde
Best Use of Facebook (Corporate Brands)
1. Always Nigeria
2. GTBank
3. Hennessy Nigeria
4. MTN Project Fame
5. Samsung Mobile
Best Use of YouTube (Corporate Brands)
1. UBA Group
2. GTBank
3. ABNDigital
4. Globacom Limited
5. Oceanic Bank
Best Social Media Newspaper
1. 234Next
2. Vanguard
3. BusinessDay
4. The Guardian
5. ThisDay
Best Social Media Jobs Site
1. Identified.com
2. Jobberman.com
3. CareersNigeria.com
4. Jobs4Naija.com
5. NigeriaBestJobs.com
Best Social Networking Site
1. Naijapals
2. Facebook
3. Badoo.com
4. Myspace.com
5. Lagosians.com
Best Social Media TV/Radio Station
1. The Beat 99.9 FM
2. Top Radio
3. Rhythm 93.7 FM
4. Channels TV
5. Soundcity
Best Micro/Blogging Platform
1. Gistcaster
2. Twitter
3. Jaiku
4. WordPress
5. Blogger (Blogspot)
Best Social Aggregation Tool
1. Afrigator
2. Flock
3. Riranwo
4. Tweetdeck
5. Sturvs
Best Ad Campaign on Facebook
1. The Experience 2010
2. Peak Talent Show
3. MTN Fastlink
4. Babatunde Fashola
5. Diamond Bank
Best Digital Media Agency
1. Seed Media
2. Wild Fusion
3. ByteSize Nigeria
4. Tregeo Creatives
5. Inove Media
Best Twitter Trend
1. #abaversion
2. #englishmadeinnigeria
3. #lightupnigeria
4. Wande Coal
5. Sanni Keita