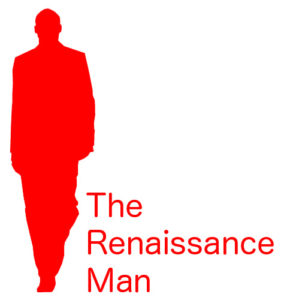 I was slightly apprehensive about commenting on this Fashion Week which has come to invade mine and indeed the rest of Africa's ears like an announcement that you are blocking someone at your typical owambe.
Apprehensive because I've never attended a "fashion week" so quite frankly what yard stick would I have to make an assessment?
But then like a good commentator, I started to do my research late last night which consisted of a gruelling hour of Fashion TV. Let's just say the depressing music inspired me to pass out on the sofa not too long after.
So you can imagine, I woke up yesterday morning feeling as educated as one could be. Even my garment selection came to me like an anointed intervention.
The biggest dilemma was – shall I wear sunshades indoors like my fellow Nigerians whom I was destined to meet later? After all, the picture is not complete without a pairing of sunshades hanging around the forehead or preferably on.
So as I arrived at the grounds of Federal Palace to a sea of fashion eager boys and girls blurring the gender lines with each rocking the 'knicker burger' as fiercely as the other person.
In the middle of the flashes and press men laid some fantastic collections. Below I have tried my best to do an individual account of my favourite collections.
Maki Oh: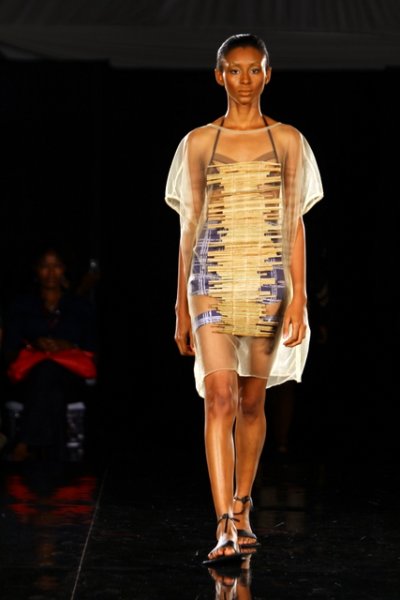 The truth is there are standards and Maki Oh has the capacity to meet all of them. Her opening piece was very strong with muted. The collection had the right balance of colour, imagination, and durability – I'm so bloody glad I no see any ankara for a change.
Buki Akib: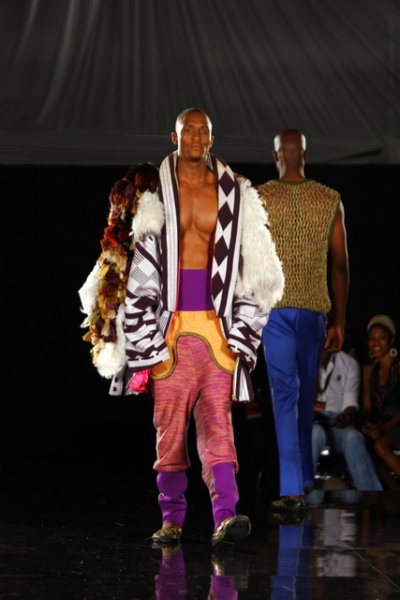 The Fela renaissance was alive and kicking. Bold, hard and abstract pieces all woven under the backdrop of angst – truly digging inspiration from FELA. This was the first time in the whole day that the music worked perfectly with the collection.
Ituen Basi: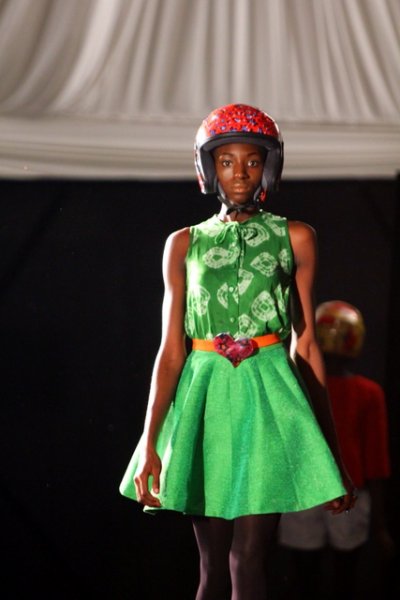 Yeparipa…this is helmet chic. Where are all my okada riders? These are not just any helmets – ankara print inspired ones….
Basi's short dresses pop in colour. Red red red and maybe some purple was the order of the day. Each piece was paired with black tights and black stilettos. The open jackets are too beautiful.
But I must admit, as much as I like the helmet on a few models, I'm starting to think its all a ploy to distract us from the fact that there is no hairstylist. And drum rolls please….this collection saw the first model fall – don't worry my people… I cheered her on – I didn't laugh. I promise…
Finally we move from the presentation tent  to the main tent
First up is
Korto Momolu: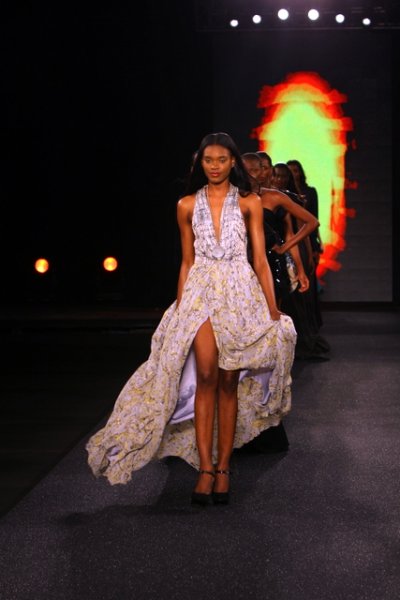 This is craftsmanship. Seamless lines of flowy fabrics draped beautifully around beautiful women. Heavy use of black but still brought alive with sparkles.
Bridget Awosika: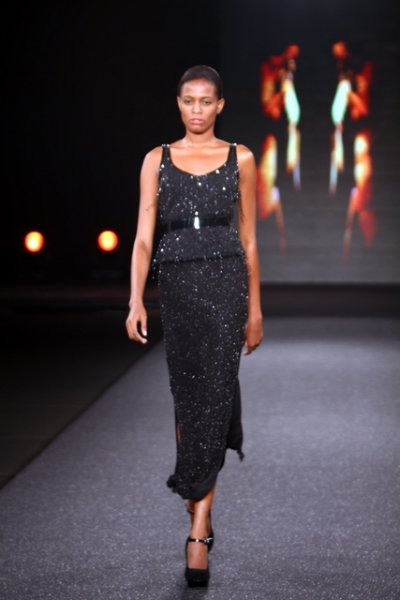 Again..the recipe is black. With a purple piece thrown in the middle. The piece is reminiscent of the Vivienne Westwood wedding dress. Make I speak pidgin since its Bridget…I no go lie this Bridget girl is talented.
She walked on stage with an androgynous theme – dressing two models as bride and groom with her smile sitting in the middle.
Amine Bendriouich Couture: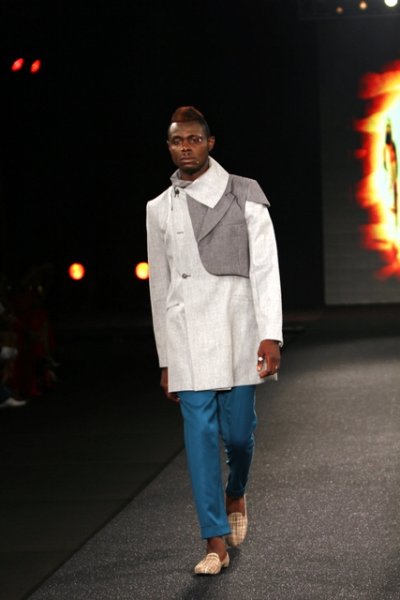 This is Ninja turtle o. Get your superhero swag.
Simple, pastel colours. This menswear designer makes a mean double breasted jackets. They are utility wear inspired yet beautifully made. This reminds me so much of Yohji Yamamoto.
Okunoren Twins: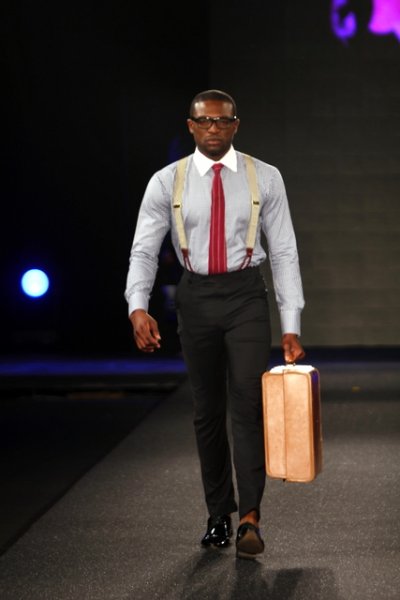 The Okunoren Twins show was interesting with its many themes of the modern Nigerian man fighting traditional hang-ons. They closed with a popular trumpet rendition of an old Yoruba song which razzoids like myself contently sang along.
Oh before I forget, all the male models wore these beautiful velvet shoes. They were the first collection to get the shoes right.
Jewel By Lisa: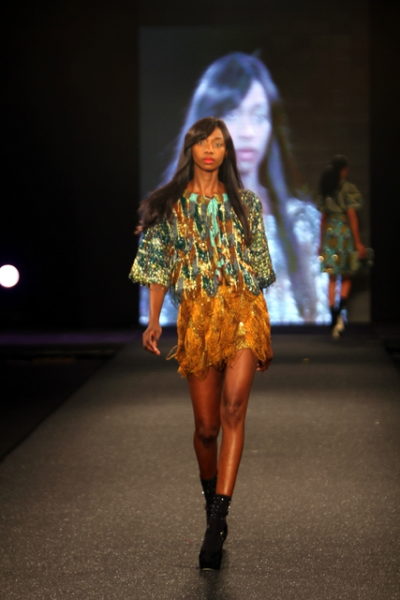 Jewel jewel…well this is the moment we had been waiting for. There had been so much talk about what she would do and how she will do it well, she started strong with a signature bold embellished gown. She had a fierce (finger snaps) model destroy the runway with attitude.
The tailoring was beautiful. Extremely feminine. We also noticed a graduation from the diploma of Ankara to the BA. Banke Kuku Prints (Hons.)
But the real show stealers are these velvet print jackets. This is truly advanced stuff, JBL mixed velvet with lace with leather.
Very very strong.
Until the next episode – make you all pray for me.
Photo Credit: Kola Oshalusi
___________________________________________________________________________________________
Watch out for BN's complete coverage of AMFW – All the runway shows and the guests as well.
Follow @bellanaijastyle on twitter for updates.