Monday 27 December 2010 will linger in my memory for many years to come. I had complained the previous week about becoming rusty as a keyboardist, only to receive a call from Funmi Iwasanmi, a former choir member back in the University of Lagos, to help introduce and train kids at an orphanage. The Street Project, the NGO she works with as a Project Assistant, had organised a Christmas Party of sorts for the kids and I was excited to show them a few piano playing tricks. It turned out to be a redefining moment.
I had never been directly involved in activities in an orphanage; beyond walking in to make my donations at the Little Saints Orphanage a number of times in the past. This gave me an opportunity to interact with the residents and have a feel away from one's biological family. It took about an hour for the kids to warm up to us – the visitors. The youngest was a few months old while the oldest was about 14. Rita Omovbude, the Street Project coordinator, had attracted a few family members and friends, including Nikky Laoye, gospel artiste, to join in the programme. It was fun all the way as the kids were introduced to painting and piano lessons. Rita took the painting. They also had lots of games and dance; and the winners got their rewards – gift items from corporate sponsors.
Nevertheless, like every good thing, it was soon time for us to leave the home. And, as if on cue, a group of three girls and three boys filed out to give us brilliant farewell choreography. As we prepared to leave, their countenance changed from bright to sad and dull. The pain of 'goodbye' hung in the air, and all some of the beautiful children could ask was: "Uncle, when are you coming again?" A little boy told me, "I want a phone. Buy me a phone when you are coming." I battled the well of tears that had started to rise from my heart of hearts. I suddenly realised how much it meant for a child to have a mum and a dad; someone they always look forward to seeing after school every day; someone to plant those kisses on their cheeks and read them bedtime stories.
Here's a short interview I had with Rita Omovbude, the founder of Street Project.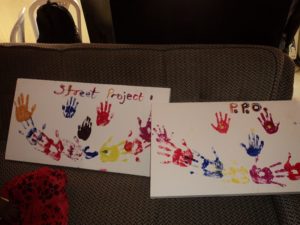 What is the Street Project Initiative all about, how did it start, and what are some of the projects/activities you have carried out in the past?
Street Project's is focused on building centres for youth development and empowerment. Our mission is to raise funds through profit making business ventures and voluntary donations for the consistent execution of strategic projects in performing arts for youth development. The initiative started in 2006 with a project called Street Praise which was executed three times in 2 communities within Lagos State. This was born out of the need to inspire and empower the youths through music and it was our first attempt at addressing the issues militating against youth development. As time went by, there was a need to re-strategize the processes for sustainability, monitoring and evaluation. This created a unique slant that gave rise to what is today known as Street Project Enterprises, a social hybrid enterprise focused on youth development and empowerment. Since then, we have embarked on two major projects: "A Smile for December" which kicked off in 2008 and has become an annual initiative that seeks to empower the economically challenged youths living in orphanages and special homes for abandoned children; and "Project Raw", a talent hunt competition aimed at engaging youths positively in the development of their talents in music, dance and comedy, which kicked off in October 2010.
What motivated your organization to hold the event on December 27th 2010 at the Precious Pearls Orphanage, Egbeda?
Our visit to Precious Pearls Orphanage was motivated by the need to keep up with the worthwhile initiative tagged A Smile for December; the selection of a specific home is based on the lack of awareness of the home and the dire need of material and financial support.
How did you discover the Precious Pearls Orphanage?
We browsed the internet for registered orphanages in Lagos State and stumbled on a website of an NGO called Link a Child Organisation They had a list of registered orphanages, including Precious Pearls. We called the organisation to obtain contacts for specific homes we had hitherto been unaware of and we visited them. Some of the homes visited had mostly babies, but Precious Pearls had a blend of toddlers, adolescents and teenagers that we could easily interact with and impact some knowledge about music, fine arts and dance.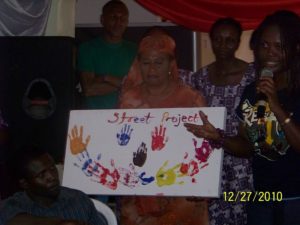 What are some of the challenges you have faced in Charity work so far?
Fundraising is the most challenging of any charity work and we are not left out.
What are some of your future plans for Street Project, Precious Pearls Orphanage and other possible beneficiaries?
Street Project is planning on a strategic business drive to assist us in sustaining the organization and the initiatives we embark upon from time to time. We will be launching our T-shirt line called HIP-TEES on a very large scale and the shirts would be sold at very affordable prices. We most definitely will be launching our website where interested parties can follow up on all our initiatives. We are in constant talks with the administrator of Precious Pearls and are creating more awareness about their needs to individuals and organizations we trust can support them under a platform we call The Haven Project and this we plan to continue with homes we visit in the future.
How do you fund the Street Project initiative and do you have a 9-5 job alongside?
Our funding strategy is called business for development. We sell branded Street Project Premiums like T-shirts and wrist bands of which a percentage of the proceeds is used to run the organization. We get a lot of material support from corporate bodies and some financial support from individuals. I'm also engaged in full time work as Copy Group Head in an advertising firm hence, some of my earnings go into the day-to-day running of Street Project Enterprises.
What interventions have been made at Precious Pearls as a result of your visit and the Christmas event on Monday 27 December 2010?
Our visitation inspired the "Angel for Life project" run by Nikki Laoye a contemporary gospel artiste to cater for the home in various ways. Curtains have been fixed and the children now have a flat screen television. In addition, a keyboard is to be purchased for the home and the Street Project team would commence piano classes for the children as soon as it is delivered. Precious Pearls Orphanage is being transformed into the HOME we want it to be. A healthy home where the children can find expression through their various gifts.
Any other thing you would like to tell our esteemed readers?
Changing the world starts with one little act of kindness. If you would love to be a change agent, I invite you to join the Street Project Group on Facebook – Together, we can make the world a better place!
__________________________________________________________________________________________________
Gbenga Awomodu is an Editorial Assistant at Bainstone Ltd./BellaNaija.com. When he is not reading or writing, Gbenga is listening to good music or playing the piano. He believes in the inspirational power of words and pictures, which he explores in helping to make the world a better place. He blogs at Gbenga's Notebook (www.gbengaawomodu.com).