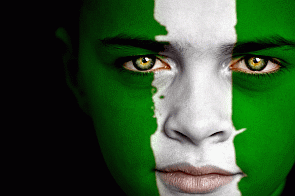 Last week, I received an invitation to have lunch with the President, Goodluck Ebele Jonathan at Eko Hotel & Suites in Lagos. My first instinct was that it was a possible 419 email but after seeing a few Twitter updates and making a few phone calls, I was able to realize the authenticity of the invitation.
On the 24th of May, Uche Eze (Founding Editor – BellaNaija.com) and I attended the lunch, only to meet utter mayhem and confusion. I arrived much later than Uche, and waited outside for a good 45 minutes while a man stood on a chair and called out the names of over 500 invitees one after another. As expected with such a large crowd there was plenty pushing and shoving, I won't bore you all with the details of how I finally managed to enter, but suffice to say that the organization outside the venue left much to be desired.
I finally entered the hall, to find almost everyone seated and a few people giving speeches. I'll be honest, I was quite disappointed with a few of the speeches. Instead of using the forum to give the President elect, pointers on the issues which affect many of our Nigerian youth, I felt some of the speeches gave a whole new meaning to baseless flattery. Like really, what is the point of using such a forum to empty praise on the President elect when millions of youth have no jobs, when the power sector is dwindling and when our educational system is in shambles. However, a few people like Chude Jideonwo and others, spoke earnestly about these issues that blight the performance of many youth in this country and for that they earned plenty cheers from the crowd.
After the speeches and what I must confess was a nice lunch, it was time for the President to address the youth. I may never get invited to another presidential event after this, but I honestly believe that the President did not, in my opinion, give adequate attention to any of the issues which were raised. I expected that he would use the opportunity to dictate strategies on how he intends to change the life of the average Nigerian youth or even give details on how he would start a forum which would allow the youth to contribute to policy formation and implementation in the country. But for reasons best known to him he choose to discuss other things. After the President's speech and departure, we were asked to wait behind for 'instructions'. Uche and I waited for about 30minutes, chatting with a few friends and exchanging contacts with new acquaintances and then returned to our various offices. So you can imagine my utter shock and disbelief when I was told by a fellow attendee that money had been given to attendees who had waited behind for a longer period. Apparently, the sum of between 50,000 and 150,000 was allegedly given to some attendees as part of transport allowance for attending the event.
Yesterday, I attended a seminar and the issue of the lunch and the youth who had allegedly received such cash 'reimbursements' was brought up. I listened in shameful silence as many at the seminar rained insults on various youth activists, accusing them of becoming part of the corrupt system which they have so violently chastised. They cited examples, where some youth activists have used their new found popularity as a pathway to collecting outlandish government contracts and other financial gains. They questioned their relevance if they only existed to further entrench the spirit of corruption albeit under the cloak of youth activism. While, the alleged sums of money that was received by some of the lunch attendees does raise significant questions on the authenticity of their cause, I also think that there are many benefits of this new form of social activism. For example, thanks to many groups like the Enough is Enough movement, cool to vote e.t.c, we saw a massive turnout at the polls from the youth. Also many youth are now more aware of their rights and responsibilities as youth and citizens of the country. Granted that there is still much more work to be done, but at least we aren't where we where 5 years ago. But with the recent accusations, I can understand when some begin to question the authenticity of these efforts.
What do you guys think? Is youth activism a farce? Or are the genuine actions of some of these activists being ridiculed by baseless accusations? What's your opinion?
Let's discuss!!!