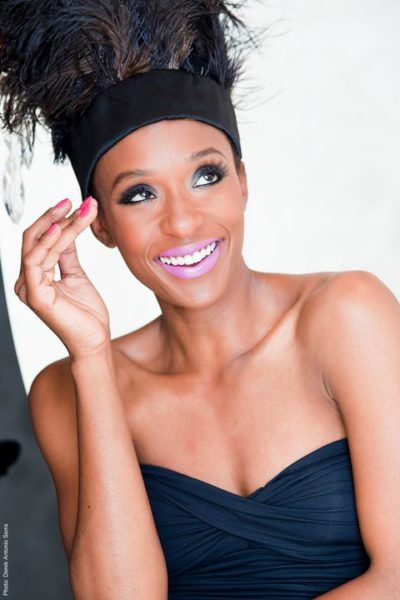 We are back again this year with BN Style Spotlight. BN Style Spotlight is a periodical feature on the style page that provides our readers with a detailed analysis of the personal style of a budding fashion star.
Up until now, we've focused on our local style stars and for this feature, we decided to go across the Nigerian border, and pay tribute to a South African rising fashion icon, Lindiwe Suttle.
Lindiwe started out in the fashion & entertainment industry working as a celebrity stylist and a TV presenter. Later in life, she decided to rejuvenate her love for music. She was the leading lady of a jazz/soul/funk/hip-hop band called Rus Nerwich and the Collective Imagination, for a year and a half but left, to launch her own solo career in 2009. Her debut single, Man Made Moon, was out at the end of March 2011.
While she continues to gain recognition for her music, her personal style has put her on the BN Style Spotlight. Lindiwe can be described (arguably) as one of the most fashionable African women of our time.
In an interview with thenewage.co.za, Lindiwe reveals, "I create stories through more than just the songs I sing" and this is clearly evident event in her personal style on and off stage that seems to be intertwined in a narrativeve we hope never ends.
Her personal style, has won her Glamour Magazine's Woman of the Year – "Style Icon" 2010, the South African Style Award 2010 & Most Stylish Performer in 2010, the Ambassador and Face of Tom Ford sunglasses in South Africa, the Face of Frazer Parfum campaign and Puma Creative Ambassador 2010.
Lindiwe Stuttle's style is very distinct. While she doesn't have a signature look, she has signature pieces that she incorporates in different looks, which keep her personal style engaging and eclectic.
Read on as I analyze her personal style and determine what indeed, makes his style BN worthy!
Fancy Head Gear: Lindiwe's style is very distinct and adventurous. She loves to have fun with fashion both on and off stage. Her look on stage is vibrant and dramatic, and she is rarely ever caught without a fancy head gear. They come big with flamboyant feathers or sometimes, small with elaborate details. She wears them convincingly, and owns the look.
Off stage Lindiwe still incorporates head gears into her style. However, they are simpler, and a lot more delicate, but still distinctively stylish and complementary to her uber fabulous style.
Veiled Up: Lindiwe loves to bring on the drama, and she does that so well with veils. When she's not wearing a fancy head piece, she's accompanied by her veil, which proves fit for the star that she is. What I love about Lindiwe's on stage style, is that it is so well thought out. As an artist, her stage presence is extremely important, and I enjoy how she uses fashion to create a unique one, which distinguishes her from the rest.
Have Me in Monochrome: Black & White play a major role in Lindiwe's style. Sometimes, she goes all white, going for an ethereal look with feathers, lace trimmings and soft sheer fabrics, at other times, she goes all black, emanating a slight edginess to her look with her accessories, and styling. Then there are times, she incorporates both, either through polka dot fabrics, waist bands, or with an outfit consisting of both colors equally in display.
The Cat-Eye Sunglasses: While most people have one signature look, Lindiwe has a few signature items which she includes in her looks. Vintage cat-eye sunglasses, are definitely one of her signature pieces. She wears them with so-much-ease and enviable confidence. I love the fact that she always opts for something out-of-the-ordinary.
The Girly-Girl in Lindiwe: While she doesn't come off as a Tomboy, she occasionally likes to be that ultra feminine, girly-girl. She goes for pieces which show off her slender figure and complements them with delicate accessories.
Futurist Diva: Lindiwe is a huge fan of futurist styles characterized by robotic looking elements in structure,  unusual, exaggerated silhouettes like pointed shoulders and cocoon shapes. Her style is very engaging, she manages to keep things different yet unified and in adherence to her style personality.
Get This Lindiwe Suttle Look: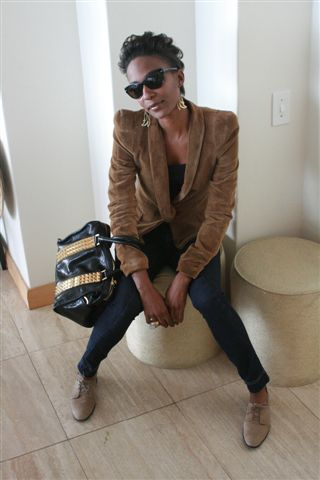 While Lindiwe's on stage look will be difficult for anyone other than her, to pull off, her off stage style is more universally embracing. This look is very laid-back and casual, however, equally representational of Lindiwe's style. This look is meant to inspire your personal style, and in doing that, it is advisable that in incorporating this look, you do it in a way, that is distinctively you. Keeping the frame (Lindiwe's Style) in mind, you include elements that express your own style.
Channel this look with less that $120 (N18,512)
Jeans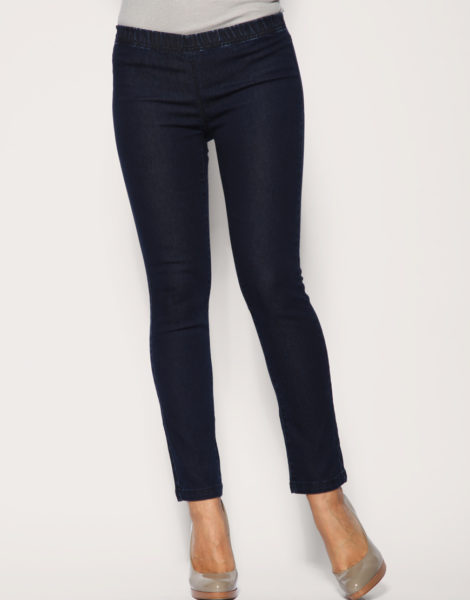 These jeans are very similar to the one Lindiwe has on. I am loving jeans with elastic waist-bands, I find them a lot easy to wear and comfortable.
Purchase here for $14.34
Cami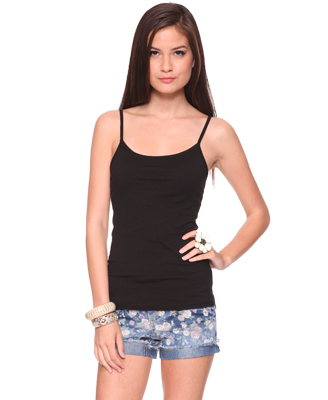 Every woman needs a whole bunch of Cami's in her wardrobe. They can be worn alone, on a really hot day, where comfort is key, and can be spiced up with a statement necklace, or worn as we see here, underneath a blazer.
Purchase here for $5
The Blazer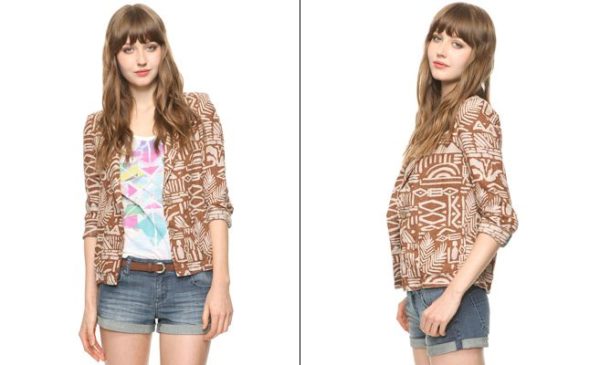 Remember when I said, let the look match your personality? Well… that's exactly what I am trying to buttress with this blazer. Almost completely different from Lindiwe's, the only similarity they share are the same colour, and a slightly similar shoulder detail. I opted for this one, because its texture is more suitable for the Nigerian weather, and also, tribal prints are still a major summer trend. If you are not of fan of tribal prints, opt for something else more reflecting of your personality. Channelling a look is all about interpreting the frame presented in your own way.
Purchase here for $29.90
Oxfords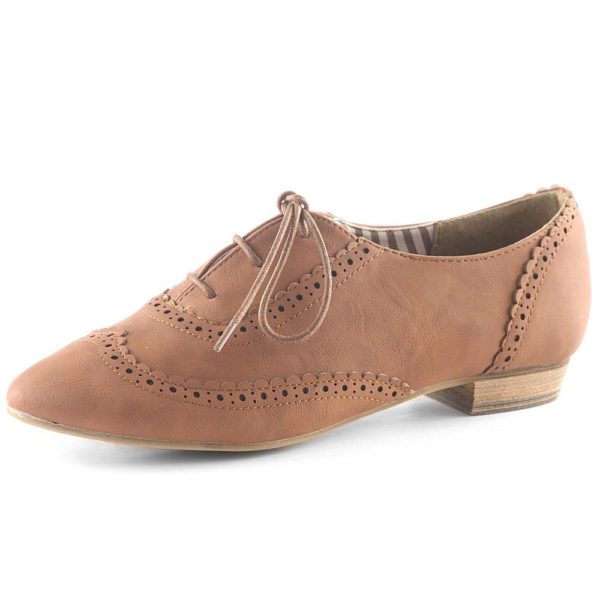 Oxfords have been a fashion trend for a while now. These one's are very similar to Lindiwe's however, they have delicate lace trimmings, which is a good way to break-down a fairly structured look, and add that girly-girl charm Lindiwe loves.
Purchase here for $24
Cat-Eye Sunglasses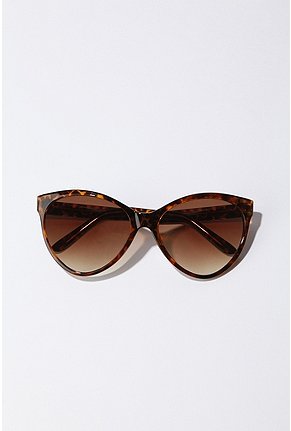 This look wouldn't have been a complete representation of Lindiwe Suttle's style without one of her favorite signature pieces- Cat-Eye sunglasses. I love the animal print details on this pair, it makes them fun and fashionable to wear.
Purchase here for $14
Studded Shoulder Bag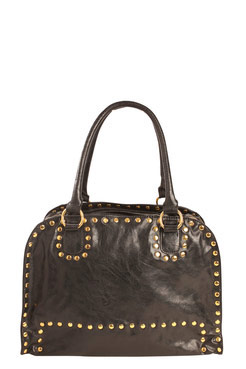 Lindiwe completes her look with a studded shoulder bad. The studs in this bag are in a very different pattern, but the idea is to capture the essence of the look, and this bag will do that that just fine.
Purchase here for $25
__________________________________________________________________________________________
Follow me on twitter: @ijeomandekwu