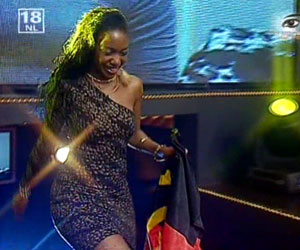 It was a definitely a night to remember when Big Brother Amplified turned up the volume this past weekend with the biggest announcement in the show's history!
To huge applause from the studio audience, and in news that is sure to cause great excitement, series presenter IK revealed during the live eviction show, that this season there will be not one, but TWO winners – and each will take home a whopping USD200 000 cash prize. With the series almost at the halfway point, the surprise announcement is the latest twist in the highly popular reality series which is set to end with a spectacular two hour finale on July 31. It's the first time ever that Big Brother Africa series will award two winners, bringing the total prize money to an incredible USD 400 000 though the housemates themselves will only find out about the double prize during the final show!
With Malawian stars Tigris and Maskal lifting the roof off of the Big Brother Amplified studio with amazing musical performances, the night also saw two housemates leave the Heads house…
With 7 Housemates nominated for eviction, there was a lot of tension in the Heads House this week. When IK asked Head of House Lomwe to reveal and explain his 'save and replace' decision to the Housemates, he told them it was "nothing personal". "The person I decided to save represents the same cause as I do, that's obviously Felicia," he said. "The person I decided to replace her with – again nothing personal – has a strong background and foundations. If they leave the House, they will have a bright future. At the same time, that person is strong and I believe they won't be evicted – sorry, Vimbai," he revealed.
IK then took viewers into the House and told the Housemates that when he called out their names, they should stand. He named Millicent, Weza and Zeus. After a dramatic pause, he told Millicent and Zeus that they had been saved, calling Weza to the stage. Once she emerged, he asked her about her favourite memory in the House. As she started to answer, Big Brother delivered a message to IK – that Weza was to leave the stage immediately. The bewildered Angolan made her way off stage and before long, found herself entering the Tails House and being mobbed by a new set of excited Housemates.
It wasn't over for the Heads Housemates – IK took viewers back into the House and asked Vina and Confidence to stand. "Vina, you're safe," said IK.
"Yay!" exclaimed Confidence. "I'm walking out! I'm free – I'm free of you people!" said the Ghanaian. Unfortunately for Confidence, she will miss out the cash prizes as she was evicted after gaining the fewest votes from Africa during the week.
As Confidence joined IK on stage, he confirmed that she had been evicted. "What was your favourite moment?" he asked her. "Well every moment was my favourite, I'm so grateful I've been brought to this place and taught the lessons of life and I'm going to go home a changed person," she said.
When IK asked about her least favourite person in the house, Confidence said "Put it this way – they're behind me. I'm moving forward!" IK quizzed her about what she'd be taking away from the experience. "Big Brother!" she said jokingly, before saying: "I have so much in my life and feel I'm so blessed to be here, of all the Ghanaians, I'm the girl who's been picked to be here. I feel honoured and privileged and for me this is fun. Come on Africa – thank you so much!" Her parting shot came when IK asked her for a quick prediction on who would win Big Brother Amplified. "None of those people in that House [Heads]. There are nicer people in the other house. Those people are pretenders, please!"
As Confidence left the stage to head back home, IK still had time to scare Hanni and Vimbai when he crossed back into the House – but revealed that they had been saved.
Earlier in the show, viewers got a chance to see how Ernest and Bhoke had been coping after their eviction last week. Ernest explained his 'intelligent attack' on Luclay and talked about Bhoke's 'beautiful energy'. He looked forward to visiting Botswana to meet up with Zeus and Miss P and also hanging out at Confidence's club in Ghana. He said he felt he had represented his country and its diversity well.
Bhoke said that being part of Big Brother Amplified was an "awesome experience" that she would carry with her for the rest of her life. She saw Confidence as a big sister in the other House, and had bonded with Kim in the Tails House as they both recognized something of themselves, in each other. She revealed that her high point was the first task win – having previously lost two tasks. Speaking about tension in the House, she felt that there had been many disagreements because nobody wanted to be seen as a weak person. "It's been a learning experience," she said. "I learned a lot about myself and I'm strong and confident in my own skin".
Four viewers picked up fantastic prizes for voting and interacting with Big Brother during the past week: Ijeona Sophia Nwogbo (Nigeria) won a DStv HD PVR, Ntsikiseng Motaung (South Africa) picked up a Samsung Laptop, Susan Kotobridge (Ghana) won a Samsung Smartphone and Jacob Asante (Ghana) won a Samsung Galaxy S.
Eviction – 5 Tails Housemates Face Eviction This Week
The Tails Housemates got stuck into nominations on Monday (13 June) on M-Net's Big Brother Amplified – and 5 of them face eviction this Sunday.
Danny, Kim, Nic, Luclay or Karen could be heading home after a day of nominations, where politics and bad behaviour influenced decisions.
Once all the Housemates had had their say, Head of House Alex was one of those who faced eviction.
He promptly saved himself and put Karen up for eviction in his place – the first time so far on Big Brother Amplified that a Head of House has had to save themselves.
· Karen seems to have hatched a plot with the other ladies to attempt to ensure that Big Brother Amplified has a female winner – and looking at the way nominations went, they're behind her! All the ladies nominated men on Monday, with Kim even nominating love interest Nic after Karen planted the seeds of doubt about the true nature of his feelings for her. Kim's second nomination went to Danny.
· Mumba and Miss P both nominated Luclay and Danny – in fact, Luclay picked up a host of nominations from the Tails Housemates, with everyone except Karen, Kim and Danny nominating him. The overwhelming feeling is that his constant involvement in confrontations means he has to go.
· Danny nominated Karen and Kim, with Karen opting for Danny and Nic. Nic nominated Alex and Luclay – because the latter was creating 'unnecessary tension' in the House. Bernadina's reason for nominating Luclay was that he had threatened to 'expose' other Housemates and send them home.
· Danny received a host of nominations, with the Housemates mentioning his laziness and lack of interest in chores. Alex, as Head of House, also picked up enough nominations to see him have to exercise his save & replace to keep himself out of harm's way.
The winner of Big Brother Amplified, which is headline sponsored by Coca-Cola, will be named on 31 July, after 91 days of head-to-head competition – and the power to award to USD 200 000 prize rests in the hands of the viewers.
Big Brother wants your vote: Just remember you are voting to keep a nominated Housemate in the House!
Which means, the more you vote for your favourite nominated Housemate, the better their chance of staying in the house.
When you Vote, you also stand the chance of winning weekly prizes, including DStv Decoders, and from Samsung: Cameras, Camcorders, Laptops, Smartphones and the Galaxy Tab.
The Housemate who receives the least number of votes will be Evicted.
You can vote to keep a nominated Housemate in the house in three different ways:
1. Using MXit
2. Via the website, or the WAPsite on your mobile phone.
3. By sending an SMS
To vote using MXit: open the browser on your WAP-enabled mobile phone, and type in m.mxit.com to download MXit for free. Then locate MXit on your phone in the applications or games section and register. Once in MXit, go to Tradepost -> Entertainment -> Mnet. You will find the Big Brother contact in the M-Net bot. Add the Big Brother contact. Please note that voting on MXit is free and you can vote up to 10 times on MXit per voting period
To vote online: Register on DStv Connect, or use your existing DStv Connect profile details to log in. (www.mnetafrica.com/bigbrother). Please note that voting on the website or wapsite is free and you are allowed to vote once per hour during the voting period.
To vote via SMS: send the word VOTE followed by the Housemate's name to the number for your country. SMS's are charged per specified network tariffs in the various countries. VAS rates apply. Free minutes do not apply. Please note that you can vote 100 times by SMS per telephone number during each voting period.
Angola
Unitel – 43333 – UTT 6.6 per SMS
Botswana
Mascom – 16626 – P2.50 per SMS
Orange – 16626 – P2.50 per SMS
BEMOBILE – 16626 – P2.50 per SMS
Ethiopia
Ethio Telecom – 835 – 5 Birr per SMS
Ghana
MTN – 1477 – GHC 0.60 per SMS
Vodafone – 1477 – GHC 0.60 per SMS
Tigo – 1477 – GHC 0.60 per SMS
Espresso – 1477 – GHC 0.60 per SMS
Airtel – 1477 – GHC 0.60 per SMS
Kenya
Safaricom – 5626 – Kes 30 per SMS
Orange – 5626 – Kes 30 per SMS
Airtel – 5626 – Kes 30 per SMS
Malawi
TNM – 15626 – MK 48.00 per SMS
Airtel – 15626 – MK 48.00 per SMS
Mozambique
Vodacom – 99026 – MT 20.00 per SMS
Mcel – 99026 – MT 20.00 per SMS
Namibia
Leo – 15626 – N$ 3 per SMS
MTC – 15626 – N$ 3 per SMS
Telecom – 15626 – N$ 3 per SMS
Nigeria
MTN – 34350 – N75 per SMS
Airtel – 34350 – N75 per SMS
Glo – 34350 – N75 per SMS
Etisalat – 34350 – N75 per SMS
Starcomm – 34350 – N75 per SMS
South Africa
Vodacom – 33729 – R1.50 per SMS
MTN – 33729 – R1.50 per SMS
Cell C – 33729 – R1.50 per SMS
Tanzania
Vodacom – 15726 – Tsh 600 per SMS
Tigo – 15726 – Tsh 600 per SMS
Zantel – 15726 – Tsh 600 per SMS
SASATEL – 15726 – Tsh 600 per SMS
Uganda
UTL – 6626 – Ugx 1000 per SMS
Warid – 6626 – Ugx 1000 per SMS
Zambia
MTN – 15626 – ZK 2000 per SMS
Zamtel – 15626 – ZK 2000 per SMS
Zimbabwe
Econet – 33334 – USD 0.50 per SMS
NetOne – 15626 – USD 0.50 per SMS
Voting begins immediately after the nomination show on Monday nights and closes at 06:00 CAT on the following Sunday morning.
Find out who has received the least number of votes and will be evicted by tuning in to DStv Channel 198 on Sunday nights for the live eviction show at 19:00 CAT.
___________________________________________________________________________________________
Sponsored Content